As August draws to a close, the excitement surrounding the reveal of the iPhone 6 is reaching a fever pitch. We can't go six hours without someone leaking new details or a never-before-seen component, and this week hasn't been any different. We've already heard rumors of faster charging, a higher resolution display and up to 128GB of internal storage — now China-based wholesaler Elekworld has released photos of what it claims to be the speaker assembly for the iPhone 6.
FROM EARLIER: iPhone 6 vs. iPhone 5: Fresh comparison shows Apple's huge design overhaul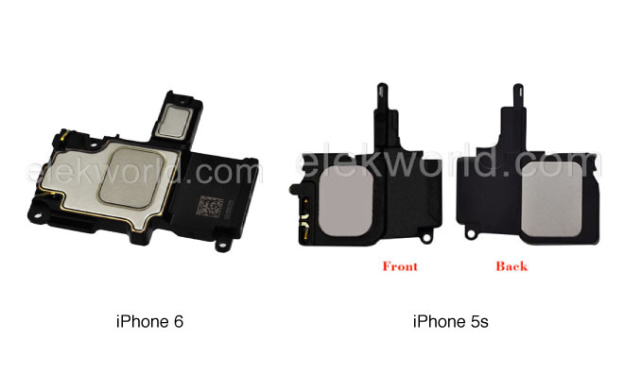 The photos sent to AppleInsider show that the speaker assembly has seen a slight redesign from one generation to the next. Another leaked photo shows the vibration motor and the European power adaptor for the iPhone 6 as well. Each of these components are available to purchase on Elekworld's website, along with previously leaked parts such as flex cables and assembly frames.
As AppleInsider notes, there's no way to ensure that any of these parts are legitimate, but similar leaks from previous generations have often been validated once the phones hit store shelves.
We'll have to wait until mid-September for a full teardown of the iPhone 6 after Apple unveils the new smartphone on the 9th. Until then, if you're considering piecing together an iPhone from loose components, be sure to check out Elekworld.
Reference: brg.com & elekworld.com.
---
Recommend: You can use Syncios to free download and install apps into iPad/iPod/iPhone. There are Huge and growing collection of free games, apps for iOS devices. Just simply download and have a try.
How to free download and install apps, click here.
---
You can follow Syncios on Twitter, Facebook for more tips and tricks.