Remember Yahoo Messenger, the company's instant messaging client that was popular in the late '90s and early 2000s?
Yahoo is now breathing new life into Yahoo Messenger with a set of new messaging apps. The older web-based Yahoo Messenger will continue to be supported for the next couple months but will eventually be retired, the company says.
On the surface, the new Yahoo Messenger app is similar to WhatsApp, Facebook Messenger and other messaging apps: Log in with your phone number (or your Yahoo Mail account, if you have one) and the app scans your contacts for people you know who also use the app. (If you used the legacy version of Yahoo Messenger or have a connected Yahoo Mail account, your contacts from those services will also appear.)
But the revamped Yahoo Messenger does have a few tricks of its own, including built-in GIF search (via Tumblr) and the ability to share large numbers of photos almost instantly, regardless of whether you're on Wi-Fi or a data connection (via Flickr.) You can also like individual messages within a thread or unsend a message you've sent at any time.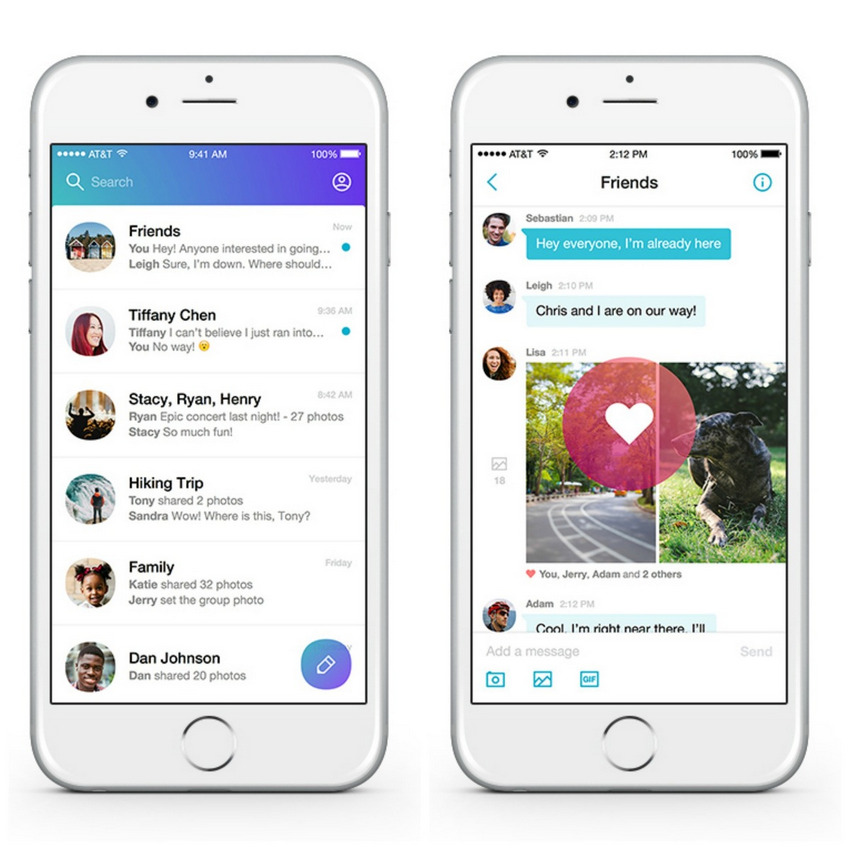 In addition to the iOS and Android app, the new Yahoo Messenger also has a web app and will appear within Yahoo Mail on desktop, where it will function similarly to Google Hangouts within Gmail.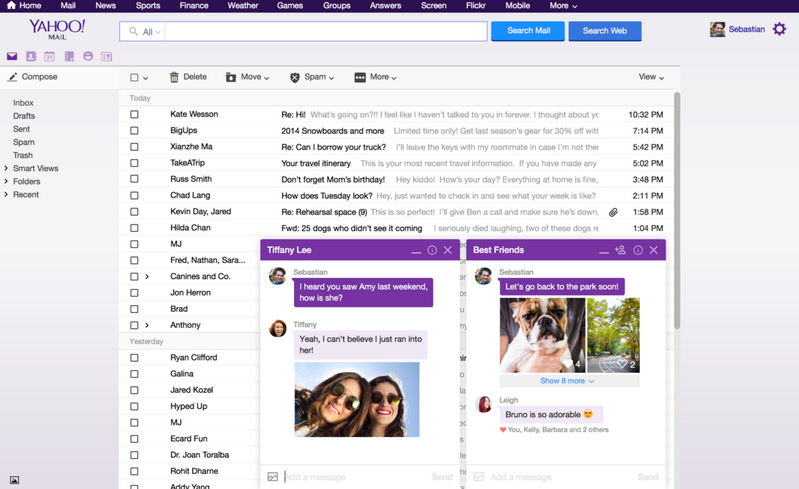 Austin Shoemaker, senior director of product management for Yahoo Messenger, told Mashable the company has plans to add a lot more features in future updates, including incorporating Messenger into more Yahoo services.
"We built this not just as a single app but as a platform that allows messaging to be integrated with other products in Yahoo. There are a lot of other Yahoo properties that could benefit from adding a lightweight communication layer," he said, though he declined to name specifics.
This is Yahoo's second standalone messaging app this year and comes on the heels of a redesigned Yahoo Mail app. Yahoo previously released Livetext, a Snapchat-like app that combines ephemeral messages and live video.
The update also marks the end of an era, of sorts, for Yahoo's legacy instant messaging service, which was first released in 1998. The older version of Yahoo Messenger will continue in its current form for at least a couple months but will eventually be replaced completely by the new service. (Microsoft officially killed the last remnants of MSN Messenger, another once-popular instant messaging service, last year as well.)
Reference: Mashable
---
iOSApp Manager —- Manage Apps on your iPhone Easily and Freely
Would like to manage (install, uninstall, backup, or delete) your iPhone apps more conveniently? We've introduced this smart and mutifunctional iPhone Manager— Syncios for you, which enables you to install, uninstall, or backup apps on your iPhone/iPad easily and freely, and you can also manage your iPhone App document via this free iPhone Manager.



How to Manage your iPhone Apps
Under My Device, click Apps tab on the left panel of this iPhone Manager.
Step 1: Click Apps tab on the left panel and the main window would display all apps installed in your iPhone or iPad.
Step 2: Choose operation from Install, Uninstall, Backup.
Install
1. Click "Install" button.
2. Choose apps you have downloaded in your computer to iOS devices.
Uninstall
1. Choose apps installed in your device. Hold down Ctrl/Shift key to select multiple apps.
2. Click "Uninstall" button to uninstall apps from your iPad/iPhone/iPod.
Backup
1. Choose apps installed in your device. Hold down Ctrl/Shift key to select multiple apps.
2. Click "Backup" button.
3. Browse backup location and backup apps from iPad/iPhone/iPod to PC.
You can follow Syncios on Twitter, Facebook for more tips and tricks.