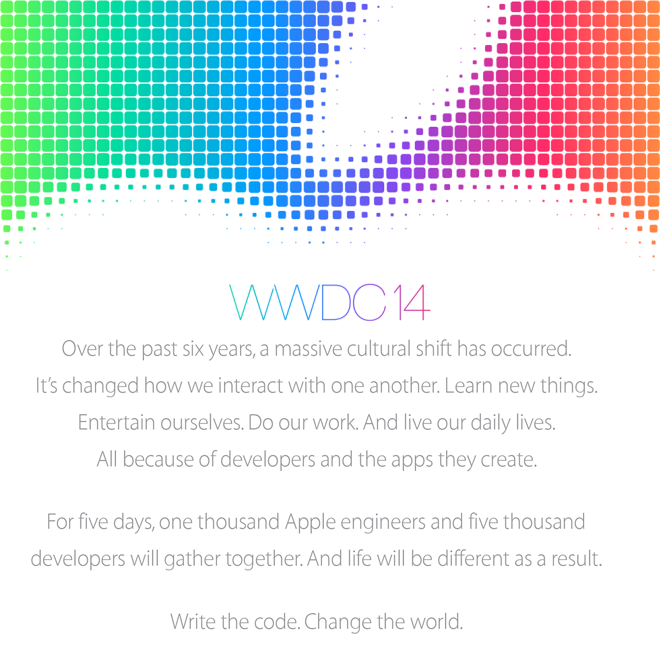 AT A GLANCE
WWDC 2014 will kick off on June 2nd with a keynote address from Apple CEO Tim Cook. iOS 8 is the mostly likely focus of the event, but there are a number of other possible topics, including OS X 10.10, Apple TV, MacBook Airs, and the long rumored iWatch.
POSSIBLE ANNOUNCEMENTS
iOS 8 with Healthbook
OS X 10.10
Apple TV
MacBook Air
iWatch
What to Expect
Apple's annual conference designed for developers will be held from June 2 to June 6 at the Moscone West convention center in San Francisco, California. While the event is focused on developer workshops, the company typically uses the opportunity to debut operating system upgrades and new products.

The first day of the Worldwide Developers Conference begins with a keynote from Apple, where the company shares information on operating system updates, new services, and new products.
During this year's event, Apple is expected to preview both iOS 8 and OS X 10.10 ahead of their prospective fall releases. Developers often receive immediate access to beta versions of the operating systems in order to begin working on new apps and features, with public launches coming later.
Apple also has multiple products on the horizon in 2014 that could be previewed or launched during the company's keynote event. We may see the rumored 12-inch Retina MacBook, the Mac Mini, an updated Apple TV set-top box, or even the iWatch. We expect to have more concrete details as the event approaches.
Expected Software Updates
IOS 8
While little information is available on iOS 8 at this point in time, it may focus on refining the major visual updates that were introduced with iOS 7 and adding new functionality to the operating system.
Major Siri and Maps improvements could be key features of iOS 8, along with a rumored "Healthbook" appthat aggregates various fitness and health related information. Rumors have suggested Apple might introduce improved third-party app integration for Siri, and Maps may gain public transit options.
iTunes Radio may be separated out into its own app with iOS 8, instead of being bundled into the existing Music app. Apple is also said to be preparing a new song identification feature for the operating system in partnership with Shazam. Such a service would be built directly into iOS 8, integrating with apps and Siri to allow users to identify songs playing on the radio or via other sources.
Apple has also hinted that a new mobile payments system is on the horizon, which might leverage the company's Touch ID feature first introduced with the iPhone 5s.
OS X 10.10
If there's little information available on iOS 8, there's even less available on OS X 10.10. It isn't clear what Apple has in store for the operating system, but with OS X Mavericks introducing relatively few UI changes, it's possible that OS X 10.10 will bring some significant visual improvements.
A January report from 9to5Mac pointed towards a "flatter" interface, but with changes that won't be quite as drastic as iOS 7's complete transformation.
Possible Product Unveilings
12-INCH MACBOOK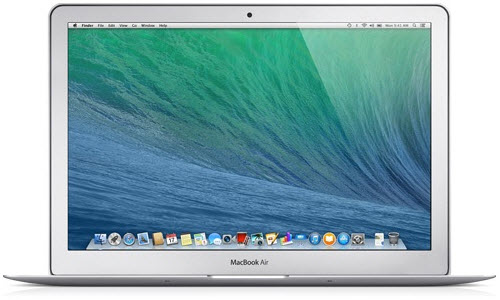 Apple is said to be working on an updated 12-inch MacBook that includes a Retina display. Said to beeven slimmer than existing MacBook Airs, it is unclear whether the product will join Apple's MacBook Airs lineup or whether it will be in a category of its own.
According to KGI Securities analyst Ming Chi Kuo, the 12-inch MacBook boasts the portability of the 11-inch MacBook Air with the productivity of the 13-inch MacBook Air, offering a high resolution display along with an improved clamshell structure.
Additional rumors have hinted at a revamped trackpad design without a mechanical button and the lack of a fan assembly, resulting in silent operation. Digitimes has also suggested that Apple is working on a Retina MacBook Air to be released in 2014, but it is unclear whether the publication was referring to the 12-inch model referenced in previous rumors or an updated 11 and 13-inch Retina version.
Given that the MacBook Air is nearly a year old, the Worldwide Developers Conference may see the debut of updated versions or the rumored 12-inch MacBook.
MAC MINI
Apple's Mac Mini is long overdue for an update, having seen its last refresh in October of 2012. Apple's plans for the computer are unknown, but a refresh could bring Haswell processors with Iris integrated graphics and 802.11ac WiFi support.
APPLE TV
Rumors have suggested that a redesigned set-top box is in the works, with support for iOS games and possibly a full App Store. While initial chatter pointed towards an April release date for the product, it has seemingly been delayed and could make its appearance at WWDC.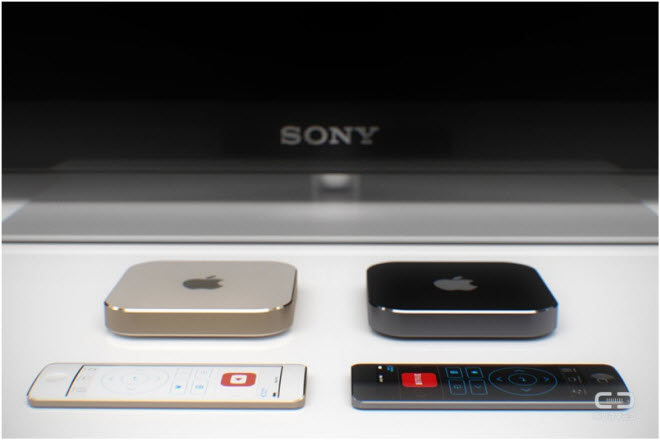 Apple TV concept by Curved
Along with support for games and iOS 7 controllers, the set-top box is expected to feature an improved processor, possibly the same A7 chip used in the iPhone 5s and the current iPads. There's also a possibility that Apple has a major content announcement in the works, as the company is said to be working on deals with Time Warner and Comcast.
IWATCH
Apple introduced the radically redesigned Mac Pro at the Worldwide Developers Conference last year and this year, there's a slim chance the company will give us a look at its highly rumored iWatch.
The iWatch is expected to include several health-related sensors and capabilities, based on Apple's multiple hires in the health and fitness fields. Along with tracking steps taken, sleep quality, and calories burned like many standard fitness devices on the market, Apple's device may also incorporate advanced features like heart rate measurements and hydration monitoring.
Along with its health and fitness tracking functionality, the iWatch will likely integrate with the iPhone and iOS devices, allowing users to receive notifications and messages, possibly accessing various features through Siri integration.
While Apple's hires have pointed towards possible iWatch capabilities, little else is known about the device. There have been no design leaks, giving no indication of what Apple's wearable might look like. A release date is also up in the air, so it remains unclear whether the iWatch will make its debut at WWDC.
Past WWDCs
2013
At last year's WWDC, Apple unveiled iOS 7, OS X Mavericks, iWork for iCloud, the Mac Pro, and new MacBook Airs.
2012
2012's event saw the introduction of the MacBook Pro with Retina Display, iOS 6 and its standalone Maps app, OS X Mountain Lion, MacBook Pro and MacBook Air updates, and a redesigned AirPort Express.