Apple released iOS 7.1 earlier this month with CarPlay and improvements to Siri, Camera, iTunes Radio and much more. It was immediately stated by prominentjailbreak developers that iOS 7.1 is not jailbreak friendly. If you were to update, you'd lose the Evasi0n 7 untethered jailbreak. Now, Winocm has posted a video on YouTube that shows an iPhone 4 running iOS 7.1, jailbroken and successfully booting untethered. Here is the video…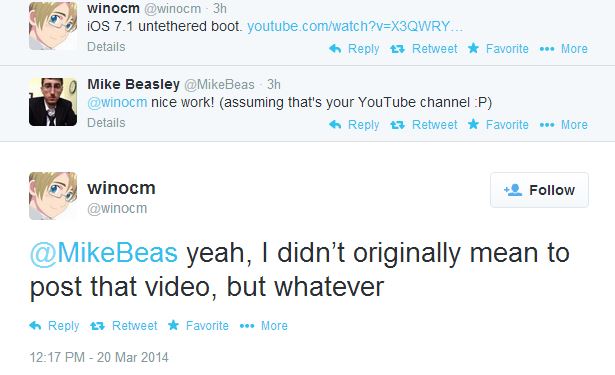 Details are scarce; however, it appears that the untethered jailbreak may also work on at least the iPhone 4S as well.
iH8Sn0w just tweeted: @winocm does this mean I have to bust out my camera and shoot an untethered 7.1 A5 boot? 😛
Does this mean A5 devices running iOS 7.1 can also be jailbroken? Is there an untethered jailbreak ready for release? That would be nice. We are going to keep you updated with more developments as and when they arrive.