It seems like I write this story every time a new iPhone comes out, but I'm going to write it until Apple stops equipping the entry-level version of its phones with a paltry 16GB of storage.
Once again, that's the case with the new iPhone SE, which starts at $399 for the 16GB model and then jumps to $499 for the 64GB version. That $100 jump for storage upgrades is standard across the bulk of the iPhone and iPad line. (In the UK, it's an £80 delta; in Australia, AU$150.)
I'm not quoting "2-year contract" pricing because subsidies from carriers don't really exist anymore. You can pay for an unlocked phone outright or pay for a carrier-locked version on a monthly payment plan (you can get it unlocked once you pay it off), but you're basically paying full price for the phone.
Now, to be clear, I can think of at least two types of people for whom a 16GB iPhone is a reasonable choice. There are the utilitarian non-shutterbugs: They're getting a smartphone because their flip phone finally bit the dust, and they like the convenience of browsing the Web, reading email and using a few key apps — Facebook, Google Maps, Candy Crush, Pandora and the like. But they don't care about Instagram, and they don't expect to carry around a few zillion MP3 files.
The second group is anyone with limited or bad credit. If your carrier won't allow you to pay off the phone in 24 monthly installments of $17 to $21, then the 25 percent increase in price from the 16GB to the 64GB model could well be a bridge too far. It's 16GB — or hello, Android. (And, if you're on such a tight budget, the $12 to $30 a year for a good iCloud backup plan may be out of reach as well.)
For the rest of us, however, 16GB of storage space just doesn't cut it. In fact, the 16GB isn't even really 16GB: I have a 128GB iPhone 6S, with 44.5GB "used" and 69.3GB "available," which means about 14GB is somehow devoted to iOS and other phantom resources. On other people's phones, I've seen that "system space" number be closer to 9GB — but that still means owners of a 16GB iPhone will only have about half their device's storage available to them. (It's unclear how the poor souls who purchased the short-lived 8GB iPhone 5C have any breathing room at all.)
Yes, Apple has tried to put its operating system on a diet. In moving to iOS 9 last year, the company dramatically reduced the size of its iOS updates (from around 4.6GB to 1.3GB) and trimmed the size of apps in general through a new feature called app thinning. But even the slimmed-down iOS still takes up space. And once you shoot a bunch of pictures and videos, download a couple of graphically intensive games and a bulky app or two and store some music or podcasts on your phone, you start to hit the limit.
Moreover, as the iPhone gets better, the storage burden gets worse. The iPhone SE has the exact same top-notch camera as the iPhone 6S — which means the same Live Photos (larger than standard pics) and 4K video capture (videos that offer four times the resolution of standard 1080p HD shots).
So why not bump the entry-level iPhone up to 32GB? After all, most flagship Android smartphones, including the Google Nexus 6P do so, and many — like the Samsung Galaxy S7 and S7 Edge, as well as LG's upcoming G5 — have expandable storage. Going from a 32GB Samsung or LG to a 96GB model means spending about $20 on a 64GB microSD card. Dead simple, and dirt cheap.
The simple answer is profit margin.
According to IHS, an analytics firm that does teardowns and estimates bills of materials for iPads, iPhones and other products, going from 16GB to 64GB of NAND flash memory cost Apple around $17 in September 2015 — so maybe even slightly less six months later, with prices for memory drifting downward. Yes, that's a significant sum when you consider that, according to those aforementioned teardowns/bill of materials estimates, it costs Apple around $215 to build an iPhone 6S and $231 to build an iPhone 6S Plus. (With no fancy 3D Touch, the iPhone SE must certainly cost less to manufacture.)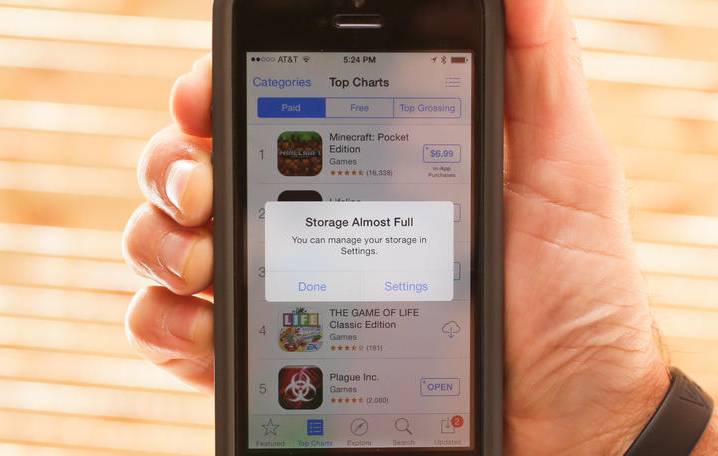 "NAND Flash is now so cheap it's almost irrelevant, but Apple monetizes this difference with consumers, to the tune of $100 for each additional step up in memory capacity," said Andrew Rassweiler, senior director of cost benchmarking services for IHS Technology back in September. "For example, a 64GB iPhone now costs Apple about $17 more to make than a 16 GB iPhone, but Apple charges iPhone buyers $100 more for the increased memory. This is part of Apple's ongoing strategy to improve profits by selling a product mix that is heavier in the higher-end iPhones."
The point is that it would only cost Apple an extra few bucks to bump the entry-level 16GB model up to 32GB, but it doesn't want do it because it really wants you to buy the 64GB model, which has significantly better profit margins.
That's Apple's prerogative, of course — and why it's the most valuable company in the world. So why stop now?
Well, because the iPhone train is running out of steam. Sales have peaked. And with the absence of subsidized pricing, fewer consumers are going to be willing to pay these exorbitant prices for phones or upgrade as frequently. If Apple wants to continue charging these high prices — yes, even $400 is high — it's going to have to deliver some added value.
And the easiest, cheapest way to do that is by adding more storage instead of skimping on it.
Read also: How to transfer files between iphones?
---
Recommendation: Manage iPhone/iPad/iPod without using iTunes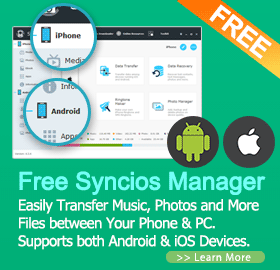 Support to transfer, edit, backup, manage, view iOS & Android mobile data: Music, videos, photos, apps, ebooks, contacts, messages and more.
Download videos from 100+ video sharing sites up to 4K HD video quality and transfer to iPad/iPhone/iPod/Android.
Massive free resources: videos, wallpapers, ringtones
Handy toolkit: Audio converter, video converter, ringtone maker, etc.
Free
You can follow Syncios onTwitter,Facebookfor more tips and tricks.
Source: cnet