With the launch of Android 6.0 Marshmallow Google looks to solve a frustration of many Android users — setting up a new Android device.
The old backup and restore process amounts to Google creating a list of apps installed on your device, and little more. When you'd restore from a backup, the Play store would install those apps, leaving you to set up your device from essentially scratch.
Android 6.0 Marshmallow will now back up more information, including the current state (log-in info, settings, etc.) of apps that have updated for the new OS.
Part of the new approach to backing up your device is for Google to use your Drive account to store the backup files themselves. If you go hunting around your Drive account for the files, you may have a hard time finding them. Here's how:
On an Android device running Marshmallow, open the Drive app.
Slide out the side drawer and select Settings.
Two different backup-related options will be present. The first, Backup and reset, launches the Android Settings app. The second, Manage backup, is what we're looking for; select it to view the apps and services currently backed up.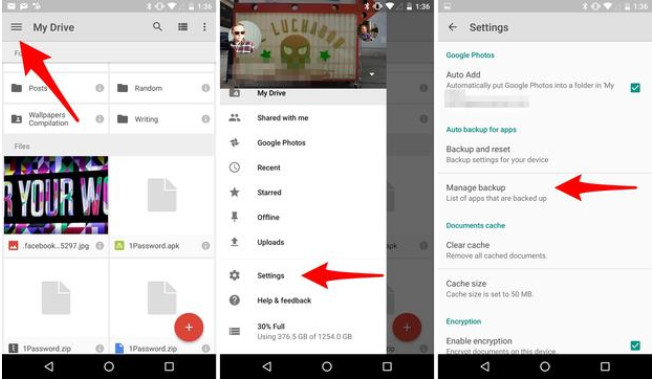 Google's new Auto Backup feature is good, but it cloud be better. Notice you can't really do anything with the items on the list, but it's nice to know what apps have updated for Marshmallow and should. As an android user, I still hope in the future we'll at least have the option of deleting a specific app's backup and backup more types of data.
Given this situiation, i'd love to backup my Android phone using a third-party tool – Syncios Data Transfer, since which it more easy to use and supports to backup almost all content on Android phone or tablets, including apps, contacts, music, videos, bookmarks, photos, SMS messages, notes, call logs, etc. As a powerful One-Click Backup Tool, it also well loved by its one-click restore function, which enable you to restore your device as your will. Of course, Synciso is fully compatible with Android 6.0 Marshmallow.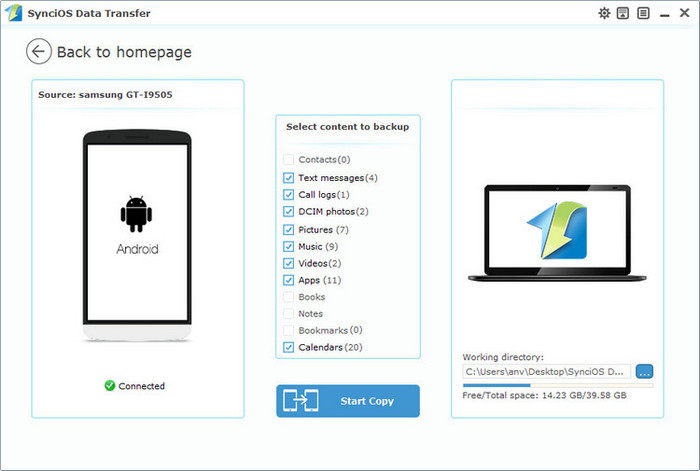 Any other question, please don't hesitate to contact us. You can follow Syncios on Twitter, Facebookfor more tips and tricks.
Read More: