Google released Android 8.0 Oreo, the latest version of the smartphone mobile operating system, in August 2017. A few devices have received the update, but many haven't. As a general rule, if your phone was made in the last two years, there is a good chance you're in luck — though every manufacturer is different and it depends on which device you own. Before Android 8.0 Oreo broke cover, 7.1.2 Nougat was the latest version of the platform, and it's still unavailable to a vast majority of phones. That didn't stop us from posing the question of if and when devices will receive 8.0 Oreo to all of Android's major manufacturers. Here is what each had to say.
Alcatel
Alcatel's track record with Android updates is unfortunately spotty, and at the moment, there is only one phone we expect to receive Android Oreo: The just-released Idol 5S. The Idol 5S is currently Alcatel's only product running 7.1.1 Nougat. The company's lower-priced handsets, the A50, A30 Plus, and A30, all launched with 7.0 Nougat. Alcatel also promised to eventually deliver Nougat to last year's Idol 4S, which launched with Marshmallow.
We reached out to TCL, the company that owns Alcatel, regarding its update road map. The company had nothing to share, though we will update this article as soon as we receive an answer.
Asus
Asus has confirmed to Digital Trends that the ZenFone 3 series will receive Oreo by the second half of 2018. Although the company isn't the quickest with updates, it did eventually follow through on its promise to bring Nougat to the ZenFone 3 series, so it'll likely do the same here — just be prepared to wait a while. Part of the delay is likely due to the company adding its ZenUI skin over the operating system, which will reportedly see an upgrade to 4.0 for Oreo. Android 8.0 Oreo for the ZenFone 4, ZenFone 3 Max, and ZenFone 4 Pro has rolled out, so we expect the rest of the ZenFone 4 and 3 range to follow in due time.
Asus phones that have received the update:
ZenFone 4
ZenFone 4 Pro
ZenFone 3 Max
ZenFone 3
Asus phones confirmed to receive the update:
ZenFone 4 Selfie
ZenFone 4 Selfie Pro
ZenFone 4 Max
ZenFone 4 Max Pro
ZenFone 3 Deluxe
ZenFone 3 Laser
ZenFone 3 Zoom
Blackberry
TCL, which works with Blackberry to manufacture its devices, has confirmed it will update the KeyOne to Oreo. There's no word on precisely when that might happen, but the version of Nougat on the device is pretty light and faithful to stock Android, so hopefully, the company won't have to make too many customizations that would delay development. As far as the company's other phones are concerned, no announcements have been made at this time, so we'll have to wait and see.
Blackberry phones confirmed to receive the update:
Essential
Essential only has one phone in its lineup, and it got off to a bit of a rocky start. The Essential PH-1 has come a long way since its release back in August of 2017, and the company has done an excellent job of pushing bug fixes and new features through software updates.
While many manufacturers are currently still trying to update their handsets to Android 8.0, Essentially skipped the initial Oreo release and went straight for the latest version with 8.1.
Google
Google's Pixel line is the flagship Android phone lineup at this point—if you want Android at its purest, then you have to get it straight from the source. That source, of course, is Google, and the Pixel lineup is the company's in-house phone, designed to show what Android can do best.
Because the Pixel phones are designed and maintained by Google, that means they get OS updates before pretty much anyone else. As a result, all phones in the Pixel line have already been updated to the latest version of Android, which is currently 8.1:
Pixel 1: Updated
Pixel XL: Updated
Pixel 2: Updated
Pixel 2 XL: Updated
HMD Global (Nokia)
HMD Global, the company responsible for producing Nokia's Android phones, has announced that it will all of its devices to Oreo. Another device, the Nokia 8, has already received the update. During a Nokia 8 launch event in the Philippines, the company said it would support every Nokia-branded phone in its portfolio for two years from release. Tthe Nokia 3 has left the Oreo beta, and the update is rolling out. The Nokia 2 was confirmed to be updated to Android 8.1 Oreo in the same tweet as the Nokia 3, but we're yet to see the update.
HMD Global phones that have received the update:
Nokia 8
Nokia 6
Nokia 5
Nokia 3
HMD Global phones confirmed to receive the update:
Honor
Honor announced that a few of its recent devices will be updated to Android Oreo. Recently, the company pushed a beta upgrade to the Honor V9 (which is the Honor 8 Pro in the U.S.). The company's CEO also confirmed that the Honor 8 would be receiving the update, though a recent tweet from Honor India, said the Honor 8 will not receive the Oreo update "due to hardware and software limitations." We reached out to Honor for clarification and the company provided Digital Trends with this official statement on January 30:
"To ensure Honor 8 users also benefit from the latest user experience upgrades, new functions of EMUI 8.0 will be ported to the Honor 8. Further update details will be released within one week. Please stay tuned and we thank you for your support and interest in Honor."
While that statement does make it clear that the Honor 8 will be receiving an update, it skirts around explicitly confirming that the Honor 8 will be receiving an Oreo update in particular. Whether or not the Honor 8 will now receive the Oreo update still remains to be seen.
The Honor 7X has finally started receiving the Oreo update after a beta program went live in several countries.
Honor phones that have received the update:
Honor View 10
Honor 9
Honor 8 Pro
Honor 7X
Honor phones possibly receiving the update:
HTC
Historically, HTC has been one of the most conscientious original equipment manufacturers (OEMs) where updates are concerned. This year, however, things might be different. The HTC U11 was one of the first non-Google devices to upgrade to Android Oreo. The budget HTC U11 Life has received Oreo, the HTC 10 has recently been updated, and the HTC U11 Plus launched with the latest version. The last phone to be upgraded (that we currently know of), the U Ultra, received the update in early March.
HTC phones that have received the update:
HTC U11
HTC U11 Life
HTC U11 Plus
HTC 10
HTC U Ultra
Huawei
The unlocked version of the Huawei Mate 9 in the U.S. has received the Oreo update, and the update has begun for the international Huawei P10 models. Beyond these two devices, it's unclear what other phones Huawei is planning to update. More rumors have emerged that Huawei may be looking to update the P9 and P9 Plus.
The Oreo updates come through EMUI 8, the company's Android theme. Huawei's current flagship, the Mate 10 and Mate 10 Pro launched with the Android 8.0 Oreo update.
Huawei phones that have received the update:
Huawei Mate 9
Huawei P10
Huawei P10 Plus
Huawei P20
Huawei P20 Pro
Huawei Mate 10 Pro
Huawei Mate 10
Huawei Mate 9 Pro
Huawei rumored to receive the update:
Lenovo
Lenovo's phones are also set to get an Android 8.0 Oreo update. The company recently updated its Android update schedule to include some phones in the K series, but the company's schedule says that it won't happen until June 2018.
Lenovo phones confirmed to receive the update:
Lenovo K8
Lenovo K8 Note
Lenovo K8 Plus
LG
LG has done a good job of refining its product lines over the last few years, keeping most of its focus on a pair of top-end phones: the G series and V series. While the G series was generally considered to be the company's flagship phones for the longest time, the V series has become the sort of cutting-edge line where the most modern tech and edgier designs are pushed.
Currently, the latest in the V lineup is the only LG handset to have received Oreo, but others are slated to get updated eventually:
V30: Updated
V30 Plus: Planned
V20: Planned
G6: Planned
G5: Planned
Motorola
While Motorola isn't quite as timely with its updates as it once was, the company is still pretty transparent about its plans and is one of the better manufacturers regarding new versions of Android. In September, Motorola announced which of its phones would get an upgrade to Android 8.0 Oreo. It didn't commit to a timeline but said that device owners could expect new firmware "this fall."
Not every phone will make the jump, unfortunately. The Moto G4 won't get Oreo, and neither will the Moto E4. Initially, Motorola refused to commit to updating the Moto G4 Plus — despite promising in the phone's marketing materials an upgrade to Android Oreo.
"It's our general practice for the Moto G family to get one major OS upgrade per device, so it wasn't originally planned for Android O," a Motorola spokesperson said in a blog post. "But it's important to us we keep our promises, so in addition to the N upgrade it has already received, we will be upgrading Moto G4 Plus to Android O. Because this is an unplanned upgrade, it will take some time to fit into our schedule, we'll update our software upgrade page when we have more info."
Motorola phones that have received the update:
Moto Z2 Force (T-Mobile, AT&T, and Sprint)
Moto X4
Motorola phones to receive the update:
Moto Z
Moto Z Droid
Moto Z Force Droid
Moto Z Play
Moto Z Play Droid
Moto Z2 Play
Moto Z2 Force (Other carriers)
Moto G4 Plus
Moto G5
Moto G5 Plus
Moto G5S
Moto G5S Plus
OnePlus
OnePlus is a company that prides itself on releasing higher-end phones with more modest prices than the competition, though many would argue the company itself can't be trusted.
While its integrity is indeed questionable, there's no arguing that it has done a good job keeping its handsets updated to the latest version of Android—all of its latest models are already running Google's latest.
5T: Updated
5: Updated
3T: Updated
3: Updated
Samsung
Samsung is the largest manufacturer of Android phones in the world, and it has a lot of phones to keep updated. As a result, it prioritizes its flagship phones above all others—the Galaxy S series and Notes will always be the first to get updated to the latest version of Android.
Still, it's generally slower to push updates than some of its competitors, presumably because it has so many irons in the fire. Samsung has gotten better at this over the years, but there's still a lot of work to be done.
Samsung phones that have received the update:
Samsung Galaxy S8
Samsung Galaxy S8 Plus
Samsung Galaxy S8 Active (AT&T)
Samsung Galaxy Note 8 (rollout underway)
Samsung phones confirmed to receive the update:
Samsung Galaxy S7 (spring/summer 2018)
Samsung Galaxy S7 Edge (spring/summer 2018)
Samsung Galaxy A5 2017 (spring/summer 2018)
Samsung Galaxy A3 2017 (spring/summer 2018)
Samsung Galaxy Xcover 4 (late 2018)
Samsung Galaxy A8 2018 (late 2018)
Samsung Galaxy J3 Emerge (late 2018)
Samsung phones rumored to receive the update:
Samsung Galaxy S6
Samsung Galaxy S6 Edge
Samsung Galaxy S6 Edge Plus
Samsung Galaxy Note 5
Sony
Sony's Xperia XZ1 and XZ1 Compact both feature Oreo out of the box, but the company is not stopping there. Sony has confirmed it will bring the update to 10 of its previous devices, and has posted a complete list of which devices are getting the update.
The list includes flagships like the Xperia XZ Premium, midrange phones like the Xperia X Compact, and lower-end handsets like the Xperia XA1 Ultra. Even the Xperia Touch — an Android-based smart projector — will receive Oreo. Sony says timing and availability will vary by market and network operators.
Sony has stepped up its efforts as of late. The Xperia X Performance was the first of its phones to get Nougat a little over three months after release. The company has become one of Google's most faithful partners in terms of distributing Android updates as quickly as possible. The company's upcoming devices, the Sony XA2, XA2 Ultra, and the L2, all ship with Oreo.
There is a bit of bad news with the Oreo update for Xperia phones — the company has confirmed that the Oreo update strips the phones of any night modes that reduce blue light coming from the phone display. A real shame if you're a fan of not being blinded at night, but thankfully there are third-party apps that replace some of that functionality.
Sony phones that have received the update:
Xperia XZ Premium
Xperia XZ
Xperia XZs
Xperia X Performance
Xperia X Compact
Xperia X
Xperia XA1 Plus
Xperia XA1
Xperia XA1 Ultra
Sony phones confirmed to receive the update:
ZTE
ZTE hasn't said which of its phones are getting Oreo, and when we reached out for comment, a spokesperson responded with the following statement:
"We evaluate whether or not a device receives the latest update on a case by case basis. We are very open to looking at bringing Android O to all our of devices, but because of device hardware capabilities and carrier requirements, this will drive how quickly we would be able to commit to whether we can, and the actual timelines of seeing this come on a device."
ZTE did make good on its promise to keep its devices current during Nougat's run. It brought version 7.1.1 to the Axon 7 and added support for Daydream VR at the same time. It even ran a program for ZMax Pro users to preview Nougat. It's been reasonably timely with updates in the past, and hopefully, that will continue with Oreo's rollout. ZTE already rolled out a beta program for Oreo on the Axon 7, and we imagine it will eventually trickle down to the and Axon 7 Mini. The new ZTE Axon M is also a likely target for an update.
ZTE phones confirmed to receive the update:
---
Recommendation: Manage iPhone/iPad/iPod without using iTunes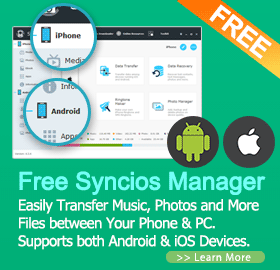 Support to transfer, edit, backup, manage, view iOS & Android mobile data: Music, videos, photos, apps, ebooks, contacts, messages and more.
Download videos from 100+ video sharing sites up to 4K HD video quality and transfer to iPad/iPhone/iPod/Android.
Handy toolkit: Audio converter, video converter, ringtone maker, etc.
Free
You can follow Syncios onTwitter,Facebookfor more tips and tricks.