Apple announced a new MacBook at its Spring Forward event, a 12-inch model that sits between the MacBook Air and MacBook Pro lines. In addition to new internals — a fifth-generation Intel Core M processor, an individual LED backlight for every key, and a fanless design — the new MacBook introduces new keyboard and trackpad designs.
Briefly, the new MacBook's keyboard does away with the scissor mechanism under the keys in favor of a new butterfly mechanism Apple says makes each key more stable and precise as well as making the keyboard thinner. Given how accustomed I've grown to typing on my current MacBook Pro (and a white MacBook before it), I'm nervous about the feel of the new keyboard design.
I have less reservations about the new pressure-sensitive trackpad, which Apple has dubbed the Force Touch trackpad. Unlike the trackpads on current MacBook Air and Pro models, the Force Touch can be clicked anywhere on its surface and can detect how much pressure you apply to its surface.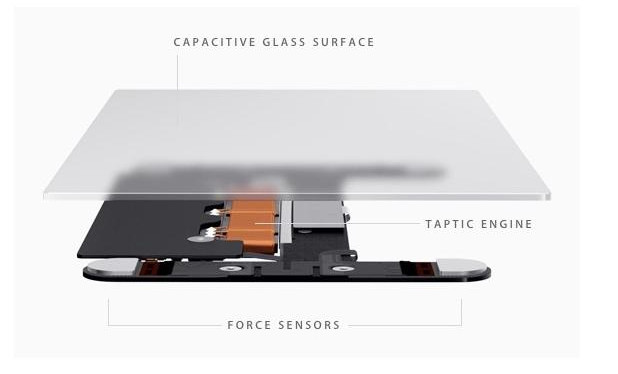 Current trackpads use what Apple called a "diving board" design, where the top edge of the trackpad near the keyboard is fixed in place, allowing the rest of its surface to be clicked. The Force Touch trackpad features four sensors that let the trackpad be clicked anywhere, including along its top edge. When editing photos, for example, I sometimes lose track of where I am on the trackpad and have a click denied when attempting to click a spot too close to the top edge. With Force Touch, no longer will I feel the frustration of a denied click.
Not all clicks are created equal with the Force Touch trackpad. It can tell the difference between a light tap and a deep press, which has allowed Apple to create new Force Touch gestures. You can deep-press on a word when browsing Safari to call up a Wikipedia entry. You can deep-press an address to bring up its location on a map or preview a file in Finder. Will the two-finger-and-click right-click procedure become a thing of the past?
The pressure sensitivity also lets you make small changes in pressure to adjust the speed when fast-forwarding through QuickTime, for example, or zooming in on a map. Apple also showed that the trackpad's will also make electronic signatures more realistic.
Along with the new sensors, the Force Touch trackpad features a taptic engine that provides tactile feedback, letting you know by feel when you performed certain tasks. Apple gives the example of aligning annotations on a PDF. You'll get a little pulse when things are lined up just so.
Lastly, Apple states that clicks are quieter on the new Force Touch trackpad.
The new MacBook models with the Force Touch trackpad will begin shipping on April 10, but Apple has added the Force Touch trackpad to the 13-inch Macbook Pro with Retina Display, which is available immediately.
Reference: CNET
You can follow Syncios on Twitter, Facebook for more tips and tricks.
Recommend: do you still feel sad about losing iPhone data? Do not worry, you can try this perfect one click iPhone data recovery tool to retrieve photos, messages as well as contacts, reminders, calendars, bookmarks, videos, notes, call history other files on your iPhone, iPad or iPod Touch. Simply download and have a try.