Apple's annual Worldwide Developers Conference kicks off on Monday morning, with a keynote event that starts at 10:00 a.m. This year's event promises to be exciting, because alongside new versions of iOS, macOS, tvOS, and watchOS, there are also rumors suggesting we're going to see several hardware updates.
New Mac notebooks are likely to be unveiled, and there's apparently a 70 percent chance we'll see the much-rumored 10.5-inch iPad Pro and a 50 percent chance Apple will use the event to introduce its Siri speaker, designed to compete with the Amazon Echo.
Check out the video and list below for an extensive overview of what we expect to see introduced at the event.
Software
iOS 11
We've heard little about iOS 11 ahead of its debut, so many of the features in the newest version of iOS will come as a surprise. iOS 11 is expected to feature a redesigned interface, with the first major system-wide design changes since iOS 7, but what it will look like is up in the air.
Apple has been rumored to be working on some major updates to Siri, and the company has purchased several AI and machine learning startups, so it's possible iOS 11 will introduce expanded Siri capabilities. One feature that's been rumored is Siri integration with additional types of third-party apps, expanding beyond the existing categories of ride booking, messaging, photo search, payments, VoIP calling, and fitness.
Rumors have suggested the update will include support for group FaceTime calls for the first time, a feature many have wanted for years, and Apple Music head Jimmy Iovine has said iOS 11 is going to include a new version of the Music app that "better showcases video" as Apple prepares to launch its first original Apple Music TV show, Carpool Karaoke.
Because iOS 10 focused so heavily on the iPhone with few iPad-specific features, iOS 11 is rumored to include some iPad-specific updates, such as improved and expanded Apple Pencil support for the iPad Pro that would allow it to work with more apps and better integration between hardware and software.
Some of the features included in iOS 11 might not be fully revealed until September, when Apple's much-rumored "iPhone 8" launches. We've heard rumors suggesting the device could include features like augmented reality, 3D sensing, and facial recognition, all of which would need to be supported by the operating system and would introduce new functionality.
For more information on iOS 11, make sure to check out our iOS 11 roundup.
macOS 10.13
With iOS 11 expected to see some design changes, it's reasonable to expect some of the same tweaks to be introduced in the next version of macOS, maintaining shared design elements across the two operating systems.
Other changes introduced in iOS 11, such as any potential Siri improvements, could also come to the new Mac operating system, and because Apple builds on the integrations between iOS and macOS each year, additional Continuity features and cross-device interactions could be included.
Apple introduced Apple File System (APFS) with iOS 10 and macOS Sierra, and while it was implemented on iOS devices, it has yet to come to the Mac. APFS could finally be introduced with macOS 10.13. APFS is optimized for flash/SSD storage and offers features like strong encryption, snapshots for freezing the state of a file system (better for backups), space sharing, and better space efficiency, all of which should result in a more stable platform.
Aside from those guesses, we know little about macOS 10.13, as we've heard no rumors about the upcoming software.
There has been some speculation that Apple could go from macOS 10.12 (Sierra) to macOS 11 because of iOS 11, but references to macOS 10.13 have already been spotted. What macOS 10.13 will be officially named remains a mystery, but Apple is likely to continue its California landmark naming scheme.
Apple is supposedly going to use a name that starts with an "M," and some possibilities include Monterey, Mojave, Mammoth, and Miramar, all landmark names Apple has previously trademarked.
To read more about macOS 10.13, check out our macOS 10.13 roundup.
watchOS 4
Any significant design changes planned for iOS 11 could also bring similar tweaks to watchOS 4, and if there are Siri updates in the works, we can expect expanded Siri functionality in the new version of watchOS as well as in iOS 11.
New watch faces and perhaps new complications are also safe guesses for features that will be included in watchOS 4, but other functionality remains a mystery because we've heard no rumors on what to expect in the update.
Apple is continually working to improve battery life and make apps more useful on the Apple Watch, so watchOS 4 could introduce those kind of refinements and improvements.
We've heard rumors suggesting Apple could potentially introduce cellular connectivity in a third-generation Apple Watch, a feature that would need to be supported by tweaks to the watchOS operating system.
tvOS 11
If we know little about iOS 11, macOS 10.13, and watchOS 4, we know even less about the next-generation version of tvOS. There have been no rumors or hints giving us an idea of what to expect, and many tvOS features are still in their infancy.
Rumors suggest Apple is working on a high-end MacBook Pro model that will support up to 32GB of RAM, but whether or not that particular machine will be introduced at WWDC remains to be seen as it was originally rumored for late 2017.
For more information on the upcoming MacBook Pro update, make sure to check out our full MacBook Pro roundup.
MacBook
Apple's 12-inch MacBook is expected to see a refresh at WWDC, introducing faster Kaby Lake chips with improved graphics capabilities and improvements to app switching and battery life.
Next-generation MacBooks could also include support for up to 16GB of RAM, up from 8GB in current machines, but no external design changes are expected.
For more information on the upcoming MacBook update, make sure to check out our full MacBook roundup.
MacBook Air
Along with new MacBook Pro and MacBook models, Apple is said to be considering announcing a MacBook Air refresh, with new machines that include updated processors.
The MacBook Air was last updated in 2015 and continues to use a previous-generation Broadwell chip. If Apple does go ahead with a refresh, a new machine could use Skylake or Kaby Lake processors, making it viable for several years to come.
An updated chip for the MacBook Air isn't a sure thing, but if new chips are introduced, it will likely be the only MacBook Air upgrade. External changes like a new display or a new body are not expected as Apple's low-cost notebook has largely been replaced by the MacBook and the MacBook Pro. It does, however, hold a valuable position in the Mac lineup as Apple's most affordable notebook.
For more on the MacBook Air rumors, check out our full MacBook Air roundup.
Siri Speaker
Apple has been quietly working on a Siri speaker to compete with the Amazon Echo and the Google Home, and the device, which is already in production, could be unveiled at the Worldwide Developers Conference.
Apple's Siri speaker will serve as a hub for its services, including Apple Music and HomeKit. To differentiate it from competing products, Apple is said to be focusing on superior sound quality with virtual surround sound technology that's able to "reproduce sound more crisply" than the Echo or the Home.
Rumors have suggested it could include sensors that would allow it to measure a room's acoustics and adjust audio levels automatically during use, and it could also include a camera and facial recognition capabilities so it is able to tell between different members of a family.
Some rumors initially suggested the speaker might have a touch panel, but later information clarifies that it will not include a full display. Design wise, the speaker may feature a Mac Pro-like concave top with built-in controls and a "fat" body covered in speaker mesh. Like the Amazon Echo and the Google Home, the Siri speaker is likely to support third-party services and apps, allowing it to perform a wide range of tasks.
If Apple does debut the Siri speaker at WWDC, it won't launch immediately – it's not expected to go on sale until later in the year, perhaps in the fall alongside the rumored "iPhone 8." If Apple is planning to allow third-party developers to create speaker integrations, an introduction at WWDC ahead of a later launch makes sense.
For additional detail on the Siri speaker, make sure to check out our full Siri Smart Speaker roundup.
iPad Pro
Apple is rumored to have a 10.5-inch iPad Pro in the works, and it could finally make an appearance at WWDC. The new iPad Pro is said to have a body that's similar in size to the 9.7-inch iPad, but with a larger ~10.5 inch display, made possible through thinner top and side bezels. As seen in the mockup below, said to be based on current iPad Pro rumors, alleged design drawings, and dummy models, the new iPad could potentially be slightly larger than the existing 9.7-inch device.
iPad Pro rumors have largely focused on the new display, but an upgraded model is also likely to feature an upgraded processor, improved cameras, True Tone flash, quad speakers, and a True Tone display, with some of these features being adopted from the previous 9.7-inch iPad Pro.
Apple may also be planning to introduce a new 12.9-inch iPad Pro with updated internal components, but we've heard little about it with most of the spotlight on the new 10.5-inch model.
For more on the upcoming iPad Pro refresh, make sure to check out our full iPad Pro roundup.
What's Not Expected
Many of Apple's desktop Macs, including the iMac and the Mac mini, are in need of updates, but we've heard no rumors suggesting a refresh is imminent. Apple executives have said new iMacs, including high-end pro-level models, are in the works, but it's not clear when those machines will launch.
WWDC Coverage
MacRumors plans to provide live coverage of Apple's keynote event here on MacRumors.com and through the MacRumorsLive Twitter account for those who are unable to watch Apple's livestream.
Following the keynote, we will also have ongoing coverage of all of the announcements and everything that's discovered over the course of the week.
Related: How to Backup iPhone/iPad After iOS 10 Upgrade
Recommendation: Manage iPhone/iPad/iPod without using iTunes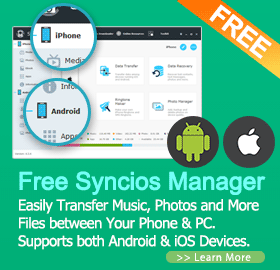 Support to transfer, edit, backup, manage, view iOS & Android mobile data: Music, videos, photos, apps, ebooks, contacts, messages and more.
Download videos from 100+ video sharing sites up to 4K HD video quality and transfer to iPad/iPhone/iPod/Android.
Handy toolkit: Audio converter, video converter, ringtone maker, etc.
Free
You can follow Syncios onTwitter,Facebookfor more tips and tricks.