If you're reading this article, it might be because you've been the unfortunate victim of smartphone theft, or you've simply lost your phone. Whether it's the dollar value of the phone or all the personal data it holds that has you worried, having a missing phone is always bad news. Nevertheless, it's important to act quickly if you want to get it back. Here are the first steps you should take if your phone is stolen or lost.
How to find your smartphone
Android offers several ways to find your lost or stolen smartphone. The best known one is Google's Find My Device, which you can access from the website on your computer or the app from the Google Play Store. Here are more details on how to use the service, which used to be called Android Device Manager:
Other apps and solutions exist help you find your smartphone via its GPS, too. If you're able to find your phone with one of these services, it's best not to approach a thief yourself. Instead, leave it up to the police. But, if you just misplaced your phone, this will help you figure out where it is and get it yourself.
If you've lost your phone on public transportation, it's also a good idea to contact the local transit authority to see if it's been found. The local police may also be holding it for you if a good citizen has turned it in to them.
How to wipe your smartphone data remotely
If you're unable to recover your smartphone, Android gives you the option to erase the data on the phone remotely using the Find My Device service mentioned above. If only takes a few seconds to reset the phone (and the thief won't be able to stop it once it's started), but it's irreversible, so consider this option carefully before doing it.
How to report your smartphone as stolen
If your phone is stolen, it is important to report the theft to the police as soon as possible (within 48 hours at most). This is especially important if your phone is covered by insurance. The police report will allow the authorities to block the phone from being used on other networks.
To report your phone as stolen to the police, you'll need the following information handy:
The IMEI number of the smartphone, which can be found on the box or in the About section of the phone's settings menu, is like a 15-digit license plate for your smartphone. Keep it written down somewhere.
The model of your smartphone and any stolen accessories. Note the brand, version and color.
Your phone number and the name of your mobile network.
The circumstances of the theft, specifying the date, time and location of the theft.
It is very important to know the IMEI number of your smartphone.
If your phone is covered against theft by an insurance policy, it's necessary to notify the company as soon as possible so you stay aware of the procedure to follow and the benefits you're entitled to. Pay close attention to what you tell them, as it could mean the difference between seeing the benefits of your policy or being left with no recourse.
How to disable your cell phone service
Whomever stole your cell phone might like to rack up a large phone bill on your behalf by calling paid 1-900 numbers with your phone. To avoid this, you need to notify your service provider that your phone has been lost or stolen as soon as possible. Then, your mobile provider can shut off your phone service. You can suspend service to your number through your carrier's website, in their shops or by calling customer service.
Here are the customer service numbers for the four main mobile carriers in the US:
AT&T: 1 (800) 331-0500
Verizon: 1 (800) 837-4966
Sprint: 1 (888) 211-4727
T-Mobile: 1 (877) 746-0909
If you suspend your service, it will stop working instantly, thus avoiding fraudulent use. In most cases, you'll still be able to call your voicemail from another phone without incurring any additional costs. You'll be billed for the month as usual, and you can get a new phone or activate a new SIM card from your carrier later if you don't recover your missing phone.
How to protect your smartphone
To protect your phone in case it gets stolen, or at least mitigate the damage, you should take basic precautions like setting up Find My Device (also known as Android Device Manager), a lock screen passcode and/or the fingerprint scanner if you have one.
Related: How to Backup and Restore Data before Phone gets Stolen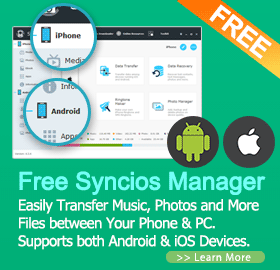 Support to transfer, edit, backup, manage, view iOS & Android mobile data: Music, videos, photos, apps, ebooks, contacts, messages and more.
Download videos from 100+ video sharing sites up to 4K HD video quality and transfer to iPad/iPhone/iPod/Android.
Handy toolkit: Audio converter, video converter, ringtone maker, etc.
Free
You can follow Syncios onTwitter,Facebookfor more tips and tricks.