Broken iPhone screens are so common, so if unfortunately you dropped your iPhone 7 on the sidewalk and now the screen is a mess, here are your options for fixing (or not fixing) that broken iPhone 7 or 7 Plus screen:
1. Make do with it
A broken iPhone 7 or 7 Plus screen isn't the end of the world. If the cracks in your screen are minimal and purely cosmetic, you may want to put off repairs until they're actually problematic. I suggest picking up a glass screen protector — such as Ventev's ToughGlass for iPhone 7 or Case-Mate's Gilded Glass Screen Protector for iPhone 7 Plus — to keep cracks from spreading (and to prevent any cuts as you slide your finger across the screen).
2. Get it fixed by Apple
The best option for getting your iPhone 7 or 7 Plus screen fixed: Apple.
If you have AppleCare+, a broken iPhone 7 or 7 Plus screen will cost a mere $29 to fix. However, AppleCare+ costs $129 and only covers two broken screen incidents per device — so your first broken screen will actually cost $158 (which is more than a broken screen replacement for an iPhone 7 or 7 Plus without AppleCare+), but if you break it a second time the cost-per-incident will go down to $93.50. To check if your device is covered by AppleCare+, go here and enter your iPhone serial number.
Without AppleCare+, the cost for fixing screen damage (and only screen damage) is still very reasonable: $129 for an iPhone 7 screen and $149 for an iPhone 7 Plus screen.
To get your iPhone 7/7 Plus screen fixed by Apple, you will need to take your phone into an Apple Store or send it into an Apple Repair Center. Sending a phone into an Apple Repair Center will cost $6.95 in shipping fees, and your phone will be returned to you approximately 3 – 5 business days after the Repair Center receives your device — so this option could mean as much as a week without your phone. In-store screen repairs usually take about an hour to an hour and a half, but you will need to reserve a spot at the Genius Bar (and you may not be able to get a same-day reservation, depending on how busy your local store is).
Kindly note that remember to back up your device: It's unlikely that anything will happen to your data during the repair, but it's better to be safe. Here's how to back up your device.
3.  Get it fixed by a third-party repair shop (Not recommend)
Apple's screen repair service is pretty cheap — so cheap, in fact, that it probably doesn't make sense to go to a third-party repair shop unless you're in a pinch (e.g., you don't live near an Apple Store and you can't bear to be without your phone for a week).
Most third-party repair services can't repair an iPhone 7 or 7 Plus screen for significantly less than $129 – $149, and any discount you'll get might not be worth the risk. Third-party repair services usually use third-party parts in their repairs — and some of these parts may not be up to Apple's usual standard of excellence.
If you go to a bad third-party repair shop, you may end up with problems like a home button that no longer recognizes fingerprints…or a bricked iPhone. And if a third-party repair shop bricks your iPhone, not only will you void your phone's warranty, Apple may refuse to work on your phone at all. So, if you do decide to go with a third-party repair, make sure they offer a warranty on their service and any parts they replace.
Read also: How to Backup iPhone 7/7 Plus on Mac?
---
Recommendation: Manage iPhone/iPad/iPod without using iTunes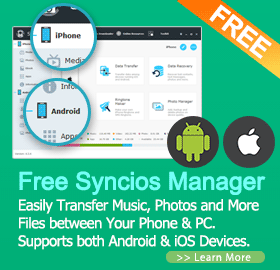 Support to transfer, edit, backup, manage, view iOS & Android mobile data: Music, videos, photos, apps, ebooks, contacts, messages and more.
Download videos from 100+ video sharing sites up to 4K HD video quality and transfer to iPad/iPhone/iPod/Android.
Massive free resources: videos, wallpapers, ringtones
Handy toolkit: Audio converter, video converter, ringtone maker, etc.
Free
You can follow Syncios onTwitter,Facebookfor more tips and tricks.
source: cnet