If you've been having trouble receiving text messages from iPhone users, Apple's iMessage is probably at fault–especially if you recently switched from iPhone to Android, or something else.
This problem most often occurs when you switch from an iPhone to another type of smartphone, but it could happen to anyone. Even if you've never owned an iPhone, if you have a new phone number, that phone number could have been registered with Apple's iMessage by its previous owner.
Why Apple's iMessage Gets In the Way
Apple's Messages app tries to be smart. If an iPhone user opens the Messages app and tries to send a text message to a phone number, you might assume the iPhone would just send a text message. But it won't.
Instead, the Messages app will check with Apple to see if the phone number is registered with Apple's iMessage service. If it is, the Messages app won't send a standard SMS message–it'll send an iMessage instead.
iPhone users don't choose to send messages via iMessage or standard SMS–it's automatic. The only indication for an iPhone user is that messages sent via iMessage are blue, while messages sent via standard SMS are green.
This is designed to be a seamless experience between iPhone users. If you message someone and they're using an iPhone, the message will be sent via iMessage. If someone isn't using an iPhone, Messages will send it as a standard text message.

Read Also:
People Who Switch to Android Fall Through the Cracks
But it's possible for this system to cause problems. This will most commonly occur if you've switched from an iPhone to an Android phone or another type of phone.
Even after you leave your iPhone, your phone number will still be in Apple's system and registered with iMessage. So, when an iPhone user attempts to text you, their Messages app will send an iMessage, which will just sit on Apple's server–and never make it to you, since you no longer have an iPhone. Their Messages app will say the message was sent successfully–Apple's iMessage server received it–so they'll have no clue you didn't get it. Text messages sent to you from iPhones will just appear to vanish into the void.
This could potentially also occur even if you've never had an iPhone. For example, if your phone company gives you a new phone number that was previously used by an iPhone, it could conceivably still be registered with iMessage.
How Deregister Your Phone Number and Disable iMessage
To solve this problem, you just need to deregister your phone number from Apple's iMessage service. Apple began offering a tool to do this after it faced the threat of lawsuits.
To deregister your phone number from iMessage, head to Apple's Deregister and Turn Off iMessage website and enter your phone number. Apple will send a text message to your phone number. Enter the confirmation code from the text message on the web page to confirm you have access to that phone number. Apple will then remove your phone number from the iMessage system.
When an iPhone user attempts to text you, the Messages app will see that you're not registered in iMessage anymore, and will automatically send you a standard SMS message. According to Apple, it may take a few hours for this to take effect.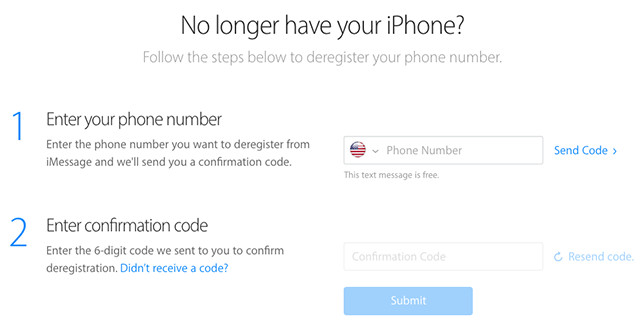 If you still have your old iPhone, you can also do this from the iPhone. If you've used the above online tool, you don't need to do this–this is just an alternative method.
Insert your SIM card into the iPhone and open the "Settings" app. Tap the "Messages" category and disable the "iMessage" slider at the top of the screen. Go back, tap the "Facetime" category, and disable the "Facetime" slider. You can now remove your SIM card from your iPhone, insert it into your new phone, and everything should work.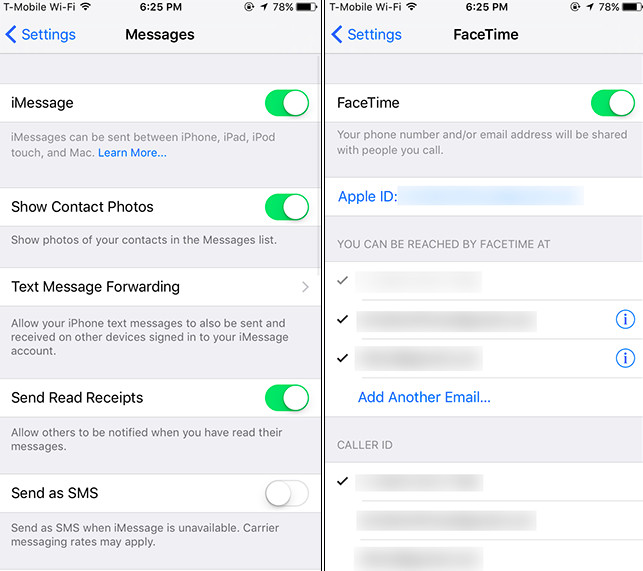 This may be common knowledge in some circles–especially after all the controversy and lawsuits a few years ago–but it's a problem many people bump into. Unfortunately, people may be entirely unaware of this problem with iMessage when they switch. They may also not have connected the dots and realized that the people they can't receive texts from are iPhone users. But, once you've identified the problem, it's thankfully pretty easy to fix with Apple's website.
Recommendation: Manage iPhone/iPad/iPod without using iTunes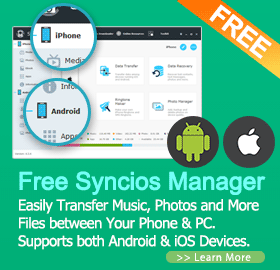 Support to transfer, edit, backup, manage, view iOS & Android mobile data: Music, videos, photos, apps, ebooks, contacts, messages and more.
Download videos from 100+ video sharing sites up to 4K HD video quality and transfer to iPad/iPhone/iPod/Android.
Massive free resources: videos, wallpapers, ringtones
Handy toolkit: Audio converter, video converter, ringtone maker, etc.
Free
You can follow Syncios onTwitter,Facebookfor more tips and tricks.
Source: howtogeek