One of the great things about having an iPhone is that old models generally retain a lot of value, so when you decide to upgrade to a new model you can usually sell your old phone for a decent amount of money. If that's your plan, though, there are some steps you must take—to protect yourself and your buyer—before selling your used iPhone. Follow these four steps and you'll keep your personal information private and pocket some extra money.
1. Back Up Your Phone
The first and most important step in getting your iPhone ready to be sold is to back up your data. We all store a lot of important personal information on our phones—from emails to phone numbers to photos—that we wouldn't want a stranger to have access to. Deleting that data makes sense, but you'll want to have a back up of it so you can put in on your new phone.
There are three kinds of backups you can choose from: backup with Syncios, backup to iTunes or backup to iCloud. You're likely already doing one of these. If so, do one final. If you don't know how to backup iPhone with Syncios, iTunes or iColoud, follow the steps in these articles: How to Back Up iPhone
2. Confirm Back Up
Carpenters say that you should always measure twice and cut once. That's because careful planning often prevents mistakes from being made. It would be terrible to delete all the data from your iPhone only to discover that you hadn't properly backed it up. So, before you move to the next step, check to make sure that your key information—your address book, photos (especially photos! So many people lose these without realizing it), music, etc.—is on your computer or in iCloud (and, remember, that virtually anything that you've gotten from the iTunes or App Stores can be redownloaded for free).
If you're missing things, back up again. If everything's there, move on to the next step.
3. Restore to Factory Settings
Once you know all your data is safe and sound and ready to be moved to your new phone, you're ready to erase your old iPhone. The easiest way to do this is to restore it to factory settings. This process deletes all data and settings and returns the phone to the state it was in when you first got it.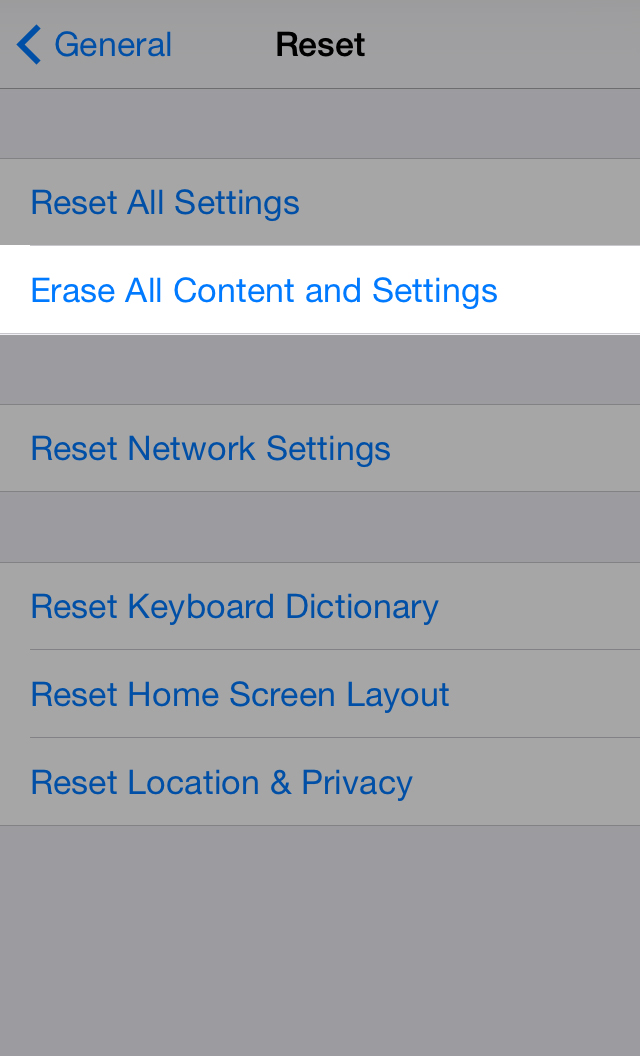 4. Check iCloud
With the factory reset process completed, your iPhone should reboot and show you the first setup screen. At this point, you shouldn't do anything else with your old iPhone. If everything has gone right, your old iPhone only has the iOS and built-in apps on it and is ready for its new owner to set it up.
The best way to confirm that this is the case is iCloud and Find My iPhone. Log in to Find My iPhone at http://www.icloud.com/find. When you've logged in, check to see if Find My iPhone shows your old phone. If it doesn't, you're all set to move to the next step.
If your old phone still shows up in Find My iPhone, use the site to Erase your iPhone. When that's done, select your iPhone and remove it from your account. If you don't do this, your iPhone will still be locked to your Find My iPhone account and the new owner won't be able to use it—and no one likes an unhappy buyer.
5. Make Sure Service Is Working on New Phone
When all of your data is deleted and Find My iPhone is no longer tracking your old iPhone, there's just one more step to prepare your iPhone for sale: making sure your new iPhone is working.
Your phone service should have transferred from your old phone to your new one when you bought and activated the new phone. You may already know it works: you may have gotten phone calls on the new phone. If not, ask someone to call you and make sure the call goes to your new phone. If it does, all is well. If it doesn't, contact your phone company to make sure everything is correct about your service before getting rid of your old phone.
Preparing to sell your used iPhone is a pretty simple process, but you it's still crucial that you follow all the steps. Skipping one could mean lost data for you, your buyer paying for a phone they can't use, or interruption in your phone service. No one wants any of those outcomes. Follow the steps, though, and you'll end up with a new phone and extra cash—and that's a great combination.