Nowadays, smart phones bring us great convenience for more and more advanced technology, however, some people are suffered from phone addiction. The impact of smart phones on our daily life should not be underestimated. We have many chat logs with our friends or some photos that are to share our life in different social platforms. In new information era, privacy leaking is not unique in certain country but all over the world. As we all know, the mobile phone renewal speed is very fast. Selling old phones is a good way for the phone users who have a high requirement against the latest mobile phone technology. So what should we do before selling our old iPhone 6/7/8? Follow this tutorial to backup your iPhone or erase all iPhone data completely before selling.
---
Part 1: Backup Data from Old iPhone to the Computer/new phone
I believe that many of us have ever experienced iPhone data lost for Wrong operation, phone got broken or some other reasons. Apparently, backup phone data is a necessary habit for us which is not limited to the situation that you want to sell your old iPhone. And if you have a powerful tool, you can backup phone data pretty easy.
Backup Data to computer selectively
If you just want to backup part of your data and would like to preview them, Syncios iPhone Manager is the best choice for you. It is a multifunctional but free iPhone assistant which has both windows version and mac version.
Step 1: First of all, download and install Syncios iPhone Manager, launch the procudure and then connect your iPhone (We will take iPhone 8 as an example in the following steps) to the computer.
Step 2: From the screenshot below, you can see that Media, Photos, Ebook, Apps and information are the five types of data that available for us to backup. Now we take Messages as an example. Find and click 'Information' option, you can see Contacts, Notes, Bookmarks, Call history, Messages, WhatsApp, Safari History and Voicemail on the top of the page. Choose the messages that you are going to backup from your iPhone to the computer. Click 'Backup' option and a pop-up window will appear. Then click 'Browse for Computer' to choose a target folder. Finally, press 'target folder' > 'OK' > 'Backup' to copy data to the computer.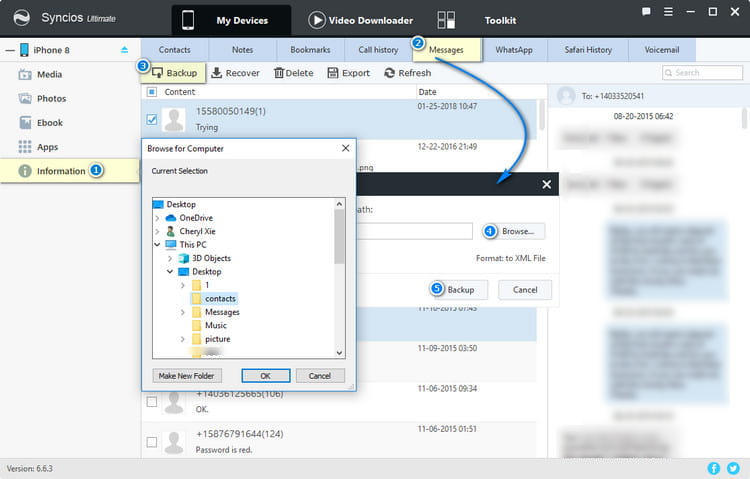 One-Click Data Backup to the computer/new phone
Syncios Data Transfer
Transfer almost all files, including contacts, video, SMS, photos, call logs, music, Ebook and apps between phone to phone!
Comprehensive iMessage copy, including job title, linker, images, etc.
Transfer important files between Android and iOS devices.
Selectively transfer data between any two of them without data loss.
Restore backups of Messages created by iPhone/Android to PC Transfer
---
If you want to backup your data as soon as possible, Syncios Data Transfer is your top choice!
Step 1: Download and install Syncios Data Transfer.
Step 2: Open Syncios Data Transfer. On the left panel, there are 'Transfer' option allows us to transfer old iPhone data to a new iPhone/Android phone, 'Restore' option enables us to transfer data from iTunes/iCloud Backup to an iPhone/Android phone and 'Backup' option to backup data from phone to computer through one-click. Therefore, connect your old iPhone to the computer and click 'Backup' option. In this page, you can choose the save path and see the remaining storage space of this path. Click 'Next' option to begin data backup.
NOTE: Wait till complete and click 'Back' option to the last page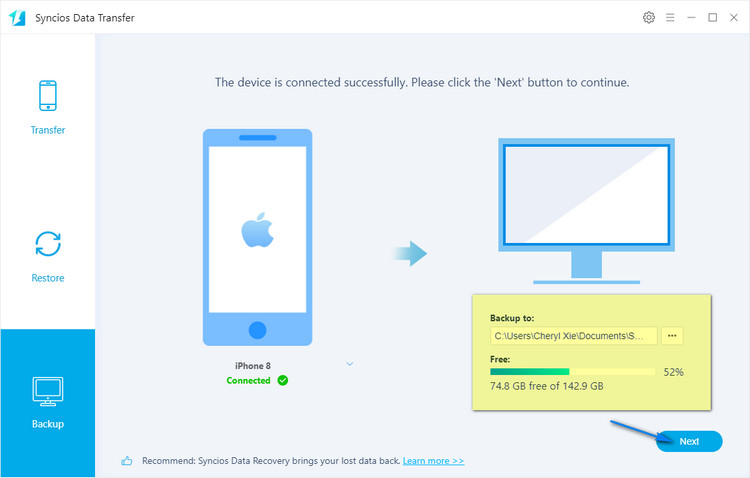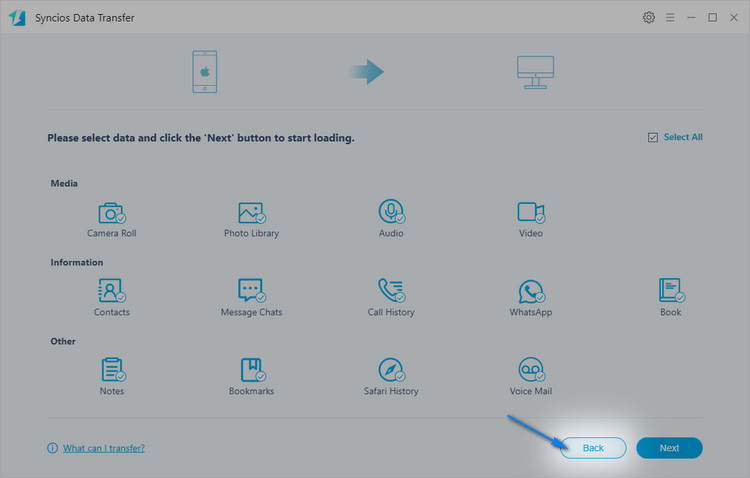 Step 3: Now connect both your old iPhone and new mobile phone to the computer, then find and click 'Transfer' option on the left panel. Your target phone should be put on the right. If the position is incorrect, you can change it manually. Click 'Next' option to the next step. And we would like to take Messages as an example again. Press 'Message Chats' > 'OK' > 'Next' to transfer data to your new mobile phone.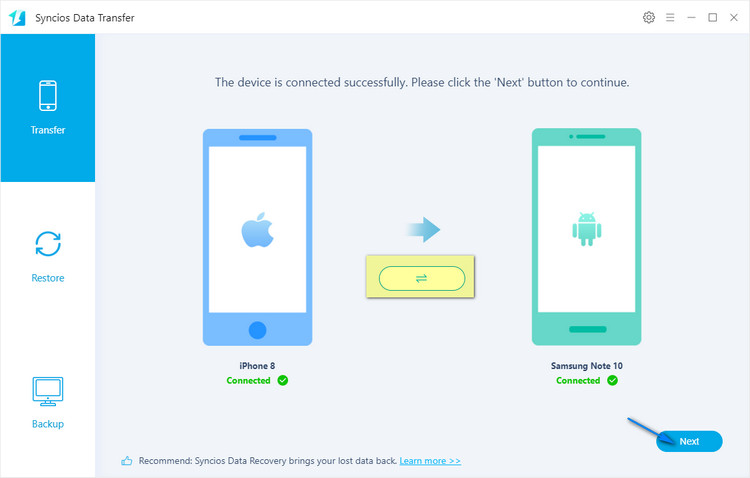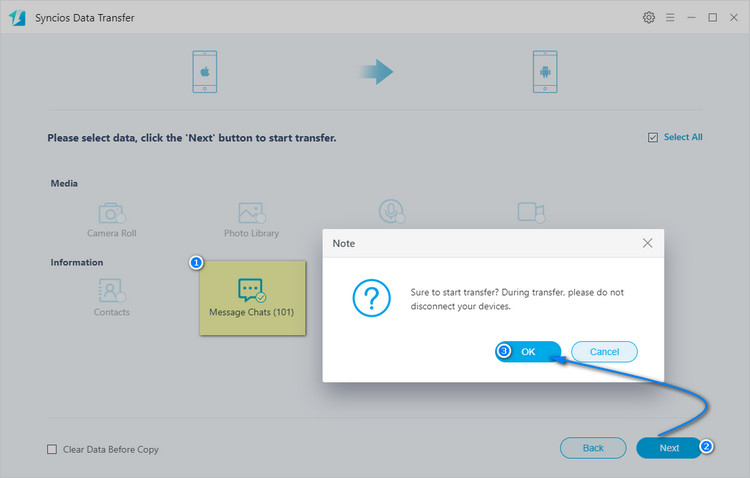 Note: Please don't disconnect your device until complete.
---
Part 2: Erase old iPhone Data Completely
It's far from enough for us to backup data in old iPhone before selling it, and more importantly, we are supposed to delete our personal information completely. Once these personal information are divulged, consequence is unimaginable. Therefore, use the professional tool called Syncios iOS Eraser to make them irrecoverable by any means.
Step 1: Firstly, download and install Syncios iOS Eraser.
Step 2: Launch Syncios iOS Eraser. You can see the following page. There are five option: Free Up Space, Erase All Data, Erase Deleted Files, Erase Private Data and Erase Private Fragment. As you can see, this software can not only help you protect your privacy information but also instantly delete all junk files that generated with daily usage. However, before selling our old iPhone, there is no doubt that we should erase all data to prevent information leakage. Therefore, click 'Erase All Data' > 'Erase' to delete all data from your old iPhone completely.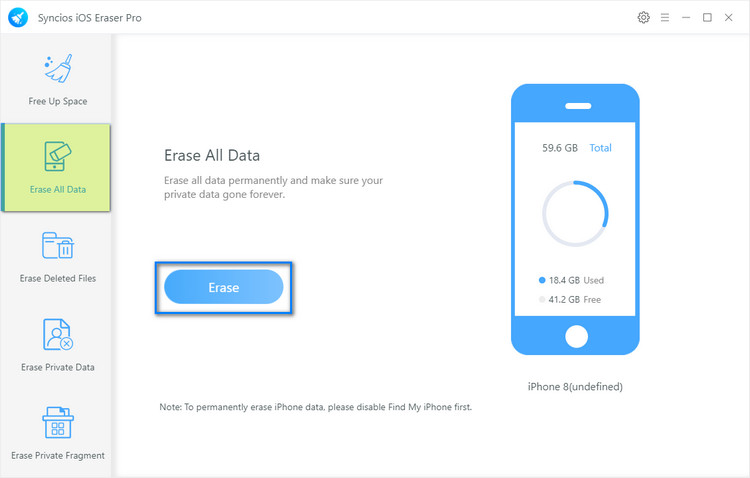 ---
Mobile Data Transfer to Simple yet effective solution for transferring mobile content

Transfer almost all files, including contacts, video, SMS, photos, call logs, music, Ebook and apps between Android and iOS.
Comprehensive contact copy, including job title, email addresses, company name, etc.
Selectively transfer data between phone to phone.
Free Trial 
You can follow Syncios on Twitter, Facebook for more tips and tricks.