We've been collecting a long list of features that the Samsung Galaxy S9 is rumored to include when it launches next month at Mobile World Congress, the show for all things mobile.
Meanwhile at CES, the show for every sort of tech (not just mobile), we saw plenty of innovations that could find their way into future handsets like the Galaxy S9.
Realistically, most of these features would show up well down the line if they do at all, but at least one new technology we saw is a strong bet to appear in Samsung's top-shelf phone for March. If it does, it would fix the Galaxy S8's most maddening flaw.
First-ever in-screen fingerprint sensor
An unnamed, unreleased phone from China's Vivo is the first to demo a fingerprint reader built right into the screen. Technically, the sensor lives underneath the screen. We got to meet with Synaptics, the company that made the fingerprint reader, to check it out.
Why it's important: This kind of technology was rumored to be on past Samsung Galaxy phones and on the iPhone X. It wasn't, but it is rumored for the Galaxy S9. A fingerprint reader in the display lets devicemakers use the entire phone screen for your apps, without shrinking the active area to make space for a physical button.
An in-screen reader would also let Samsung solve the glaring problem of its awkwardly-placed and hard-to-get-to fingerprint reader on the back of the Galaxy S8 and Galaxy Note 8 — all the way to the right of the camera lens.
Flexible electronics and roll-up displays
LG made a TV screen that physically rolls down into its housing when you're done watching it — so you aren't staring at an ominous black mirror.
It's far too soon for phones to follow suit, but the fact that the technology exists in a consumer product gives us hope that it could one day be miniaturized and applied to phones. The dreams of foldable and rollable displays have been a moon shot project for R&D departments for years.
We've seen concepts like 2017's CPlus wrist-worn bracelet phone, but right now we're seeing baby steps. Samsung, however, did promise a foldable phone some time in 2018. We hope it's better than ZTE's ambitious Axon M that folds out into a mini tablet.
The challenge: While Samsung and LG successfully made flexible displays years ago — we've also seen flexible glass — getting components like batteries and chips to bend and flex still isn't tenable.
Phones powering laptops… again
Samsung's DeX dock lets you use your Galaxy phone kind of like a computer, by displaying the content of your phone on any large monitor.
But gaming brand Razer takes the concept a step further by using the Razer Phone as both trackpad and processing engine for a laptop dock that otherwise won't turn on without the phone. They call it the Razer Project Linda.
Why this could be cool: Phonemakers have tried this from as far back as 2011. Asus did it, too, using a phone to power a tablet. The tech didn't catch on. While some of us maintain some healthy skepticism that Project Linda won't be able to provide the same power or smooth experience to make a phone-fueled laptop worthwhile, the idea of using a docked phone for more than just its processor is a bright one, and one we'd like to see Samsung apply to phones like the Galaxy S9 or Galaxy Note 9.
Phones that charge other phones
Rugged phonemaker Cat showed off the S41, a phone with an enormous 5,000mAh battery that can be used to charge other phones. Say your buddy needs a top-up. You could not only become their power hero, but you can also set a limit to how much charge they can draw so you don't exhaust all your battery helping them.
Cat doesn't even use the newer USB-C technology that makes data and power transfer between devices possible; the S41 still uses a Micro-USB port.
This is a gimme: Battery life is hugely important to buyers, which is why phonemakers bust their butts trying to make devices that last longer and charge faster, so you can get and keep as much power in reserve as possible.
But having the option to help someone out with a quick top-up from the phone itself would help set the phone apart from the crowd, especially if the phone owner is able to recharge their fancy device before their friend, either wirelessly or through a cable.
Shutter that physically blocks the webcam
Slide a tiny switch on the Lenovo Smart Display (Google's new take on a smart screen for your home) and a shutter snaps over the front-facing camera, giving you a very clear assurance that nobody can see you. Lenovo also added the feature to two new laptops.
Security is a hot topic, especially in a year marked by major data breaches and hacks. If you find yourself putting duct tape over your laptop's webcam or know someone who does, you understand the appeal of this switch.
How likely is this to come to phones?: Pretty unlikely. Phone users heavily use the front-facing camera for selfies and video chats. A shutter would be an extra expense, and another component that could break.
Designers would also have to fit it into the body and even if slim, it would take up some space — not too compelling when the focus is on making devices thin and light.
Sensors that track your food and health
L'Oreal gave us a nail-worn sensor that measures your exposure to damaging UV rays.
Motorola announced a snap-on Moto Mod accessory that measures vitals like your heart rate, temperature and blood pressure.
And a company named Osram showed off an LED chip that could turn your phone into a scanner that measures the chemical makeup of your food and medicine. (We've seen something similar integrated into a phone last year, in fact.)
Sensors make sense: Sensors are hugely important for photography, facial recognition, fingerprint scanning, security and fitness. They take up space and add expense, but more of the right ones will greatly extend the power of a phone.
Samsung's high-end handsets already measure your heart-rate, but expanding into other health-related activities, like taking your temperature, will appeal to many… so long as readings are accurate and convenient to take.
---
Recommendation: Manage iPhone/iPad/iPod without using iTunes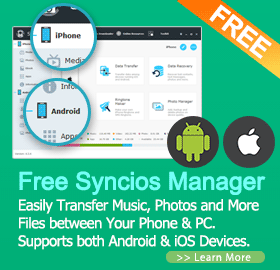 Support to transfer, edit, backup, manage, view iOS & Android mobile data: Music, videos, photos, apps, ebooks, contacts, messages and more.
Download videos from 100+ video sharing sites up to 4K HD video quality and transfer to iPad/iPhone/iPod/Android.
Handy toolkit: Audio converter, video converter, ringtone maker, etc.
Free
You can follow Syncios onTwitter,Facebookfor more tips and tricks.