When you're driving, you shouldn't be texting — and it may even be illegal depending on where you live. We all know this, but sometimes it's hard to resist at a stoplight, or even when traffic is slow. Instead of risking an accident, it's a good idea to use a hands-free utility like Google Now to handle your messaging needs.
In the past you could use Google Now to send SMS, Hangouts and email. However, a recent update will allow you to use the service to send messages through WhatsApp, Viber, WeChat, Telegram and NextPlus. The process looks like this:
Say "Ok, Google," then wait for the app to start listening.
Follow up with "Send a [app name] message to [contact name] saying [your message]"
Ex: "Send a Viber message to Jeff saying How are you?"
Note: If you have multiple contacts with the same name, you may need to confirm which one you want to message.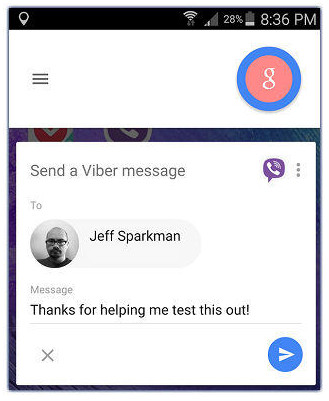 You will see the app icon appear on the information card with your message, and then you can confirm sending by saying yes or tapping the arrow button.
Which other apps would you like to see working with Google Now? Share your favorites in the comments.
Source: cnet
You can follow Syncios on Twitter, Facebook for more tips and tricks.
Recommend: if you would like to backup your iPhone/iPad/iPod Touch data to the PC, just go here to learn more. Simply download the free version and have a try, it can transfer data between iOS device and PC freely and easily.