When you are a professional with a lot of work to complete on time, it's crucial to have a calendar, not only to get an idea of time but also to plan your work to make things smoother. Thanks to the Smartphone manufacturers, almost every Android device comes with an in-built calendar application with it, so that you can turn on Smartphone screen and check the app when you are confused about the schedule or want to know what is ahead.
So, What's the Solution?
Nevertheless, in most cases, the pre-installed calendar application becomes way too basic and it has little effect on a day-to-day agenda management of yours! In such situations, you should better think about using a third-party calendar app for Android to bring an effective Android calendar into the scenario. Not only that, some of the best Android calendar widget apps can show the agenda overview in Smartphone home screen. At any case, you've an improvement of productivity!
Top 7 Best Calendar App for Android – Best Android Calendar Widgets
If you were thinking what are the best Android calendar apps and widgets, think no further! In this article, we will list out some of the best android calendar apps as well as best calendar widgets for Android. The next time you find the uselessness of an in-built calendar app, ditch it, and get one from below.
1. Google Calendar
Don't confuse Google Calendar with default calendar app on your Android Smartphone, because most companies do not include this! One of the best calendars you can go for, its Material Design-based UI will steal the show. Of course, you get better integration with various Google services such as Gmail. For instance, if there's one mail in your inbox — regarding reservation of a hotel room — Google Calendar will add the information to schedule.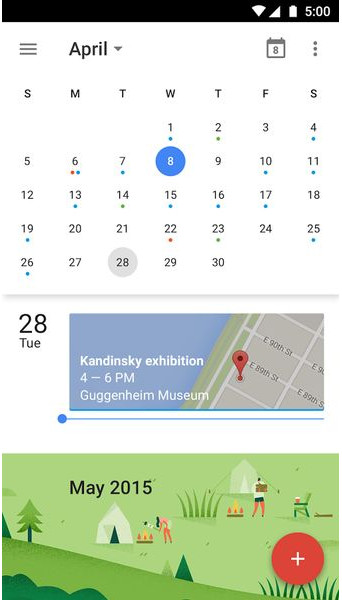 There are different kinds of Viewing Modes in Google Calendar. Out of these, the Schedule View would give you details about upcoming events along with additional info such as Maps and Photos. Day-based view and 5-days-based views are also there, though the app lacks a whole-month viewing mode. However, you will be able to have a quick overview of month. In addition, Google Calendar offers smart suggestions as well.
Talking of Google Calendar widgets, the app offers only one widget, which simply lists out upcoming events.
2. aCalendar
aCalendar is yet another highly-praised Android calendar application, not only for the simplicity of interface but also for the productive features. Actually, aCalendar is derived from the native calendar backend, and you can be sure of the stability and performance. aCalendar can list out events that are created using another calendar application in your Smartphone. Of course, you get a lot of features, as we said earlier.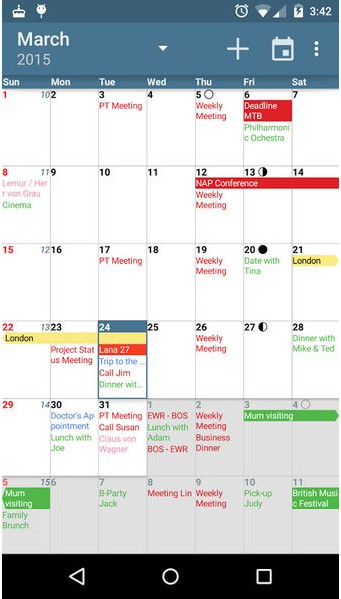 On top of all, Monthly view is available in aCalendar — a feature we missed in Google Calendar. In this view, you can know what your current month is up to! And, navigating between different Viewing Modes is an easy task, and quite useful when you want to have a quicker glance on stuff. Other features include the option for setting specific colors for different events, advanced options for recurrences, year-based viewing mode, moon phases and QR code & NFC-based event sharing.
Widgets of aCalendar offer three viewing modes, along with a 7-day view mode. These widgets can be brought to full screen.
3. Cal
Cal isn't a fully-fledged Android calendar app you can find! On the other hand, the app re-optimizes Google Calendar so that the productivity will be on top. For those who like single calendar for both professional and personal life, Cal can be a good choice. If you use Any.do — a to-do tasks app for Android —, Cal would give a superb integration. If you have set a reminder in the Any.do app, you can get that thing registered in Cal agenda.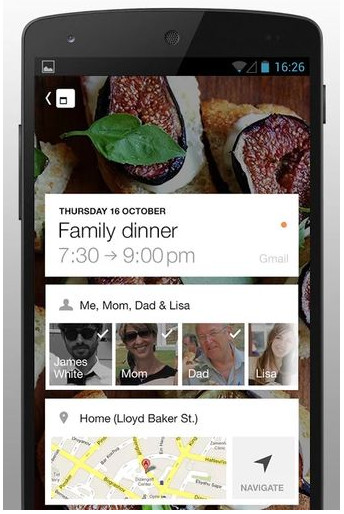 Talking of features, there's plenty. First, there's real-time synchronization of data between various calendar apps and Cal, for better optimization. While the HeadsUp feature lets you get desired information as quickly as possible, smart aspect of Cal can suggest you names and places as you will be creating new events.
There are enough options for advanced customization such as reminder and recurrences. Though there is one widget available, Cal is one of the best calendar widget apps for Android, from practical point of view.
4. DigiCal Calendar
In this list, DigiCal Calendar would be the best if you are to consider its User Interface and design aspect. Despite the design-wise richness, the calendar app for Android lets you customize things as to bring the best experience. For instance, unlike most of the calendar apps for Android present out there, DigiCal Calendar offers seven different viewing modes —from day to year view. We can also move between various sections of DigiCal Calendar in a quite easier manner.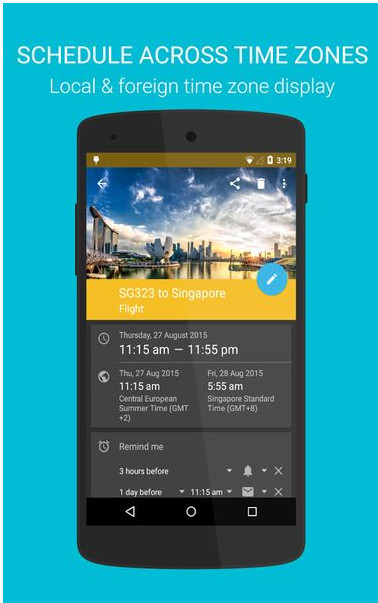 Coming to the case of performance, there are a lot of features. For instance, you have the option to create one local, unshared and non-synchronized calendar. Other options include the availability of various themes (both free and premium), easier time scheduling with respect to time zones, pop-up notifications etc.
DigiCal Calendar will also be the best calendar widget Android app, as six different widgets are available, with a variety of themes to use. You can also integrate weather forecast into these widgets. There's a premium version of DigiCal Calendar available — DigiCal+.
5. Sunrise Calendar
Sunrise Calendar is a combination of intuitive-yet-beautiful User Interface and productive features, which can let you make your task management easier. The app is now owned by Microsoft Corporation. And, there are some changes made after the acquisition, which some users condemn. That having said, Sunrise Calendar is the best calendar app for Android Smartphone users when you need tight-level integration with commonly-used services. Its capabilities for integration are the same reason why Sunrise Calendar is in the list, not to mention the UI we just loved.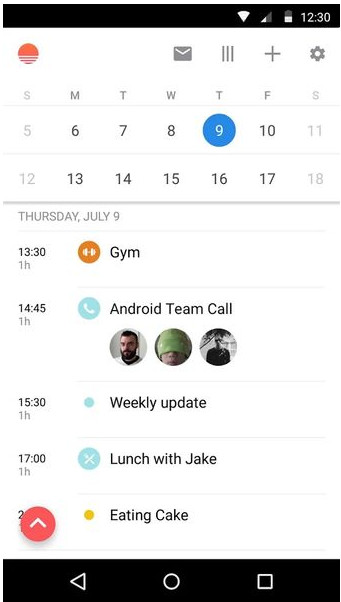 You will be able to connect your Facebook, Evernote, Trello and Todoist accounts to Sunrise Calendar; that way, you can have a unified calendar for all the events — let that be Facebook birthdays, assignments due on Trello. It also has a feature named Meet, which lets you find the available time slots in your calendar to fit in your meetings. You also get information with respect to event location, for instance, if there' rain.
Different Sunrise Calendar widgets are also available, so that you can feel comfortable in your home screen.
6. WAVE Calendar
WAVE Calendar is yet another completely free, highly-recommended and neatly-designed Android calendar app you can go for. Once you have chosen the viewing mode you like — let it be Monthly, Weekly or single-event based —, it gives you a simplified interface for planning the agenda and related tasks. And the best part has it that you can use it in your Android Wear-powered smartwatch, such as Moto 360 and G Watch etc. In the single-event-based viewing, you get an option to integrate map of the place, where the event is held.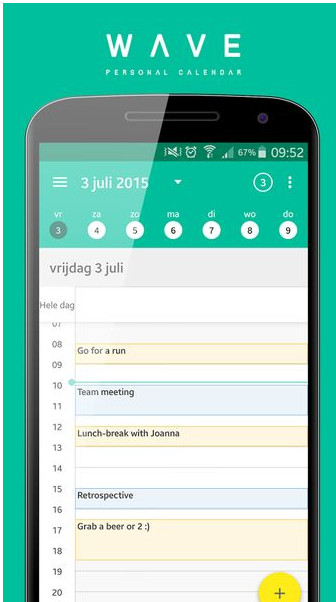 Other noticeable features of WAVE Calendar include advanced notification options, option to attach local weather info when you create an event etc. Talking of integration, you can sync data from Google, Exchange or Facebook, for creating a unified calendar. Also, there's Search Function along with easier time management.
Talking of widgets, WAVE Calendar offers a full screen, covering-all-aspects Android calendar widget you can place on your home screen.
7. Jorte Calendar
This free calendar app for Android may look like a rudimentary one, but it's packed with a variety of capabilities and a set of useful features. The interface would be convenient for managing both personal and professional stuff, such as business meetings and your friends' birthdays. We don't exaggerate but Jorte Calendar is the most customizable Android calendar app you can ever get. Also, you won't miss those cunning features.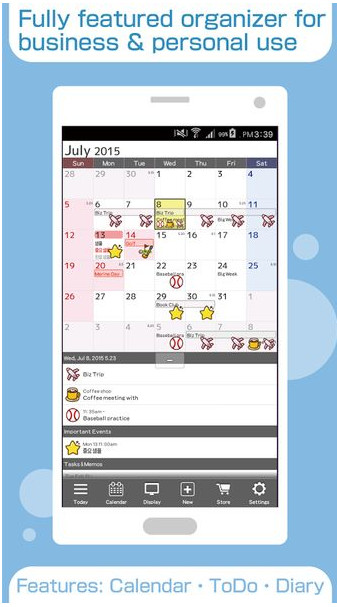 Apart from different viewing modes, there's a slide menu for easier navigation. Jorte Cloud helps you to keep data a bit more safe and accessible from different devices. Other options include the support for Lunar calendar, weather forecast integration and a variety of add-ons.
Source: techreviewpro
Read More:
Top Best Three Android Contacts Apps for Managing your Contacts / Address Book
You can follow Syncios on Twitter, Facebook for more tips and tricks.