1. Get a Level Tool in Camera App
Go to Settings -> Camera and turn on the Grid feature. Now, when you go to the camera app, you'll find a crosshair in the middle of the screen when you're pointing your camera down. Match the crosshairs and make sure the overlap. This means you've got the camera perfectly leveled against the surface.
2. Reachability Hack
Can't reach the top of the iPhone screen on your Plus models? Just double tap the Home button and the screen will slide down for you. On the iPhone X, this feature needs to be enabled from Settings -> General -> Accessibility.
3. Text to Speech Hack
iOS can read any sort of text out to you aloud. Go to Settings -> General -> Accessibility -> Speech and turn on Speak Selection and Speak Screen. Next time you're on a long article you want to be read aloud, just swipe down with two fingers and iOS will start reading everything that's on the screen.
4. Speech to Text Hack
The inverse is also true. When you don't want to type, just tap on the little mic icon on the keyboard and start speaking. The Dictation feature will convert your voice to text.
5. Ask Siri to Do Things For You
Siri is not a great at answers all your questions. It's not a Google Assistant. But it's great for doing things for you. Especially accomplishing tasks from iOS's stock apps. And it does that reliably.
6. Text Expansion Hack
Use the built-in Text Replacement feature to expand snippets of text into longer sentences. Go to Settings -> General -> Keyboard -> Text Replacement and click on the + button. Type the shortcut and the phrase and hit the Save button.
7. Keyboard Trackpad Hack
If you have an iPhone 6s and above, your iPhone has a 3D Touch feature that you might not know about. This feature lets you press deeper on the screen for a different action. You can press deeper on the app icon for quick shortcuts (on on a notification).
But one of the best places to use this feature is the keyboard itself. Press deeper on the keyboard and it turns into a trackpad. Move your finger left, right, up or down and the cursor will move as well. Press deeper once again and you'll be able to select text as you move your fingers.
8. Dark Mode Hack
iOS 11 has a Smart Invert feature that essentially brings a dark mode to iPhone. This feature turns the white background into black and the black text into white. And it doesn't do anything to media like pictures and videos.
Enable it from Settings -> General -> Accessibility -> Display Accommodations -> Invert Colors -> Smart Invert.
9. Virtual Home Button Hack
You can use the AssistiveTouch feature in Settings -> General -> Accessibility to get a virtual Home button on any iPhone. This feature is especially useful on the iPhone X but comes in handy for all iPhones.
In AssistiveTouch, you can define what happens when you tap, double-tap, long press, and 3D Touch the floating icon. This means you can define actions like going to Home, opening Control Center, speaking to Siri and more to one of these action. Once it's configured, you'll effectively never need to use the Home button again!
10. Accessibility Shortcut Hack
iOS has a lot of awesome accessibility features. Things like magnifier, Smart Invert and so on. You can enable a shortcut that brings up a selection for quickly accessing your favorite accessibility feature. Just click the Home button three times and the menu pops up.
Go to Settings -> General -> Accessibility -> Shortcuts and add the features you want to the list.
11. Screen Recording Hack
iOS 11 has a secret built-in screen recording feature. Enable the toggle from Settings -> Control Center -> Customize Controls. Next, go to Control Center and tap on the Screen Recording control. In 3 seconds, screen recording will start. Tap on the status bar to stop the recording. You'll find the recording in the Photos app.
Related: How to Transfer Data from Samsung to iPhone X?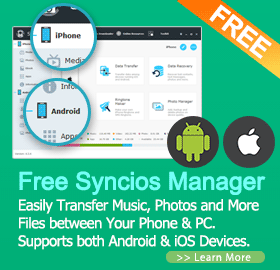 Support to transfer, edit, backup, manage, view iOS & Android mobile data: Music, videos, photos, apps, ebooks, contacts, messages and more.
Download videos from 100+ video sharing sites up to 4K HD video quality and transfer to iPad/iPhone/iPod/Android.
Handy toolkit: Audio converter, video converter, ringtone maker, etc.
Free
You can follow Syncios onTwitter,Facebookfor more tips and tricks.