Apple keeps breaking records with the number of iPhones it sells each quarter, but CEO Tim Cook isn't worried about that growth slowing down. Why? Android.
Cook said during the company's fourth-quarter earnings call Tuesday afternoon that 30 percent of new iPhone buyers in the quarter that ended in late September were switching from Android, which is a new record. And just two days of iPhone 6s and 6s Plus sales were included in the company's Q4 earnings, so that percentage of Android switchers may be higher in the holiday quarter that ends in late December.
"What this means is that for customers who purchased an iPhone last quarter and replaced a smartphone, 30 percent of those switched from an Android device," Cook said. "There would've been some switchers from other operating systems, but Android is the largest one by far. That number is the largest we've ever recorded since we began measuring it three years ago. We're very proud of that number."
There are more than 1 billion Android users in the world, Google CEO Sundar Pichai revealed at the company's annual I/O developers conference in May. Apple is clearly targeting those users with larger phones and new features like 3D Touch and improved camera hardware and software. While Android users have a wider selection of hardware at varying price points to choose from, Apple just made it more affordable to buy an iPhone up front with its iPhone Upgrade Program. In the U.S., carriers like Sprint and T-Mobile also raced to the bottom in an effort to convince people to buy iPhones from them for as low as $1 a month.
And, of course, Apple is happy to help Android users painlessly join the iOS ecosystem with its relatively new Move to iOS app for Android, which transfers an Android phone's data to a new iPhone.
How to move Android content to iOS?
If you are the one of android users who tend to switch to iPhone and finally got the newest iPhone 6s or iPone 6s Plus, but get stuck in the problem that how to move data on old Android phone suhc as contacts, photos, bookmarks, notes etc to the newest iPhone 6s or iPone 6s Plus. A third-party app should help you to get this problem fixed.
We will share you the simplest and user-friendly method on how to transfer everything from Android to newest iPhone 6s/iPone 6s Plus via Syncios Android to iPhone Transfer Tool. Syncios Phone to Phone Transfer support transferring almost all files, including contacts, video, photos, music, book between phone and phone!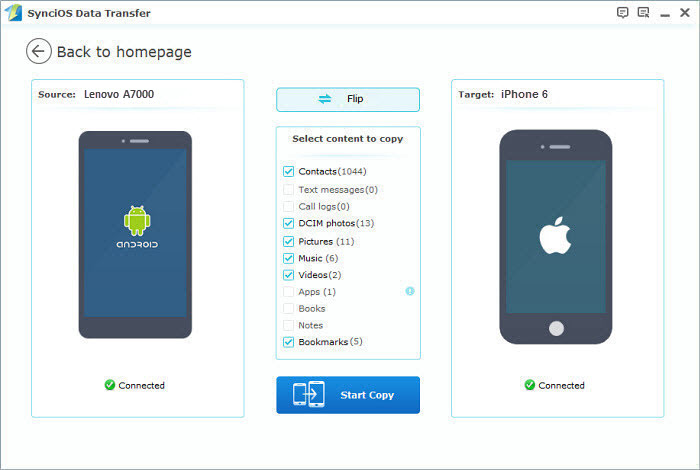 ---
Read More:
How to Backup and Restore Android Device
Guide on switching from Android device iOS device