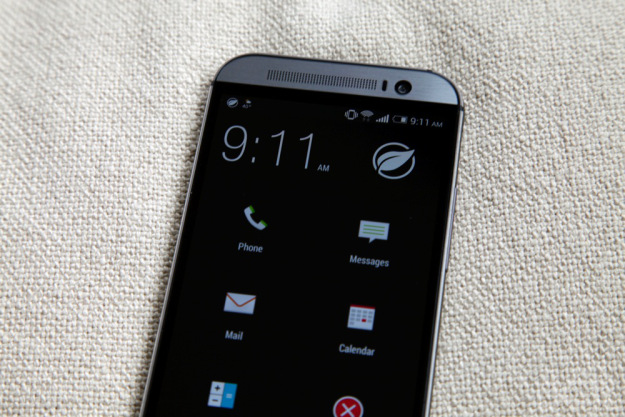 After months of rumors and leaks that revealed almost everything there is to know about HTC's new flagship smartphone, the HTC One (M8) is finally official. The vendor unveiled its sleek new hero phone during a press conference on Tuesday, taking the wraps off of what may very well be the most impressive smartphone that has ever been made.
With all that out of the way, let's take a closer look at the new HTC One (M8) smartphone to find out exactly what makes it the best Android phone in the world. And just as important, of course, is the question of whether or not being the best will draw away enough Samsung and Apple customers to finally help HTC get back on track.
First things first: What, exactly, is the name of this fantastic new phone?
Good question.
On the packaging, HTC's brand new flagship smartphone is called the "HTC One." Of course, there is already an HTC One and for the time being, it's still available on store shelves. Awkward indeed.
To differentiate the new One from the old One, HTC is referring to the just-announced model as the all new HTC One or the HTC One (M8). M8, by the way, might refer to the fact that this is the eight flagship smartphone that HTC has launched. Last year's HTC One model, as you might have guessed, has been referred to as the M7.
HTC has redesigned just about every last pixel in its latest version of Sense. And as is the case with the phone's housing, everything was changed for the better.
In keeping with the latest trends in iOS and other custom Android software, Sense 6 is much more minimalistic than earlier versions, and it also makes use of nice bright colors that vary depending on which app you're in. Unlike iOS though, Sense 6 supports themes so you can change the color palette to suit your preference.
Fonts have been changed across the device, while gradients and textures have been flattened and made solid. The result is a much more modern look throughout the entire operating system.
The most pronounced design changes will be found in Sense 6′s key features, such as BlinkFeed and the camera app.
Beginning with the former, BlinkFeed has been completely redesigned in Sense 6 to offer both a better look and a simplified experience. The app still pulls in content from various news services, blogs and social networks, but there are a few additional features as well.
For one thing, adding content is easier since everything is done by search. BlinkFeed is also a bit smarter about which content is displayed now — for example, it will give preference to Facebook content with more "likes."
BlinkFeed will also create custom "channels" automatically. For example, users can search for "tech" and BlinkFeed will present them with the option to add a special tech channel that pulls in technology news from AP and other sources, tech-heavy Twitter content and so on.
Perhaps best of all, HTC has begun to add intelligent features to Sense 6 that use location, time and other context to present the user with relevant information even before he or she requests it. So, for example, HTC's Foursquare integration will allow the phone to pop up information about a restaurant the user is passing if it's lunchtime and the user's friends have recommended it in the past.
Another key partnership has been made with FitBit, which has added support for the M8′s in-built "sensor hub" to its step-tracking app. Like the M7 motion coprocessor in Apple's iPhone 5s, the new HTC One includes sensors that track movements in order to count steps.
But the sensor hub is about more than just step counting.
One of my favorite simple new HTC One (M8) features is called "Motion Launch," and it is made possible by HTC's new sensors. This feature allows the user to pick up his or her phone with the display off and perform one of several tap, swipe or motion gestures to perform specific commands.
Picking up the phone in portrait orientation and tapping twice on the display will turn the screen on.
Swiping from left to right will turn the screen on and go open BlinkFeed.
Swiping from right to left will open the main home screen.
Swiping from the bottom up will open whatever screen the phone was on when it went to sleep.
Swiping the top down will open voice dialing.
Picking up the phone in landscape orientation and pressing the volume button will open the camera app.
Picking up the phone while it's ringing and putting it to the side of your head will answer the call.
After you set up the phone for the first time, tips pop up periodically to teach you various supported gestures.
The last big software change I'll draw attention to is one that I absolutely love: Extreme power saving mode.
It was painfully ironic that on the very day I met with HTC to pick up my M8 review unit, I left my iPhone charger at home and didn't have one in my office. My phone's battery was about 75% full when I left but after running around all morning, I was under 20% by mid-afternoon.
I had no choice but to run to Best Buy and spend $30 on a new charger.
Like Samsung's "ultra power saving mode," extreme power saving mode is a drastic measure on the M8 that can be taken when you need to squeeze as much as possible out of your battery. Enabling this mode lowers the brightness of the display and presents a special screen that provides access only to voice calling, texting and email, though automatic email downloading is turned off.
Everything else, including background data, is disabled.
How good is extreme power saving mode? According to HTC, a 5% charge will last 15 hours and a 100% will last a ridiculous two weeks.
But despite how impressive HTC's new M8 is, it still has flaws.
On the plus side, I can't remember the last time I've had this little to complain about while reviewing a smartphone. In fact just about all of my complaints focus on minor usability issues (mostly layout inconsistencies), a handful of common-sense feature omissions (why doesn't a double-tap turn the display off?) and other small things that HTC could have done to improve various apps.
The M8 is also a bit large for my taste. It's bigger than last year's One, which makes sense since it includes a 5-inch display whereas the first One had a 4.7-inch panel, and most owners will not be able to use it comfortably with one hand. Bigger is better in the market right now though, so it is what it is. As it stands, the new One is still far more manageable than monstrous phablets like the Nokia Lumia 1520 and HTC One max.
But none of those things are important enough to bear the label "worst." No, the worst thing about HTC's brand new flagship phone is its camera.
As was the case with last year's model, the new HTC One's camera is not on par with other leading smartphones. HTC has stayed away from the megapixel race, which is fine as long as the quality is there. At just 8 megapixels, Apple's camera on the iPhone 5s is easily among the best on the planet, capable of capturing images that are far sharper than rival devices that take much larger pictures.
The same cannot be said of the camera on the new M8, however.
The colors in photos taken on the M8′s camera are often washed out and dull. Clarity is also lacking; looking at a full-size image taken by the new One reveals blurred edges and an unacceptable amount of noise.
It's a shame, really, because HTC's camera software in Sense 6 is fantastic. The vendor also introduced some great new effects made possible by its new "Duo Camera," which uses a second rear-facing camera to collect depth information while the primary rear camera captures an image.
For example, I love the ability to refocus photos after the fact like you can with a Lytro camera, and HTC's automatic bokeh effect, which adds blurring to the background as you might see in a photo taken with a DSLR camera, is among the best I've seen.
But the quality of photos and videos captured by HTC's Duo Camera just isn't there.
The fact of the matter is that smartphone cameras are crucially important to the overall experience and the camera on the HTC One (M8) is quite poor, relative to competing devices. People increasingly rely on their phones as their sole cameras, and photo sharing on services like Facebook, Instagram and Twitter is obviously hugely popular.
While other smartphone vendors continue to add new camera features while simultaneously improving camera hardware and photo quality, HTC has not been able to make significant progress where photo quality is concerned. Unfortunately, this is an area where HTC was already lagging, so the gap between HTC's flagship phone and rival flagship devices will grow disappointingly wide in 2014.