Samsung announced two Galaxy phablets at its Unpacked 2015 event on Thursday. The Galaxy Note 5 was a no-brainer, but the Galaxy S6 Edge+ was a bit of a surprise (or not).
Unlike the Galaxy S6 and Galaxy S6 Edge, which left many of us wondering who would pay the $100 premium for the Edge version when the two phones have identical specs, there's a clearer distinction between the two new phablets.
Samsung says the two phones will be targeted at different types of users. The Galaxy Note 5 and its S Pen stylus is meant for those interested in mobile productivity, while the Samsung Galaxy S6 Edge+ has potentially larger audience: People who like big-screen phones (read: nearly everyone) with a little flash.
Though Samsung wouldn't comment on whether promising sales of the S6 Edge prompted it to make a larger version, it sure looks that way. A report from Yonhap News back in April suggesteed sales of the S6 Edge were greater than Samsung had originally anticipated, with the curved model "making up about 50 percent of the shipments of all Galaxy S6 models worldwide."
Anecdotally, I've seen more S6 Edge phones out in the wild than regular flat S6 models. So have several others on the Mashable staff.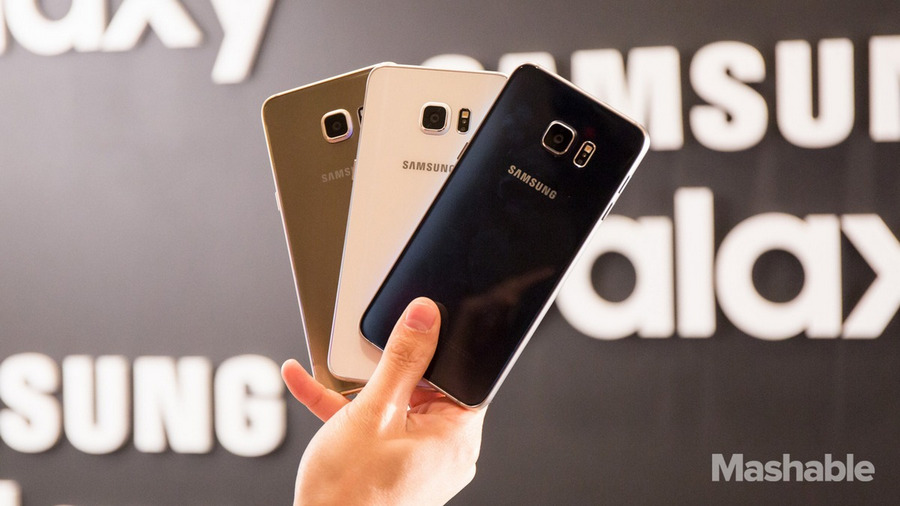 Demand for Samsung's curved edge phones is either through the roof or Samsung needed a phone with more bling to go head-to-head with Apple's hugely popular iPhone 6 Plus. A few years ago, a big screen and stylus might have been great selling points for the Note series, but now that Apple's got its own big phone, it's not enough anymore.
The S6 Edge+ is essentially a bigger Galaxy S6 Edge. Its dual curved sides give it the "shiny"
The S6 Edge+ is essentially a bigger Galaxy S6 Edge. Its dual curved sides give it the "shiny" newness and style that the Galaxy Note 5 and iPhone 6 Plus don't have. The curved edges may be gimmicky, but they get people talking, and oohing and ahhing. It's enough of a design aesthetic to differentiate it from being more than just another iPhone clone.
As I said in my Note 5 hands on, the S6 Edge+ has the same exact internal specs: a 5.7-inch display with 2,560 x 1,440 resolution (Quad HD), an octa-core Exynos processor, 4GB of RAM, 32GB or 64GB of internal storage and a non-removable 3,000 milliamp-hour (mAh) battery.
The cameras are the same as well: a 16-megapixel camera with OIS and dual-LED flashes on the back and a 5MP front-facing camera for selfies.
The fingerprint sensor for security and Samsung Pay, and the live broadcast to YouTube are all present on the S6 Edge+, too. And yes, you press this sensor with your finger — you don't have to slide anymore.
These are Samsung's best specs packed into a razor-thin phone. Like the S6 Edge, it's stunning to look at — metal and glass molded into one beautiful device — but the curved sides make the phone somewhat difficult to grip comfortably as they dig into your palms. The S6 Edge+'s slightly bigger dimensions even make it harder to hold in one hand.
The phone still comes with the company's TouchWiz skin that sits on top of Android 5.1 Lollipop. I prefer stock Android, but I can't deny that it's perfectly useable (just don't look in the Settings app).
Like the S6 Edge, you can swipe in from the right on the S6 Edge+ to bring up "People Edge," which displays up to five of your favorite contacts. Likewise, you can swipe in from the edge with a finger when it's off to show a news ticker and time (good as a bedside table clock).
In our S6 Edge review, we lamented the limited function of the curved glass edge compared to the Note Edge's curve. The latter let you access app shortcuts, widgets and notifications.
It's good to see Samsung listened, at least a little. New on the S6 Edge+ is the ability to add up to five app shortcuts that are accessible from anywhere, even when the phone is off. The apps shortcut is an S6 Edge+ feature only for now, but Samsung says it will be adding the feature to the S6 Edge in a future update.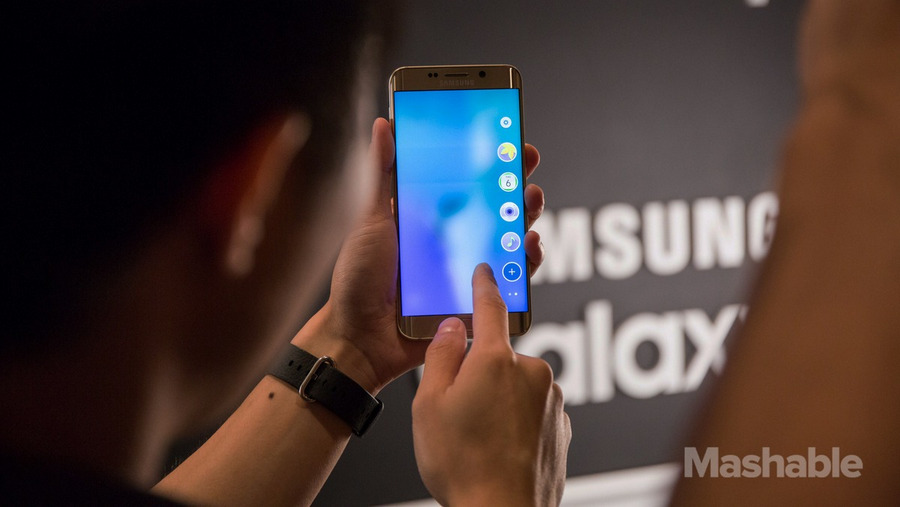 What becomes of the Note Edge?
With the S6 Edge and S6 Edge+ now the new pretty boys in Samsung's phone lineup, what happens to the Note Edge?
That's a good question. I asked Samsung whether the Note Edge would be discontinued and the company said the phone "is still available." It wouldn't comment further on whether the Note Edge would continue to be sold until stock ran out or if the device would ever get a hardware refresh.
As for the Note Edge's SDK, Samsung says it can still be used by third-party developers to create widgets — although those of course won't be available on the S6 Edge or S6 Edge+.
Even without Samsung acknowledging the Note Edge's death, we all know the time is ticking on that phone. The Note Edge was a testbed for curved displays. There was obviously enough interest there to create the S6 Edge and now the S6 Edge+ with their dual curved displays, but the interest appears to be more aesthetic than functional.
The big question is, of course, if Samsung's Edge phones will have lasting appeal. If we don't see a Galaxy S7 Edge next year, we'll have our answer.
The S6 Edge+ will be available worldwide starting on Aug. 21.
Have something to add to this story? Share it in the comments.
Reference: Mashable
You can follow Syncios onTwitter, Facebook for more tips and tricks.
Read more:
How to Transfer Data from Samsung Galaxy Phones to iPhone 6 & iPhone 6 Plus
Recommend: if you would like to move contacts from old Android Phone to new iPhone, you can try this perfect one click data transfer tool, migrate everything, including SMS, Contacts, Videos, Photos, Call logs and more from phone to phone. Simply download and have a try.