If the past is any indication, we're still about about four months away from Apple trotting out the next iPhone. But each passing week seems to bring a new rumor.
The latest is that the iPhone 7 — or whatever Apple chooses to call its 2016 model — will have the same basic chassis as the iPhone 6/6S and feature more modest upgrades such as a dual-lens camera in the larger 7 Plus and other performance bumps. A new totally redesigned iPhone won't come till 2017 — and that new 10th-anniversary-edition model will include an edge-to-edge display and do away with the physical home button. The headphone jack may also disappear.
A lot of pundits, including our own John Falcone, are saying Apple's got a bit of a problem if this year's upcoming new iPhone doesn't seem all that new. With sales of iPhones already tapering off, Apple could use something that's the new new thing, not just a better version of an old thing.
Part of the problem is that the iPhone 6S and 6S Plus are pretty damn good phones. I liked the 5S, too, and now we have the iPhone SE, a better version of that same small 4-inch phone. The question is what new features will entice more people to upgrade their perfectly good phones, which thanks to lack of subsidies from carriers, now cost a lot of money to replace?
Apple's CEO Tim Cook says there's plenty coming. When CNBC's Jim Cramer recently suggested that he liked his current iPhone just fine and didn't think it could get any better, Cook told him in an interview that, "We are going to give you things [in new iPhones] that you can't live without that you just don't know you need today." It was a riff on what Steve Jobs told Business Week years ago: "A lot of times, people don't know what they want until you show it to them."
Unfortunately, Cook's reality distortion field isn't as strong as Jobs', so a lot of people didn't quite believe him, particularly after 3D Touch, a much touted new feature in the iPhone 6S, has turned out to be something we could probably live without.
One of the reasons Cook gave for the slowdown for iPhone sales was that there was a lot of pent up demand for iPhones with larger screens and the iPhone 6/6 Plus and their 2015 S successors satiated that demand. People are still upgrading their phones but not as fast as they used to, Cook said. (Apple expects you to use your iPhone or iPad for about three years, though often devices are passed along to other owners after that).
Dream Screen
The big knock against the iPhone vs. Samsung Galaxy and other Android smartphones is that you get more screen in a smaller chassis thanks to a smaller bezel on those Android models. It'd be nice to have something more like a 6S Plus screen in a 6S body, wouldn't it? Or an even bigger screen in the existing footprint of a 6S Plus (for all you big-screen phone lovers)?
Better battery life would be good, too, but chances are it won't improve because Apple likes to keep the iPhone as thin as possible. The Samsung OLED screen that's rumored to go in the 2017 iPhone (it's not supposed to make this year's model) may be more energy-efficient, but the edge-to-edge screens will presumably be larger, so battery life will probably remain the same or perhaps bump up a little.
read also:
---
Recommendation: Manage iPhone/iPad/iPod without using iTunes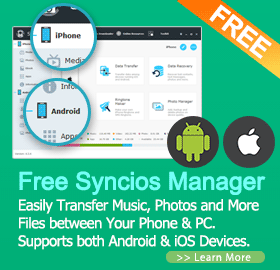 Support to transfer, edit, backup, manage, view iOS & Android mobile data: Music, videos, photos, apps, ebooks, contacts, messages and more.
Download videos from 100+ video sharing sites up to 4K HD video quality and transfer to iPad/iPhone/iPod/Android.
Massive free resources: videos, wallpapers, ringtones
Handy toolkit: Audio converter, video converter, ringtone maker, etc.
Free
You can follow Syncios onTwitter,Facebookfor more tips and tricks.
source:cnet