Android P was officially released in beta at I/O 2018 yesterday, and as expected, it brings a slew of enhancements and new features. Here's how to get the beta right now, and what you can expect from it.
How to Get it Now
If you're interested in trying out Android P, and the new features it brings, you can install the beta build right now on a compatible handset. Unlike past builds that were only available for Pixel (or Nexus) phones, Google has leveraged Project Treble to make the P beta available across 11 different phones—including many from other manufacturers. Here's the full list:
OnePlus 6
Nokia 7 Plus
Oppo R15 Pro
Vivo X21/UD
If you have a compatible phone, just head to the official site and enroll your device in the beta program. Installing the beta won't factory reset your phone on installation, but keep in mind that it will require a reset if you want to unenroll and go back to the stock operating system.
New Awareness Options Help Monitor Your Phone Usage
Everywhere you go, you see people staring at their phones—sometimes to the point of distraction. Google is looking to help people tame that a bit with a set of features that help you monitor usage and maybe even put your phone down once in a while.
These features are broken down into three key components: Dashboard, App Timer, and Wind Down. Here's what they do:
Dashboard: This shows a breakdown of how you use your device, including how much time you've used it, which apps you spend the most time in, how many times you unlock it, and how many notifications you get. It should be quite eye opening.
App Timer: This feature will limit how much you can use an app, keeping you from watching 17 hours of YouTube in one day. That's a cool idea.
Wind Down: This one is sort of like Night Light, but instead of just making your phone easier to read at night, it grayscales everything. It also turns on Do Not Disturb mode—which has also been revamped to not only block audible notifications, but also visuals—to help you get ready for sleepy time.
These features aren't yet available in the Android P public beta, but hopefully we'll get to spend some time with them before they roll out in the main build.
Gesture Navigation
One of the biggest changes to the operating system itself is the addition of gesture navigation. The traditional Back-Home-Recents button layout is still the default (at least in this beta preview), but you can enable gestures by heading to Settings > System > Gestures.
With gestures enabled, the home button becomes a single pill-shaped button in the center of the navigation bar, and you control all gestures with it. When an app is open, the back button reappears, so the primary gesture navigation is for handling app drawer access and the Recents menu.
The new menu is intuitive, and doesn't take long to get used to at all. Whether or not it remains an optional setting or becomes the new default is yet to be seen.
Adaptive Battery and Brightness
Google has really stepped up the battery life game on recent versions of Android, with Oreo offering better battery life than any version before it. With the new Adaptive Battery feature in Android P, the goal is to limit battery usage for apps you don't use that often.
It monitors your usage and "learns" how you use your stuff. Then, it can effectively "turn off" apps that are using battery in the background when it thinks you're less likely to use that app in the near future.
Adaptive Brightness is getting a slight adjustment in how it works to not only make the brightness adjustment better suited to how you use your phone, but also to improve battery life. You'll be able to set the brightness for specific situations, and Android P will use machine learning to figure out how like you it. From then on, it should be able to intelligently adjust the brightness according to your preferences—not some "generic" setting that uses the ambient light sensor to tell you how the display should look. That's cool.
RELATED: How to Improve Android Battery Life
App Actions and Slices
It's no secret that people are creatures of habit—we often do the same things at the same times every day (oftentimes without even realizing it). Your phone is going to start learning your habits so that it can predict what you're likely do next at any given time. Google calls this App Actions.
So, for example, let's say you take a break at work every day around 10:30, and that you usually start that break by looking at Instagram. Your phone will learn this behavior and start offering even quicker access to Instagram around that time daily. App Actions will also work contextually with hardware interactions, like when you plug in your headphones. In that scenario, it could offer one-tap access to the playlist you listen to most often.
Similarly, there's also a new upcoming feature named Slices. These will effectively pull parts of apps—slices of apps, if you will—and make them available for quick access to simple functions. The example Google used here is Lyft. If you search for Lyft, it will offer a quick Slice that shows you how much it will cost for a ride home from work, and then allow you to quickly order the ride. All without ever having to open the app.
Recommendation: Free Mobile Manager Tool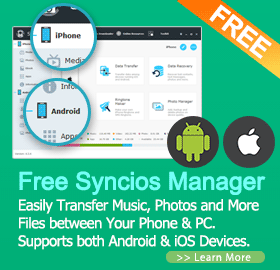 Support to transfer, edit, backup, restore, manage, view iOS & Android mobile data: Music, videos, photos, apps, ebooks, contacts, whatsapp, messages, Notes, bookmarks and more.
Download videos from 100+ video sharing sites up to 4K HD video quality and transfer to iPad/iPhone/iPod/Android.
Handy toolkit: Audio converter, video converter, ringtone maker, etc.
Free
You can follow Syncios onTwitter,Facebookfor more tips and tricks.