Google has released a very early preview of Android N to developers, giving us a peek at what might be in store for the next version of Android. Here are the coolest features lurking in the preview.
Google notes that this is a very early preview, so things may change before Android N officially drops in late summer. But if nothing else, the current preview gives us an inkling of what we might see on our phones and tablets this year.
Split-Screen Mode
Undoubtedly the biggest new feature is split-screen multitasking, which allows you to use two apps at once side-by-side. This exists on many devices already (Samsung phones come to mind), but it's finally coming to all Android phones with N. Just enter the recent apps view, tap and hold an app, and drag it to the top or bottom of the screen (or left and right sides, depending on the orientation of your device). It seems that developers will have to add this ability to their apps, though, the final version of N may not allow it in all apps.
Android N also contains a "picture-in-picture" mode, so you can watch video in a small window while using your phone. Google's documentation notes that this is for Android TV, however, and does not mention phones and tablets. (Bring this feature to the YouTube app on phones, Google!)
More Powerful Notifications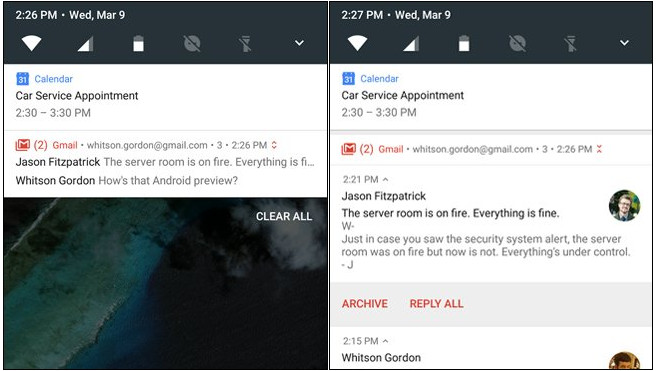 The notification shade looks a bit different in Android N, but it comes with a few new features, too. Developers can now include "direct reply" feature in their apps, so you can reply to a message without opening the app itself–much like Google's own apps can already do.
More interesting, though, are "bundled notifications". This allows Android to group notifications from the same app together, then be expanded into individual notifications so you can see more details on the ones that interest you. We can see this being particularly useful for chat and messaging apps, which can get a lot of notifications at once before you get a chance to read them and see which are important. Plus, it'll make that direct reply feature even nicer, since you can split notifications up and reply to them one-by-one from the notification shade.
A Better Doze for Longer Battery Life

Doze was arguably one of Marshmallow's most interesting features, putting your phone into a deeper sleep to conserve battery life after a period of inactivity. The only problem: your phone would only doze when you let it sit, unmoving and untouched, for a specified period of time. But most of us walk around with our phones in our pockets, not sitting on a table all day, which means it won't doze very often. There were ways to improve this feature, but they didn't do what we all really wanted.
Read Also: How to improve Android battery life
Android N does: It'll go into a "lighter" doze mode whenever the screen is off, then go into the normal "deep" doze when the phone has been stationary for awhile. Knowing how well Doze works on Marshmallow, we're very excited to try out N's doze in real-world situations.
An Easier, More Customizable Quick Settings Menu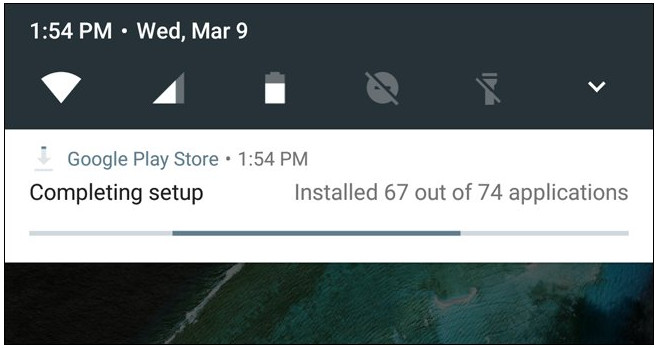 Android's Quick Settings dropdown is incredibly convenient, letting you toggle Wi-Fi, turn on Do Not Disturb, or use your phone as a flashlight with one tap. Unfortunately, the menu itself is two drags away on most phones.
In Android N, one drag opens the notification drawer, as usual–but your first five Quick Settings are available along the top, without having to drag down a second time. That's mighty convenient. You can drag a second time to show the full drawer, as usual. But, in Android N, you can edit which Quick Settings show up in the drawer–removing ones you don't want, or rearranging them to suit your tastes. This was possible in Marshmallow using a secret menu, but it seems this may be the default in Android N.
New Secret Features in the System UI Tuner, Including an Automatic "Night Mode"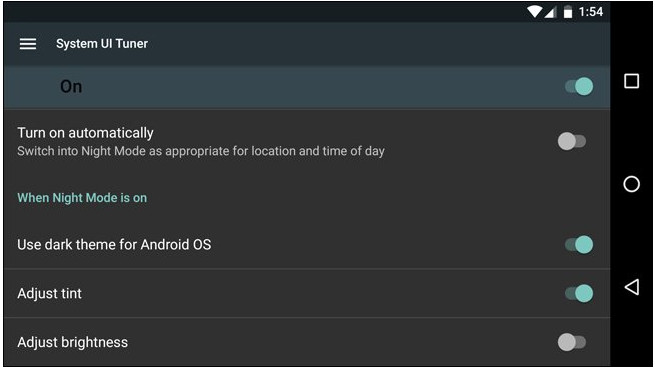 Customizable Quick Settings graduated from a secret menu called the "System UI Tuner", and that secret menu has a few new options in Android N. This includes a more customizable Do Not Disturb, the option to remove icons from the status bar, color calibration for your screen, and–most excitingly–a "Night Mode".
Night mode turns your phone to white-on-grey instead of black-on-white, adjusts the color temperature to a more reddish hue (much like F.lux on the desktop), and lowers the brightness. To anyone who's ever blinded themselves using their phone at night, this is great news. It even has an option to turn on automatically based on the time of day, which would be killer. (Bonus, if you enable the System UI Tuner, you get a Night Mode option in the Quick Settings pulldown, which rocks.)
Data Saver, Call Blocking, and More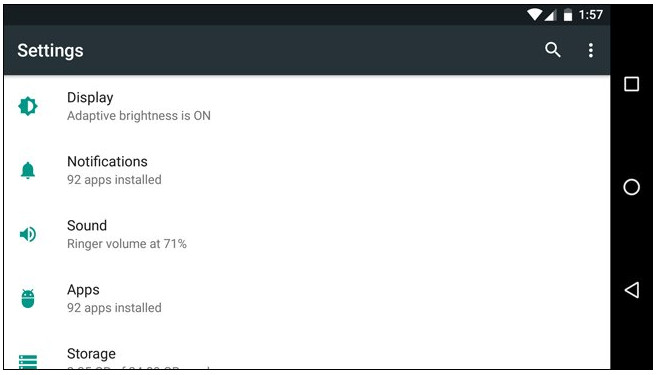 These are some of the banner features right now, as well as a few things we found after playing with the preview for ourselves. There's a lot more in there, though–like a Data Saver mode similar to Android's existing Battery Saver mode, designed to save you data if you get too close to your data cap. There's also a new number blocking feature that spans across multiple apps–so if you block a number in the Dialer, it also blocks that number in Hangouts. Google's documentation also mentions call screening, faster boot times, and a number of other under-the-hood improvements.
See Also: How to backup Android Phone at ease
And, as always, Android N contains a lot of small UI tweaks across the operating system, from the new notification appearance to a more detailed Settings screen, with useful information added throughout the main menu (shown above).
There's likely more to come, and changes that'll be made, so we'll update this post with more detail and links to how-to guides for each of the features when Android N officially drops in Q3 of this year. For now, consider this a tease of what's to come. If you want to try the Android N preview on your Nexus device, you can do so by signing up for the over-the-air beta here–though Google notes that this is intended for developers and not for daily use. We've already noticed a few bugs, both big and small, in our hours of testing, so you've been warned.
Recommendation: One-Click Mobile Data Transfer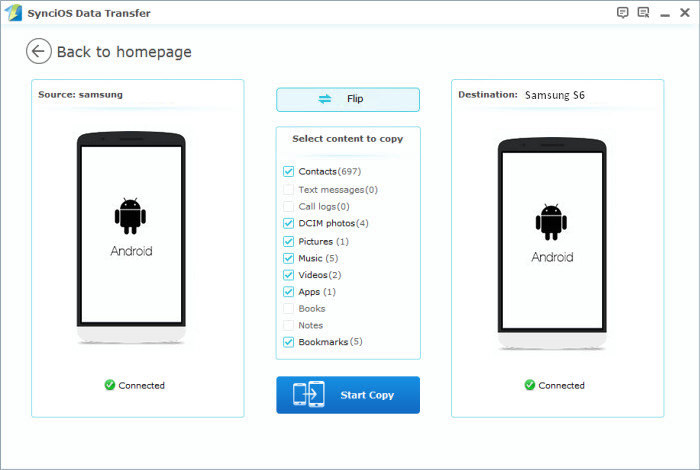 – Simple yet effective solution for transferring content between Android and iOS
Transfer contents include contacts, messages, call logs, music, photos, videos, apps, notes, bookmarks, ebooks and more.
One-Click backup Android & iOS phone data and restore in lossless quality.
Sync contents from iTunes Library to PC and iDevices /Android .
Multiple OS supported: data shift between multiple phones run Android and iOS.
Multiple brand phones supported: Apple, Samsung, HTC, Sony, MOTOROLA, LG, HUAWEI, ZTE and more.
You can follow Syncios onTwitter,Facebookfor more tips and tricks.
Source: howtogeek