Having a personal MP3 collection on your smartphone is convenient, but there is a limit to how much music you can fit onto your device's internal storage or microSD card, and music streaming services are the way forward. Spotify currently dominates this market and includes a much more competitive family sharing package, but is it the top dog? Here we compare the best music streaming apps for Android.
Apple Music
Apple Music is a recent competitor in the music streaming sphere, released on June 30, 2015. But Apple already had a great pedigree with regards to music services, with the iTunes store having been successful for more than a decade. Though the iTunes store offers in excess of 43 million songs, its streaming service offers a little less, at around 30 million.
Apple Music isn't just for Apple users, with a Play Store App now available. It allows Android users to stream its immense catalog and comes with some unique extras such as Connect, a blogging feature that seeks to bring artists closer to their fans, allowing them to share music, videos and photos with followers. Apple Music also includes the Beats 1 internet radio station, which plays continuously in more than 100 countries.
It might be too early to tell if Apple Music will be a big hit, but with a huge catalog, three-month trial period and all of the major features nailed, there's no reason why it wouldn't be.
Spotify
Spotify offers a free, ad-supported streaming service in addition to its paid subscription. A great aspect of this is that you (currently) get access to the same content whether you pay a subscription fee or not, but that might change. Spotify might restrict new album releases to paying users. The main downside to the free service in comparison to the paid is the audio quality, the ads, and the ability to use it offline.
The Spotify Android app is perfect for mobile because it allows you to download any song in the catalog for offline listening on your device. There is also a web-player and desktop app, and all your content and playlists are synced between them.
Spotify's radio and discovery algorithms are also extremely clever and are what makes Spotify's personalized playlists (Discover Weekly), delivered every Monday, worth checking out.
Furthermore, Spotify was recently updated with a better family-sharing subscription model so that, like Google Play Music and Apple Music, it now provides family sharing for six accounts at a cost of $15 per month.
Google Play Music
What began as a simple music player app is now a full, commercial streaming package with more than 35 million songs available.
Unlimited access to Google Music costs the same as a monthly Spotify subscription, but the key benefit is that it also includes access to YouTube Red, so you also get access to Google's YouTube video content ad-free, as well as offline and background playback, and original films and TV series.
Soundcloud and Soundcloud Go
Soundcloud is a different breed of app which has a well-deserved place on the list of top music streaming apps for Android. Its aim is to bring independent artists to the forefront.
While the app is free, there is a paid version (Soundcloud Go) with no ads. Artists pay to put their music online, a practice that comes from music producers needing a platform to exchange and collaborate on songs from a distance. Users can listen and comment on tracks, share them with others, and sometimes download them if the artists allow it. Soundcloud is ideal for those who like to discover new artists before anyone else.
Tidal
You can register on Tidal with a credit card or a PayPal account. The service offers a basic subscription for $9.99 per month, and a Hi-Fi (high fidelity) version which costs $19.99.
The 30-day free trial is the same as the others, except that you can play videos. The Hi-Fi mode is also available for testing, although it is mandatory give them your credit card details. The interface of the application is intuitive and full of interesting features, like TIDAL Rising, a music discovery guide.
YouTube Music
Even though YouTube Music does not announce hard figures for the total size of its library, it has all the music you could ever want. The big advantage of YouTube music over some of the competition is the amount of exclusive content it has. Sure, every streaming platform on the planet has the new Arctic Monkeys record on there, but how many have that live performance from Lollapalooza Argentina 2019? Only YouTube can deliver that.
The app and system UI is not as neat and tidy as the competition, and the subscription mess between YouTube Premium and YouTube Music (YouTube Premium includes all of the YouTube Music Premium features, plus more for just $2 more a month) is confusing, but often this is the only platform to find the tracks that you want to listen to, and that's a huge advantage.
Conclusion
So which music streaming service is best? Let's quickly wrap them up.
▶ Google Play Music also offers valuable extras. Everybody makes use of YouTube, and the opportunity to get even greater access to it, in addition to a 35 million-song library, is mighty tempting.
▶ Apple Music is all about the music. You won't get any TV or video streaming benefits here, but you will get one of the biggest music databases and an intuitive interface to discover new music.
▶ Then there's Spotify. Spotify just works. It provides high-quality audio playback, it seamlessly syncs between devices, and it's perfect for parties and sharing because most people are familiar with it already.
▶ Soundcloud is very hip, and free. If you're into independent music, this is what you'll want to try.
▶ Tidal is for audiophiles who are willing to pay a price for high fidelity. Or just casual fans of Beyonce's Lemonade album.
▶ Amazon is possibly the worst as a pure music streaming service because its catalog and family-sharing features are limited, but it arguably has the best extras with Prime membership: no other service offers access to movies, books and free shipping from an online store. Deezer is similarly uninspiring.
▶ YouTube Music is great for exclusive content, especially live performances and one-off gigs and shows.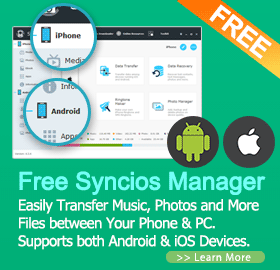 Support to transfer, edit, backup, manage, view iOS & Android mobile data: Music, videos, photos, apps, ebooks, contacts, messages and more.
Download videos from 100+ video sharing sites up to 4K HD video quality and transfer to iPad/iPhone/iPod/Android.
Handy toolkit: Audio converter, video converter, ringtone maker, etc.
Free
You can follow Syncios onTwitter,Facebookfor more tips and tricks.