On the morning of June 4th 2018 at the WWDC, Apple announced a bunch of new software updates to its portfolio of devices. Alongside tvOS 12, macOS Mojave, and watchOS 5, the announcement that took the spotlight was iOS 12.
Available to devices as old as the iPhone 5s and iPad mini 2 from 2013, this newest version of the operating system brings some features that the world hoped for. And like the past couple of years with things like Do Not Disturb While Driving, there are some features that will make you use your iPhone and iPad less, not more.
Combing through every little thing that iOS 12 has to offer, here are our picks for twelve features (not ten, because you know, iOS 12) to look forward to when it launches in September 2018.
1. Performance Optimizations
As rumors suggested in the past, a big focus for iOS 12 has been improving reliability over simply adding more features. This has been a burning request by avid users of Apple's mobile platform; the periodic occurrence of laggy behavior in iOS 11 even on the newest iPhone X has been embarrassing.
The presentation started with Apple SVP of Software Engineering Craig Federighi talking about how older devices like the iPhone 6 will benefit from the speed improvements. On iPhone 6 models, commonly-used apps like the camera are expected to open up to 70 percent faster than before. The keyboard will also now pop up 50 percent faster, apps and share sheets will open up to twice as fast.
2. Group FaceTime Calls
As we had hoped for, Apple's video-conferencing app FaceTime will finally get multi-party video call support. A whopping 32 people can have face-to-face conversations simultaneously, with an intuitive interface called 'Focus View', that will automatically highlight the person talking. FaceTime is also integrated into the Messages app now; you can join a video meeting by sharing a link within a group.
Speaking of Messages — a nice addition is auto-copy-paste of those one-time passcodes you receive via SMS when registering for any service.
3. New Animoji and Memoji
Animoji are the fun, animated characters that you can puppeteer using your face and the TrueDepth camera system of an iPhone X. Apart from announcing new Animoji characters like ghost, koala, tiger and T.rex, Apple also showed off Memoji. Similar to Samsung's AR Emoji, a memoji is a virtual avatar that you can tweak to resemble you. You can change skin tone, facial hair, eyewear, headwear, and other characteristics. After your Memoji is ready, you can use it during FaceTime calls or to send pre-recorded ones in the Messages app, just like Animojis.
4. ARKit 2 and Measure
ARKit has been Apple's framework for developers to create Augmented Reality apps since iOS 11. In iOS 12, the company has improved its offering with ARKit 2 — which now includes multi-person interaction in an AR environment. Executives from LEGO demoed a game on-stage where two people played and were able to see the shared AR world from their individual perspective. Other people could also watch a two-person game as spectators. Another addition is the concept of persistence — meaning what you create in the AR world can be viewed later in the same place by someone else. Lastly, ARKit 2 brings better 3D object and face detection; so things like sticking your tongue out or winking can be identified by the system.
Apple also introduced a built-in app called Measure, which can be used for measuring dimensions of physical objects using an AR ruler. It is similar to some measurement apps we've already seen in the App Store since the introduction of ARKit last year. But it's nice to have this nifty app built right into iOS.
5. Screen Time
Just like the Digital Wellbeing suit of features Google has baked into Android P, iOS 12 too comes with features that will help users keep a check on time spent on their phones. Screen Time gives you stats about time spent per app, what category of apps consume your day, and set self-appointed limits to certain apps.
Parents using Family Sharing in iOS will be able to monitor and control the amount of time kids are using their iOS devices. Lastly, Downtime is a feature that blocks all apps and notifications (with an exception list) for a prescribed time.
6. Grouped Notifications
An improved Notification Center in iOS 12 was a near-unanimous request by avid users. And while everything isn't fixed yet — iOS 12 does bring grouped notifications to the table. Earlier, each notification spawned a new entry, making the Notification Center appear very cluttered most of the time.
Now, multiple notifications from the same app are intelligently clubbed into a group, which can be expanded by tapping. For example, several messages from one sender in the Messages app are all clubbed into one stack of notification cards.
Other than this, you can also manage notifications from the lockscreen itself (no need to go to Settings anymore). So, if there's an app whose notifications you don't wish to see, you can choose to either turn them off or display them quietly in the Notification Center. If that wasn't enough, Siri will also suggest which app notifications you could silence depending on your behavior!
7. Smarter Do Not Disturb
One more feature that should reduce an iPhone distracting you is an improved Do Not Disturb mode. Until now, you could set DND mode to go off at a specific time period (like when you typically sleep). But now it's easier to set DND mode on for say, only the next 1 hour, or till you leave from your current location, or till an entry in your calendar expires.
Another awesome addition is Do Not Disturb During Bedtime — this will ensure that you don't see notifications if you wake up in the middle of your sleep and check the time on your iPhone.
8. Easier Photo Sharing and Discovery
The Photos app in iOS 12 takes a few cues from Google Photos this year. There's improved subject detection for better searching what you want to see (e.g dogs, beaches, mountains, etc). The app will also offer relevant search suggestions. You can also club multiple keywords to refine searches — like "dogs" and "san francisco".
Next, the 'For You' tab brings up your best moments to rekindle. The new Photos app can suggest automatic iCloud-based sharing to the people that are in a photo you took. And once you share, they are also prompted to share back if they have any photos of you from the same event.
9. Siri Shortcuts
Siri has had a 'Proactive' theme for a couple of years now, offering smart suggestions without specifically asking for them. In iOS 12, Siri will now offer suggestions in the form of notifications for repeated tasks. For instance, if you use an app to order your coffee every morning, Siri will push a notification which will have your usual preset, and you can place the order even without having to open the app.
Next, there's a new Shortcuts app; that lets you configure your own recipes of action items, which can be triggered by a custom phrase. So, if you're getting into a car, you can set a recipe for getting driving directions via the fastest route, tune in to your favorite podcast, send a text to your family and more, all by saying one simple phrase to Siri. Apps will also offer Siri Shortcut suggestions within their apps, making it more intuitive to create them.
10. Google Maps in CarPlay
Apple CarPlay doesn't feature every app available on the iOS App Store, and for good reason. Only those apps that are relevant while driving (like music, messaging, and navigation) are allowed. But until now, Apple Maps was the only navigation service you could use with CarPlay.
In iOS 12, third-party navigation services like Google Maps, Waze, etc are also supported by CarPlay. This is a godsend in countries where Apple Maps isn't as functional as the alternatives mentioned. Or even if you simply prefer Google Maps to Apple Maps.
11. Redesigned Stocks, Books and Voice Memos apps
The Stocks, Books and Voice Memos apps got a facelift, with some new features added in. For instance, Stocks now is integrated with Apple News, which will show relevant stories right below the stock prices. iBooks is now renamed to Apple Books, and has an App-Store-esque design for better discoverability of content. Finally, Voice Memos now finally is available on the iPad and the recordings can be synced between multiple devices using iCloud.
12. Privacy and Security
Finally, there are a few privacy-focused features that sum up iOS 12. For instance, in Safari, the 'Like' and 'Comment' widgets on websites which are typically used for tracking user behavior won't be able to anymore, without your permission. The built-in browser will also prevent advertisers from identifying your device's unique characteristics, that help in retargeting ads.
With respect to passwords, iCloud Keychain will now create strong passwords automatically, and passwords that are reused will be flagged, requesting to be replaced with a unique one to enhance security. Lastly, passwords stored in third-party managers like 1Password or Dashlane can be accessed directly within apps and in Safari using the default QuickType keyboard.
You may also want to learn: How to Transfer Data from Samsung to iPhone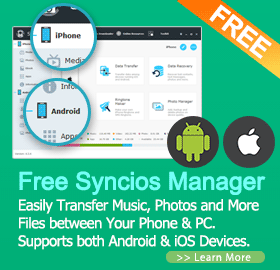 Support to transfer, edit, backup, manage, view iOS & Android mobile data: Music, videos, photos, apps, ebooks, contacts, messages and more.
Download videos from 100+ video sharing sites up to 4K HD video quality and transfer to iPad/iPhone/iPod/Android.
Handy toolkit: Audio converter, video converter, ringtone maker, etc.
Free
You can follow Syncios onTwitter,Facebookfor more tips and tricks.