iOS 12 comes with some pretty big features, but did you know about these?
Happy Apple update day, folks! Apple released major updates to iOS, watchOS, and tvOS this week, but the one that's the biggest deal is probably iOS. That's because iOS 12 is probably one of the better iOS iterations, breathing new life into devices from up to five generations ago.
We've covered all of the major changes in iOS 12 earlier, but did you know about the cool hidden features that weren't big selling points in the keynote? Fortunately, we're going to dive into those right now for you.
Set up a second face for Face ID
When the iPhone X first came out, it only supported one face to use for Face ID. However, it would learn your face appearance over time, such as when you wear sunglasses or hats and eventually adapt and learn.
With iOS 12, you can now set up an alternate face to unlock your phone with, including someone else's face if you want them to have access. To do this:
Go to Settings > Face ID & Passcode.
Select Set up an Alternate Face.
Follow the steps for setting up Face ID.
Repeat if needed.
If Face ID fails to recognize your face, then you can just swipe up and enter your passcode in to unlock.
Temporary Do Not Disturb

Having quick access to Do Not Disturb from the Control Center has always been a great feature, but have you ever forgotten to turn it off? Has somebody tried to contact you a million times and you only realized Do Not Disturb was left on when it shouldn't have been?
There are some finer controls with Do Not Disturb in iOS 12. Just long-press on your Do Not Disturb icon in Control Center and select the time duration for it. You can have it set for one hour, until later in the day or evening, until you leave a location, or on a custom schedule.
More detailed Battery Info

We're always concerned about the battery life on our devices. It's handy that most — if not all — smartphones these days show your battery percentage in the top corner of your screen.
In iOS 12, users get even more useful battery details. Just go to Settings > Battery and you'll find all the information you'd possibly need. There's now visual charts, complete breakdowns, and graphs that tell you what apps were using your battery and when.
It's never been easier to tell what apps are total battery hogs.
Autofill shortcodes
Having two-factor authentication on your online accounts is great, but having to go to your Messages to grab that six or eight-digit code and enter it in the text field is annoying. Fortunately, Apple thought about that in iOS 12 and made the process so much simpler.
Whenever you receive a shortcode, a shortcut just appears on the keyboard once you receive the code on your device. Just tap on it, and it's automatically filled in for you.
Automatic iOS updates

If you often forget to install iOS updates on your device because of a crazy schedule, then the new Automatic Updates setting can take care of everything for you. Just go to Settings > General > Software Update and turn on Automatic Updates.
When this is on, your device automatically downloads and installs any iOS update while you sleep.
QR Code scanner right in the Control Center

QR codes seem to have risen in popularity lately, and Apple was kind enough to provide a way to scan them with the default Camera back in iOS 11.
While you can also do a long-press on the Camera icon in Control Center to bring up the QR code scanner, iOS 12 now lets you access the QR code scanner directly without having to go through the Camera first.
However, you do need to add the QR code scanner to your Control Center first. Go to Settings > Control Center > Customize Controls to add it.
"Hey Siri" now works in Low Power mode
Whether you love or hate Siri, you have to admit that it comes in handy sometimes, especially when you're driving. However, one thing that was annoying was the fact that "Hey Siri" wouldn't work if you toggled Low Power mode on your device to conserve battery.
With iOS 12, you can now say "Hey Siri" to activate Siri, even while in Low Power mode.
Improved Photos app

If you like to take trips down memory lane, the Photos app has been revamped. There's now a "For You" section that highlights memories over the years, and it's presented in a way similar to Apple Music. It also sends you sharing suggestions based on recent trips and reminds you when it's been a year since your last vacation, along with other goodies.
Long press space to select text without 3D Touch
For those of you using devices without 3D Touch support, good news! Now you can access the trackpad-like text selector by just performing a long-press on the space bar when typing.
Autofill passwords from third-party password managers
With iOS 11, Apple made it possible for third-party password managers, such as 1Password and LastPass, to be integrated into apps. This allowed users to pull up their password manager for passwords through the Share Sheet actions, which would be considered a kind of workaround
Now in iOS 12, there is full support for third-party password managers in all apps. This means less going back and forth when having to fill in your credentials.
iPad gestures similar to iPhone X
Apple is not subtle about upcoming iPad technologies, since the menu bar has been redesigned to be similar to the iPhone X. You know, the whole notch in the middle. And not only that, but iPads now have gestures that are similar to the iPhone X.
Rather than having the Control Center on the iPad accessed through the multitasking interface, you'll now swipe down from the top-right corner of the screen. This takes some getting used to, but it's just a sign of things to come for the iPad line.
---
Recommendation: Manage iPhone/iPad/iPod without using iTunes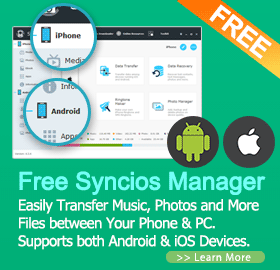 Support to transfer, edit, backup, manage, view iOS & Android mobile data: Music, videos, photos, apps, ebooks, contacts, messages and more.
Download videos from 100+ video sharing sites up to 4K HD video quality and transfer to iPad/iPhone/iPod/Android.
Handy toolkit: Audio converter, video converter, ringtone maker, etc.
Free
You can follow Syncios onTwitter,Facebookfor more tips and tricks.