Looking for the best iPhone apps for taking photos on your iPhone? While some people appreciate that the iPhone's Camera app for its simplicity and ease of use, others want as many manual, fine-grained controls as possible. Whether you want to adjust your white balance and shutter speed all on your own, or you just want an all-in-one camera and photo editing app, you've come to the right place. There are lots of camera replacement apps available in the App Store, but which ones are the absolute best?
Best: Camera+
Camera+ has a killer camera that not only helps you stabilize images, but has one tap controls for locking things like white balance, exposure, and focus. You can also adjust the exposure compensation for difficult to shoot environments where a focus point is in a darker area. You can also see what ISO and shutter speed you're using at all times. Camera+ really shines when it comes to post-editing tools including highlights, shadows, contrast, and much more. It also supports extensions in the iOS 8 Photos app too for all your edits in one place.
For a camera app that's simple to use but yet as advanced as you'd like it to be, check out Camera+.
Price: $1.99 –
VSCO Cam
VSCO Cam falls somewhere between Camera+ and Instagram. It's a powerful editing tool that's full of filters to enhance your images, is easy to use, has a ton of advanced filters, and provides a place to share your photos if you want. The advanced features are easy to use, and you can easily edit exposure, temperature, and contrast with just a couple taps. If you want, you can upload all your photos to your own page on VSCO Grid, which also has options for copyrighting your photos (or releasing them as Creative Commons). It's The Sweet Setup's pick for best photo editing app and since it's free (with in-app purchases for filters), it's worth adding to your toolkit even if you only use it occasionally.
Price: Free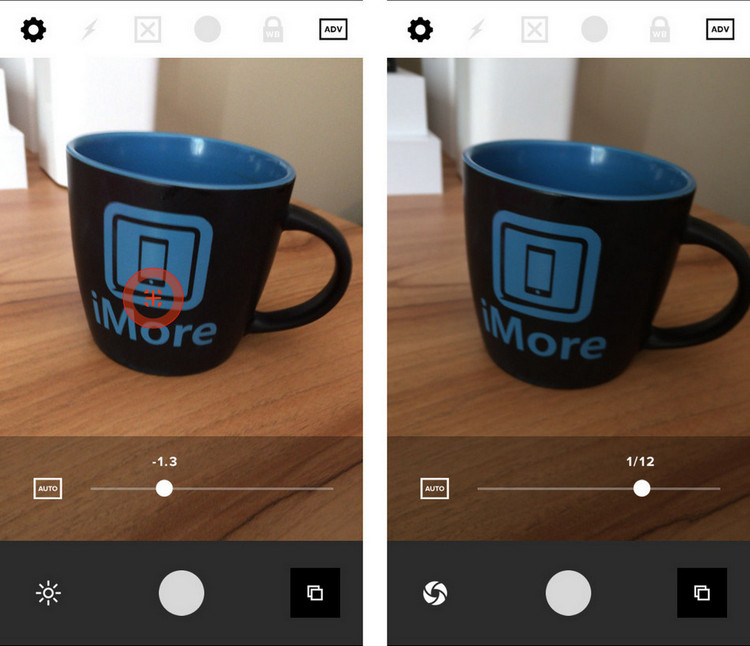 Manual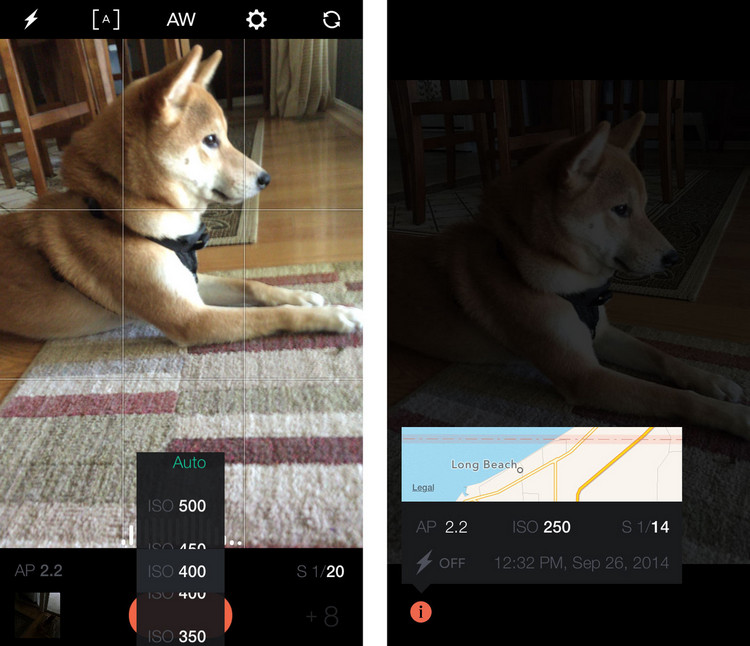 When iOS 8 came out with support for camera extensions, I immediately fell in love with Manual. Before even taking a photo you can adjust things like shutter speed, ISO, white balance, focus, and exposure compensation. That means you have a live preview of the perfect image before even snapping the photo. Best of all, Manual is dead simple to use which makes it a great go to camera when you need to snap something quickly.
For control that doesn't sacrifice speed, Manual doesn't disappoint.
Price: $1.99 
Others of note
360 Panorama $0.99. Want to make easy, peasy awesome looking panorama shots? Here you go. You're welcome.
GridLens $0.99. What to take a series of shots laid out in a cool frame or grid? This is the app. Maybe one picture divided or several different shots over a few seconds, it's just tap and go.
Hipstamatic $1.99. One of the leading "toy camera" app to let you give your iPhone shots different looks with software lenses, filters, and films. Its' cool.
Retro Camera Plus Free. This is a simple way to get those Hipstamtic style shots without spending a penny. I really like the Soviet-era camera styles included. Gritty and real is what those shots are, gritty and real.
---
You can follow Syncios on Twitter, Facebook for more tips and tricks.
Read more:
Recommend: if you would like to backup your iPhone/iPad/iPod Touch data to the PC, just go here to learn more. Simply download the free version and have a try, it can transfer data between iOS device and PC freely and easily.