There have been a lot of new Winterboard themes hitting Cydia lately so we decided to compile 12 of the best themes out there right now.
Enkelt Neue – $2.99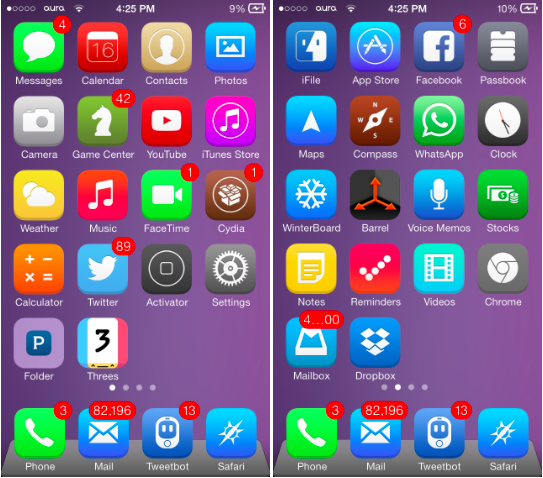 This is a very colorful theme that still has a flat look but still gives the icons some depth.  It's pretty simplistic and in some areas still resembles the original iOS 7 icons.
Anode – Free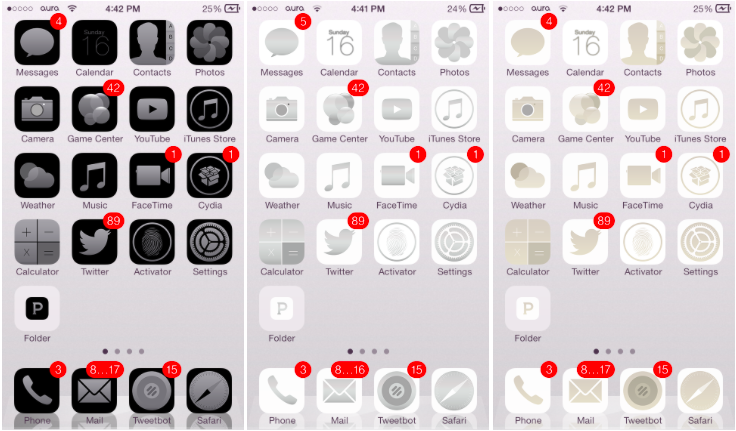 Anode is a free theme that has a color scheme for every color of the iPhone 5s. There's a Space Grey, Silver, and Gold color and they do a great job of matching the colors to fit your specific device.
iRa – $2.00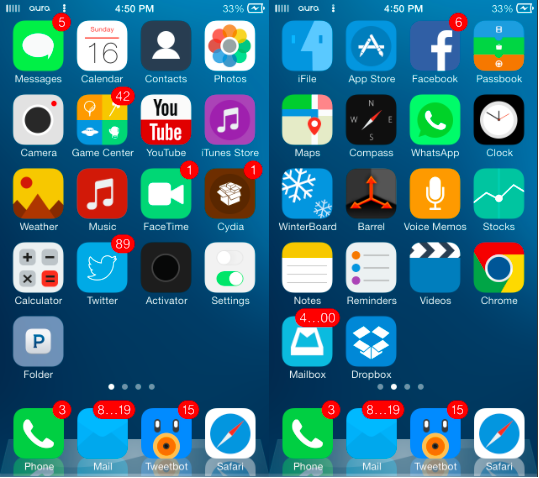 iRa is a high contrast theme that has over 100+ icons. You'll also notice the cellular and wifi indicators from the theme. If you're into colorful themes you might just want to grab iRa. You need to add the following repo http://repo.ifans.com/ to purchase and install the theme.
UltraFlat for iOS 7 – Free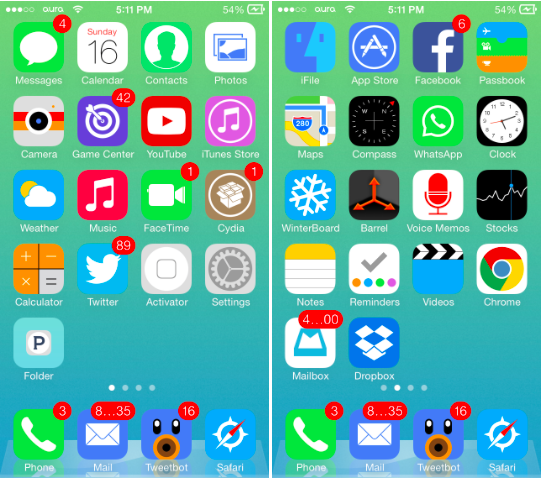 From the name, as well as the screenshots, you can see that this is a flat and colorful theme. It has more of a cartoony look with enlarged icon logos. The nice thing about this theme is even non-supported icons blend in because the theme uses the same colors as the original iOS 7 icons.
Radiance for iOS 7 – Free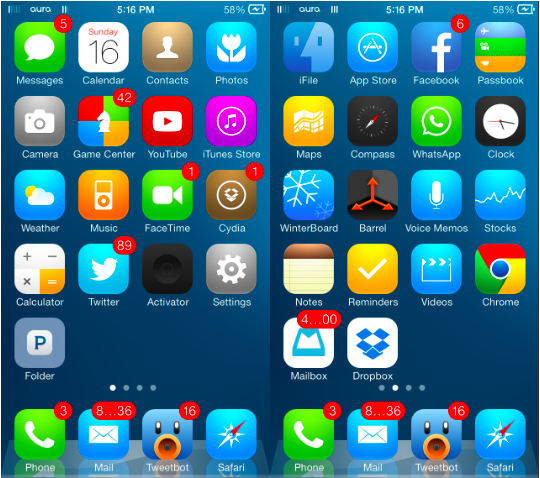 This may be my favorite out of the 10 themes listed here. These icons have a nice look that aren't too far from the original iOS 7 icons.  It is a little more colorful and unneeded details of some icons have been taken out to give the icons a more simplistic look.
Mojo for iOS 7 – Free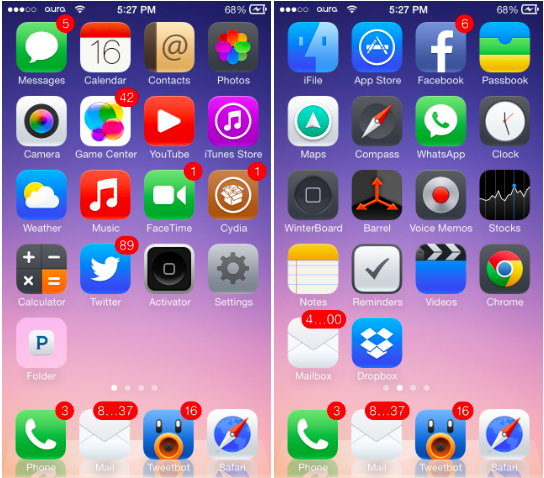 Mojo is another great theme that's available for free on Cydia.  The color scheme is a little muted and somewhat dull, but have nice pops of color throughout that make is nice on the eyes.
3 4 All – Free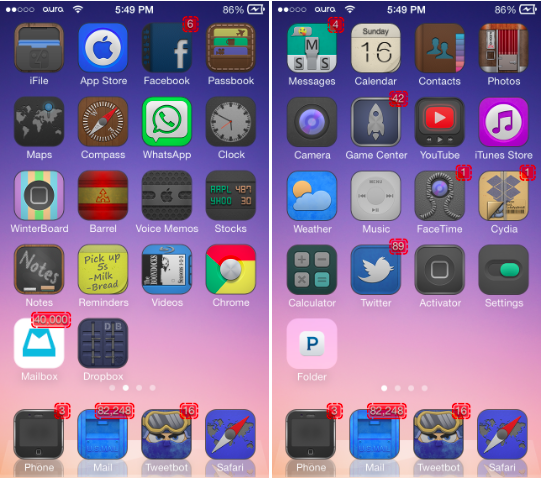 Here is a free theme that stands out from the rest.  This theme by far has the most detail and some users aren't big fans of that in iOS 7.  I actually think this theme looks great on iOS 7 and it's something a little different from what I would usually use on my device, but the dark color scheme is what really drew me in.
TOAST – $2.50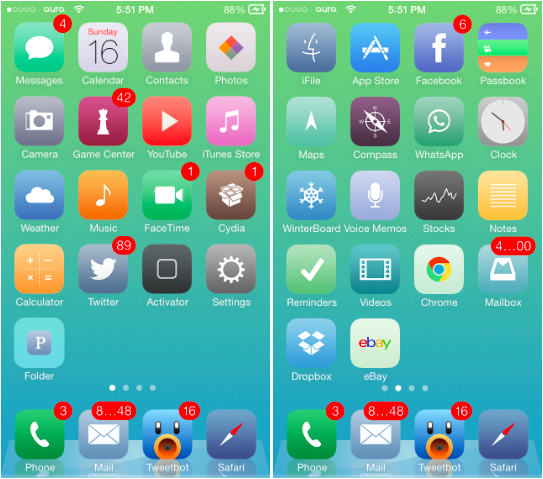 This is a really nice theme.  The colors are a bit faded, which it's right on par with my style.  I like nice, soft colors, with minimalistic glyphs and this theme is exactly that.
Carla – $2.99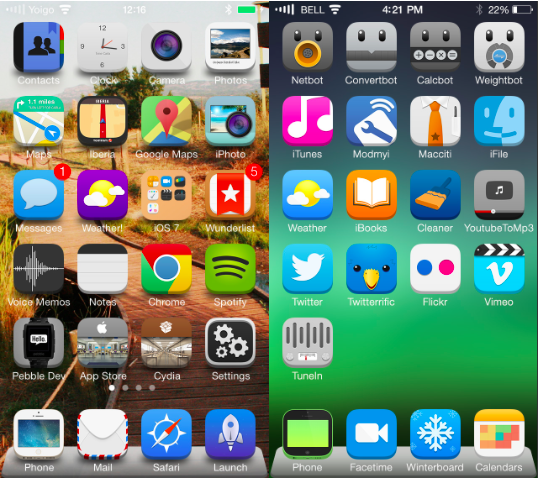 Carla is a popular theme that has been updated for iOS 7 and as you can see, has a lot of detail. The nice thing about this theme is that a lot of the icons, if seen individually, you would think were all part of a different theme. But, when you bring it all together, it just works.
Flawless HD – $2.99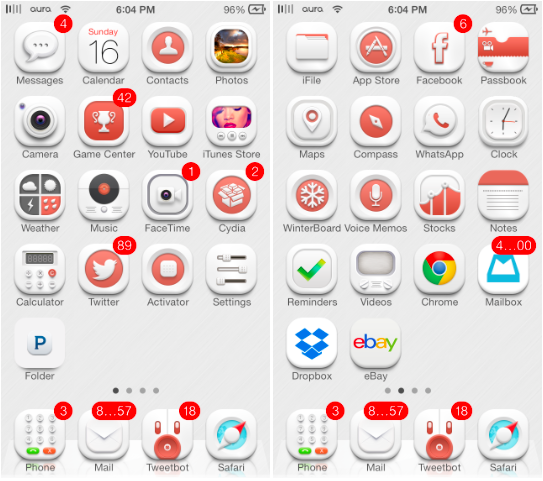 Here is a predominantly white and red/orange theme. The icons have been scaled down a bit as well as being a little more rounded, but you can really see the attention to detail by the developer.
ayecon – $2.99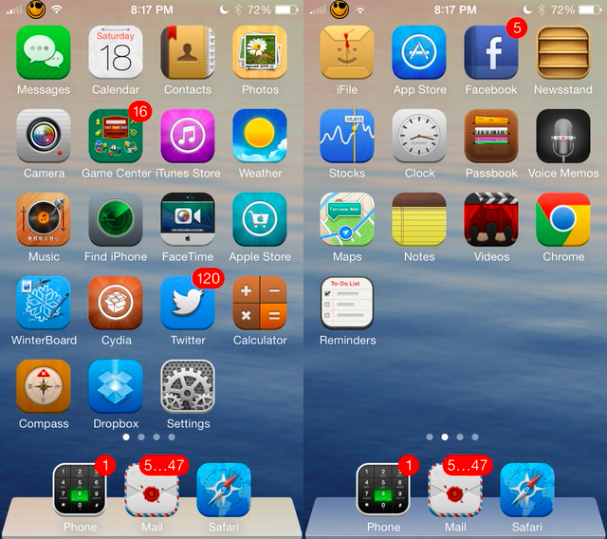 ayecon was a very highly anticipated theme that really changed the way people looked at iOS themes when it was released for iOS 6.  Now, it's been updated for iOS 7 and you can see the amount of detail that went into every single icon. It was a staple in the theming world for iOS 6 and the iOS 7 version doesn't disappoint.
Check out this post for a more detailed video walkthrough of the theme.
Aura – Free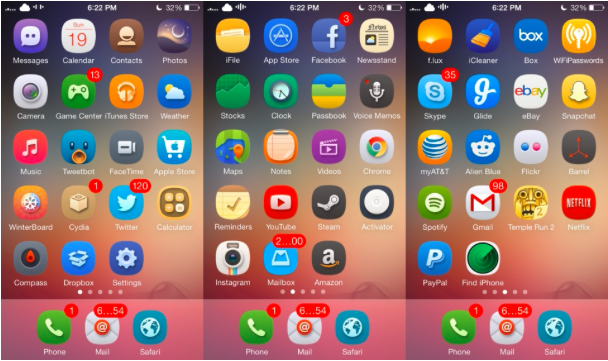 This is my favorite. The size and shape of the icons are perfect and the 200+ supported icons make it even that much better. If you can find an icon that's not supported, the icon mask does a really good job of making it fit right in.  I've had this theme enabled on my device since it's released and don't plan on getting rid of it any time soon. It recently went free if you add the developers repo: http://cydia.myrepospace.com/iApexthemes.