After using Syncios to manage my iPhone data, I feel that it's the very best iTunes alternatives out there right now. The free version of the software does so much that it can very effectively replace iTunes as the default go-to software to manage your iPhone.
Syncios is compatible with iOS 7 devices (and works with iOS 6 too). It's a simple, neatly-designed software that allows you to sync data between iPhone/iPad and your computer in a friendlier way than iTunes. Given the ease with which you can use Syncios, I feel that my default program to manage iPhone data is about to change.
Interface
Syncios runs on a minimal set of resources so launching it, using it and syncing the iPhone data to the computer through Syncios happens pretty fast. The interface is devoid of all the extra elements that iTunes brings to the table. This makes the interface not just smooth but very easy to use. In fact, Syncios is a refreshingly simple view of all the stuff on your iPhone ranging from photos and other media to call history to apps.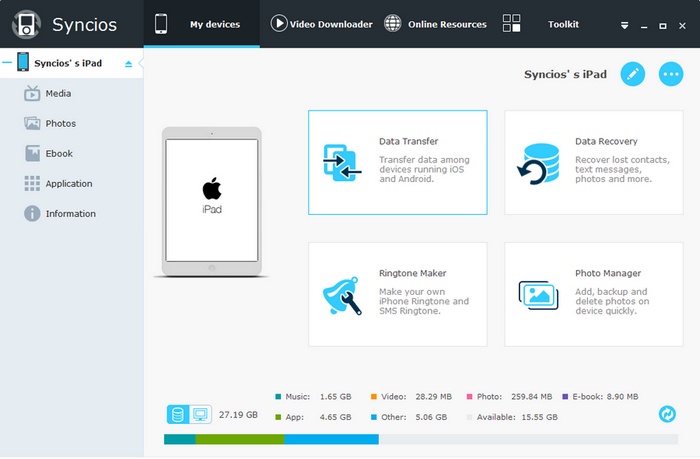 Like iTunes, Syncios segregates data into their respective categories so it is always easy to find what you're looking for. But what Syncios adds to this simple and elegant interface is the ability to quickly sift through the iPhone data in a more user-friendly manner. That's the USP. I think that's what makes Syncios stand out as a powerful iTunes alternative when it comes to managing data on your iOS 7 device.
Functions/Features
There's a lot of things you can do with Syncios.
Manage Media: most users want to sync their iPhone photos and videos to the computer. That's one of the first and most important features that iTunes solves. Syncios does it too and does it decently well. There are no hoops to jump or there's no learning curve here. Syncios works good because the whole interface is simple.
You can, besides the usual sync, transfer data from your computer to the iPhone. That's one feature that many softwares have a hard time cracking. Syncios seems to do it far better than others. We tried transferring photos from a PC to the iPhone and it went through perfectly.
Backup & Restore: Syncios tackles the backup/restore loop too. Just like iTunes, Syncios can backup your iPhone completely so you always have a copy of your data to switch back to in case something goes wrong with your iPhone. Backup and restore functions are also simple to use.
Backing up / Managing Apps: I liked this feature. With Syncios, you can even control apps on your iPhone. You can delete, install, backup and manage apps on your iPhone through Syncios. All backed up apps are found as .IPA files in the Syncios folder. Managing apps via Syncios is far simpler and far easier than any other software we've used.
Make Ringtones: The Syncios software can even make ringtones for you. What would take several steps in iTunes takes but just a couple of clicks on Syncios. In my tests, though, a few ringtones failed to sync/transfer to my iPhone but a few worked flawlessly.
Messages, Contacts, Call Logs etc: The whole of your Phone app and the Messages app can be easily synced and backed up via Syncios. This is in addition to notes, bookmarks etc.
Remove Temp Cache: One click and Syncios will remove all temporary files/caches that are stored in the file system.
File System for Nerds: And speaking of file-system, Syncios also lets you into the innards of the iPhone. The file system with all its hierarchy can be accessed through Syncios but you've got to be careful with these files.
Data Transfer between iOS & Android Devices: The latest Syncios supports transferring data between iOS & Android devices. You can not only transfer files between two apple devices, but also transfer data, such as iPhone contacts, photos, call history and more onto Android Phone with Syncios now.
We could access all these features in Syncios's free version itself. There's a PRO version for $19.95 but the free version does almost everything that's needed.
Syncios Compatibility: All iOS 9 devices (iPhone, iPad, iPod Touch).