Microsoft has announced an updated, more powerful Surface Book, and Apple has (at last) updated the MacBook Pro. But how do these two top-end laptops compare, and which is best?
If you're in the market for a powerful laptop, Microsoft and Apple have both just unveiled their latest wares: the Surface Book i7 and the 2016 MacBook Pro. On paper their specifications may look similar, but these are two very different beasts. Here we explain their differences.
Note that this comparison is based on what we know about the new devices from Apple and Microsoft. We have not yet received them for review, and therefore have not been able to benchmark the laptops to verify each manufacturer's claims.
Design
Clearly there is one major difference between the two. The MacBook Pro is a traditional laptop, while the Surface Book's touchscreen is detachable so it can be used as a tablet.
While the Surface Book can be used like a laptop (and it's far better at this than the Surface or Surface Pro), it is equally at home as a tablet and especially so when being used with the Surface Pen for sketching or writing.
Both devices are targeted at creatives, but the best one for you will depend on exactly what it is you want to do. If you prefer to draw on the screen with a pen, the Surface Book is obviously the better option.
But the MacBook has a much larger touchpad and a new 'Touch Bar', which is a touchscreen that sits above the top row of keys on the keyboard and essentially replaces the function keys. This puts common shortcuts at your fingertips, and these change as you switch between apps.
Note that the Touch Bar isn't on every MacBook Pro: you won't find it on the entry-level 13in model.
Screen
In fact, this also brings us to screen size. You can either buy a MacBook Pro with a 13.3in screen or a 15.4in panel.
But there's only one size of Surface Book: 13.5in.
Yet the Surface Book has the highest resolution at 3000×2000 pixels. The 13.3in MacBook Pro gets a 2560×1600 screen and this increases to only 2880×1800 on the 15.4in model.
Like the iPhone 7, the new MacBook Pro's screen has a wide colour gamut (P3) which can display 25 percent more colours than sRGB, particularly greens and reds.
Meanwhile, the Surface Book's screen displays roughly 100 percent of sRGB. It's a great screen which, as we've said, is a capacitive touchscreen and also works with the pressure-sensitive stylus, the Surface Pen.
Battery life
Apple claims up to 10 hours between charges, while Microsoft says you can expect 12 to 16 hours from a Surface Book. As ever, actual runtime will depend on what you're doing. Demanding apps (and games) will seriously reduce these figures, but if you're only typing in Word or browsing the web, you may well see the quoted figures.
The Surface Book i7 has – according to Microsoft – 30 percent better battery life than the original model. When we tested that device we were amazed when it lasted more than 16 hours in our looped video playback test, so we're eager to test out the new model and see if it really does last even longer.
Software
The MacBook, of course, runs Apple's operating system, macOS. It would be easy to leave this as a throwaway line, but for many people this will be the biggest difference between the Surface Book and the MacBook Pro.
Most software (especially creative software) is available on both platforms, but some programs are only available on one and not the other. Most Apple software, such as Final Cut Pro, is not available on Windows. But Adobe software – Premiere Pro, for example – works on both.
If you're already a Windows or Mac user, you might prefer to stick with what's familiar, but switching (in either direction) is not difficult. However, remember that you will usually have to re-buy the Windows or Mac version of software as few licences give you both versions.
As a tablet, the Surface Book's closest rival would be the iPad Pro 12.9. Apple is keeping its laptop and tablets completely separate, but this does mean that you have to buy both. With the Surface Book, you get two in one device, and the Surface Pen is included in the box (it's a £99 extra with the iPad Pro).
Price and configuration
There are three models of the MacBook Pro to choose between:
13in MacBook Pro without Touch Bar and Touch ID, 2GHz Intel Core i5 dual-core processor, Intel Iris Graphics 540, 8GB RAM, 256GB SSD, 2x Thunderbolt 3. Price: £1,499 ($1,499).
13in MacBook Pro with Touch Bar and Touch ID, 2.9GHz Intel Core i5 dual-core processor, Intel Iris Graphics 550, 8GB RAM, 256GB SSD, 4x Thunderbolt 3. Price: £1,749 ($1,799).
15in MacBook Pro with Touch Bar and Touch ID, 2.6GHz Intel Core i7 quad-core processor, AMD Radeon Pro 450 Graphics, 16GB RAM, 256GB SSD, 4x Thunderbolt 3. Price £2,349 ($2,399).
With the Surface Book, UK pricing has not yet been announced, but it starts at $2,399 for the model with 8GB RAM and 256GB storage. Boost that to 512GB with 16GB RAM and it'll cost you $2,799, or 1TB with 16GB RAM at $3,299.
Conclusion
it's clear that they are two different machines. The Surface Book is much more versatile and can be used as a laptop, a notepad and a tablet: everything you need is in the box. If you go for a model with the GTX 965M GPU, you can even play games on it. But if you want a dedicated laptop with a larger screen, the 15.4in MacBook Pro looks to be an exceedingly good bit of kit too.
Related article: How to Backup iPhone 7/7 Plus on Mac?
---
Recommendation: Manage iPhone/iPad/iPod without using iTunes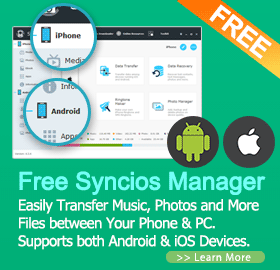 Support to transfer, edit, backup, manage, view iOS & Android mobile data: Music, videos, photos, apps, ebooks, contacts, messages and more.
Download videos from 100+ video sharing sites up to 4K HD video quality and transfer to iPad/iPhone/iPod/Android.
Massive free resources: videos, wallpapers, ringtones
Handy toolkit: Audio converter, video converter, ringtone maker, etc.
Free
You can follow Syncios onTwitter,Facebookfor more tips and tricks.
source: pcadvisor