In a crowded field of hybrid computers combining elements of laptops and tablets, Microsoft's Surface Pro 3 still stands out as a prime example of inventive design and expert engineering. But, starting at $799/AU$979 (and $999/AU$1,209 for a standard Intel Core i5 CPU), the 12.5-inch Surface Pro 3 is expensive, especially considering it practically requires a $129 keyboard add-on to be useful.
The engineering and design of the Pro 3 has now trickled down to a more mainstream-friendly model, called the Surface 3. Minus the "Pro" name, similar to Pro/non-Pro variations on Lenovo's Yoga line and Apple's MacBook line, you get a product that keeps many of the features and ideas from the more-expensive models, while cutting other features and specs to hit a lower price.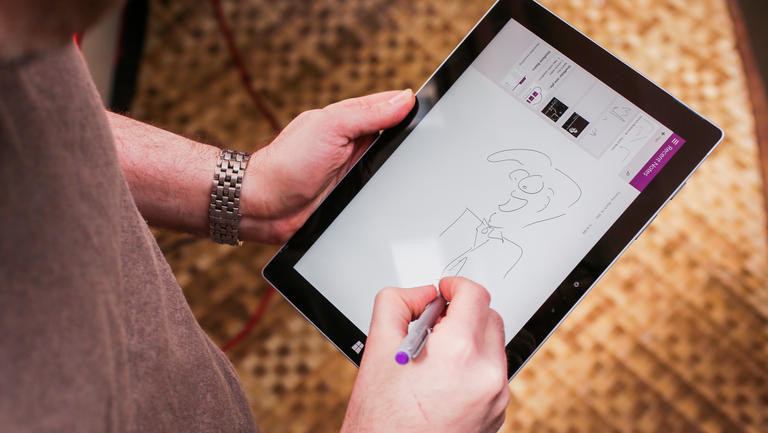 The non-Pro Surface 3 starts at $499, £420 or AU$699, and presents itself as very similar to the Surface Pro 3, just with a few budget-minded tweaks. It has an adjustable kickstand, although rather than the fully adjustable version in the Pro 3 or the two-angle one in the older Surface 2, the Surface 3 kickstand snaps between three different angles.
The touchscreen has a 1,920×1,080 native resolution, which is more than enough for a 10.8-inch display such as this. The 12.5-inch Pro 3 has a 2,160×1,440 resolution, and both screens have a 3:2 aspect ratio, which makes them feel more like writing on a pad of paper when held in portrait mode (a sold-separately stylus runs $49, £45 or AU$69).
Like every previous Surface, you'll want the optional keyboard cover. With large backlit keys packed into a very slim cover, and connecting via a magnetic hinge, it's the cleverest bit of engineering about the Surface line. Unfortunately, as with the previous models, the add-on keyboard costs a hefty $129, £110 or AU$180 (but comes in a variety of colors). And, as the Surface 3 is a different size than the older models, you'll need the new keyboard cover made specifically for this unit.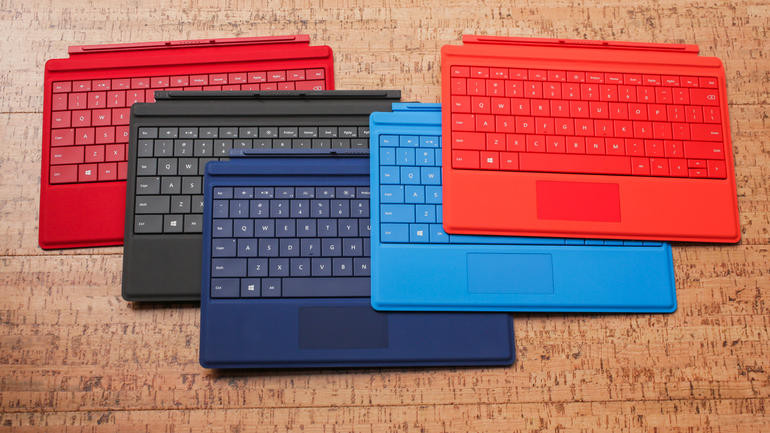 When you're adding a $129 keyboard cover to a thousand-dollar tablet, it's an added expense, but doesn't dramatically change the value proposition of the system. Adding the same $129 to a $499 product, however, raises the price by more than 20 percent, and you should really consider the combined cost before getting too excited about getting a low-cost Surface tablet.
Unlike previous non-Pro Surface tablets, the Surface 3 does not use Microsoft's much-maligned Windows RT operating system, which could only run specially approved apps from the Microsoft App Store. Instead, it runs standard Windows 8, and Microsoft says it's ready to upgrade to Windows 10 when that operating system is available.
So, with design and features close the the more-expensive Surface Pro line, what's the catch? For those seeking a full-time productivity machine, note that this system is not powered by Intel's Core i-series CPUs, or even by the Core M chip found in some new ultra-slim laptops and hybrids. Instead it uses the latest version of Intel's Atom CPU, a chip that dates back the days of low-end netbook laptops that sacrificed power for portability and price. Newer Atom chips are much better, and work fine in many budget Windows tablets, although most of those are closer to $200-$300. The new Atom x7 (previously known by the code name Cherry Trail) is said to be the most powerful Atom CPU to date, and is even capable of playing back 4K video.
In our brief hands-on time with the Surface 3, the Atom processor provided for a smooth and lag-free experience when using the tile-based Windows 8 menu, as well as apps such as IE11. To Microsoft's credit, those parts of the Windows 8 experience are very well-optimized, and can run smoothly using nearly any processor, even a very low-power one. Your mileage with third-party programs, however, may vary.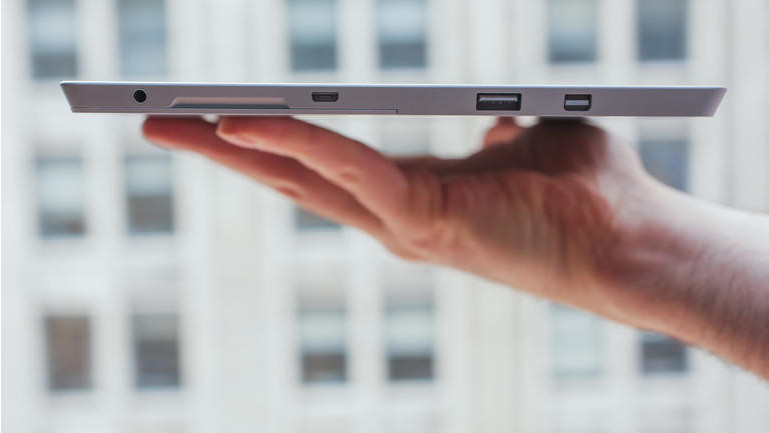 In the hand, the Surface 3 feels like a surprisingly premium product, and very close in quality and construction to the Pro models, with the same magnesium outer case. It's only 1.37 pounds (without the keyboard; about 0.62kg), which makes it lighter than even Apple's upcoming 12-inch MacBook. One welcome change is the new Micro-USB charging port, which is easier to deal with than Microsoft's previous proprietary magnetic charging cable. The Surface 3 is not, however, moving to the new USB-C connection, as seen in the 12-inch MacBook and Google's new Chromebook Pixel.
That initial $499 gets you 2GB RAM and a 64GB solid-state drive. Adding $100, £80 or AU$140 doubles both of those specs. Surface 3 will also be available in some higher-priced variations with built-in 4G LTE antennas, adding an additional $100 premium. Carrier partners announced so far are T-Mobile and Verizon for the US, with LTE details for the UK and Australia still to come.
The Microsoft Surface 3 will be available to buy May 5 in the US, Australia and UK, and May 7 in many other countries.
Reference: Cnet
You can follow Syncios on Twitter, Facebook for more tips and tricks.
Recommend: if you would like to backup your iPhone/iPad/iPod Touch data to the PC, just go here to learn more. Simply download the free version and have a try,  it can transfer data between iOS device and PC freely and easily.