It's a battle of the voice assistants. See how Siri compares to Google Assistant and the new kid on the block, Bixby Voice.
"Hey Siri, who's the best voice assistant?"
Talking to your phone can be way easier than typing in many situations. Siri, Google Assistant and Bixby Voice are the three big voice assistants available on phones so let's see how they compare.
Siri's only on iOS, while Google Assistant is available for Android and iOS devices. (Note the Assistant is limited in what it can do on iOS.)
Bixby Voice on the Galaxy S8 is designed to help you interact with and search your phone using voice rather than taps and typing on-screen. It's not meant to replace the Assistant and they even coexist side-by-side on the S8. Read more about what Bixby Voice can do in our hands-on.
For these tests, I used the following phones:
Siri on the iPhone 7 (iOS 11 public beta 2)
Bixby Voice on the Samsung Galaxy S8 Plus
Google Assistant on the Google Pixel
As iOS 11 is still in public beta, some aspects of Siri are still buggy and results may change in the final release.
The basics
All three assistants can do the basics just fine, including checking weather and time, setting alarms and reminders, or turning on Bluetooth.
Want to snap some photos? Ask them to take a selfie and they all oblige, except Siri only opens the front-facing camera and doesn't actually take a photo.
Bixby Voice offers more granularity in what you can do when opening the camera, such as telling it to, "Change the resolution of the rear camera to UHD."
Response time
Google Assistant races right past the others for most queries. It's the quickest to respond to requests such as turning on Bluetooth or asking for the weather.
In most other situations, Siri is second and Bixby Voice is slowest. I also found that using, "Hi, Bixby" to trigger the device rather than holding down the button leads to a longer listen time, so it can pick up extra dialogue from others nearby.
Complex commands
Voice assistants have traditionally struggled to understand more than just a simple request. Bixby Voice comes into its own with commands like "Find all my photos from yesterday and put them in a folder called Weekend."
Complex requests also work in non-Samsung apps such as Instagram, Facebook and Twitter. You can find a full list of compatible apps so far in the Bixby Labs section.
Say, "Open Instagram and post my latest photo with a caption 'Fun day,'" and Bixby will automate the entire process of uploading an image and entering the caption. It pauses for you to review before posting.
Google Assistant can only open the app when you say, "Open Instagram." If you try asking it to do the same thing as Bixby Voice, it returns Google search results. Siri will also get greater third-party app support once iOS 11 is officially released and third-party actions are coming soon to Assistant.
Siri and Google Assistant also have integrations with third-party apps such as WhatsApp, Lyft and OpenTable. Tell them to "Send a WhatsApp message to Charlie" and they understand. (Yes, Bixby does this too.)
Custom commands
Bixby Voice lets you shorten lengthy or more difficult commands into bite-size sentences. You can either do this when you make voice queries by tapping the "Add custom command" option, or through Bixby Home.
Google Assistant can do this too through the Google Home app. Go to settings and select Shortcuts, then map your short phrase to an action. One suggestion is, "OK Google, cheer me up," which will show corgi videos on YouTube.
But one of Bixby Voice's biggest strengths is learning more about what you actually want to do. Say something like, "Post my latest selfie to Facebook," and Bixby prompts you to choose what you want from a list. I selected the option to share a photo from a gallery. It opened the gallery, chose the share tab and created a new Facebook post with the most recent selfie.
Conversations and understanding context
Google Assistant shines when it comes to having a more natural, contextual conversation. Ask it to find movies with Sean Connery and it provides the list. You can then ask a follow-up question. "How tall is he?"
The Assistant knows the "he" you're talking about is Sean Connery and provides the results. Siri won't be able to remember the context of what you asked previously.
Bixby Voice needs a particular sentence structure to get the movie results. If you say, "Show me Sean Connery movies," it searches for videos on your phone, but if you ask, "What movies has Sean Connery been in?" or say, "Search the internet for Sean Connery movies," it brings up web results. If you ask Bixby Voice how tall he is, it doesn't understand that your query is about Sean Connery's height.
But Bixby Voice does have an advantage when it comes to understanding the context of the app you're using. Say you're watching YouTube and press the Bixby button. On screen you'll see that Bixby knows you're in YouTube's context rather than the native context. Say "Show me my subscriptions" and it knows you want to see your YouTube subscriptions.
Messaging
This is a much more even playing field for the assistants. All three can send and read messages out loud if you're using the default messaging app, but Siri is by far and away the fastest here.
Say "Read my latest message" and Bixby and Siri do this right away. Google Assistant first shows you the message, then asks if you want it read out loud.
Translations
Siri in iOS 11 also excels at translating from one language to another. Say "How do you say where's the bar in Spanish?" and you'll get the translation on screen as well as an audio recording of the phrase.
At the time of writing Siri can translate English to Spanish, Mandarin, French, Italian and German.
Google Assistant has more languages at its disposal thanks to Google Translate. Like Siri it provides audio and text of the translation.
Bixby Voice can't understand me when I ask "How do you say 'where is the bar' in Spanish?" or "What is 'where is the bar' in Spanish?". It simply searches the web. If I ask it to translate, it opens Bixby Vision so you can point the camera at text in another language for it to translate. You can ask Bixby to open Google Translate, but there's no functionality yet to form a request like "Open Google Translate and translate happy birthday to Spanish."
---
Recommendation: Manage iPhone/iPad/iPod without using iTunes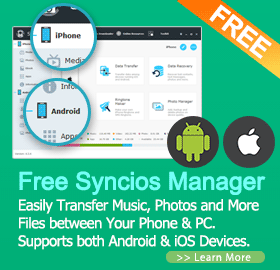 Support to transfer, edit, backup, manage, view iOS & Android mobile data: Music, videos, photos, apps, ebooks, contacts, messages and more.
Download videos from 100+ video sharing sites up to 4K HD video quality and transfer to iPad/iPhone/iPod/Android.
Handy toolkit: Audio converter, video converter, ringtone maker, etc.
Free
You can follow Syncios onTwitter,Facebookfor more tips and tricks.