While Siri Shortcuts took up a lot of the stage time at Apple's WWDC 2018keynote, another, equally important aspect of the digital assistant is also receiving a notable update in iOS 12: Suggestions. Siri Suggestions have been around since iOS 9, but with iOS 12, they're going to a new level. In fact, a lot of the enhancements coming to these suggestions are intertwined with Shortcuts. With the improvements coming down the pipe, Siri will be a more proactive and helpful assistant, better tailoring your iOS experience to suit your particular needs.
Here's what you need to know about Siri Suggestions in iOS 12.
What are Siri Suggestions?
While many people think of Siri only as a voice-based digital assistant, it's also continually running in the background of your iOS devices in an effort to be more helpful, learning about common tasks, potential upcoming events, and more. For instance, if someone emails you about an event and there's a date and time in that email, Siri can proactively add it to your calendar for the proper date, letting you confirm later whether or not an event is actually taking place. Siri can also suggest certain apps to use based on which apps you use often or have opened recently.
With iOS 12, Siri Suggestions are getting a big boost.
What's new with Siri Suggestions in iOS 12?
A lot of what's new with Siri Suggestions has to do with Shortcuts, Apple's new system that allows apps to add specific actions to the virtual assistant. This is most evident in the new, more proactive suggestions that Siri can make. Siri in iOS 12 will dive deeper into your habits when using an iPhone or iPad and will be able to be even more helpful thanks to its analysis of your behavior.
How do Siri Suggestions tie in with Shortcuts?
For common tasks that you perform on your device, Siri in iOS 12 will be able to execute the steps of those actions for you with just the push of a button. This is true both for first-party apps from Apple, but more importantly, it's also true for third-party apps, assuming developers have updated them.
After support for Siri Shortcuts has been added, apps can silently donate specific actions to Siri. If Siri notices that you regularly take a particular action using a supported app, like placing an order, it will send you a proactive push notification around the time you normally take that action which you can interact with to have Siri perform the task for you. You can also marry that particular action to a custom phrase, but that's more about Siri Shortcuts specifically.
What does this look like in practice?
As an example, say you order the same thing from Starbucks every morning, and its app has been updated to support Siri Shortcuts. Once Siri recognizes your habit of opening the Starbucks app each weekday morning and ordering a Venti Iced Soy Chai, light ice, no water, with three pumps of raspberry, it will start offering a proactive notification around that time of day with that specific order right on your lock screen. Just tap the notification, press the order button, and your order will be placed.
What else can Siri Suggestions do in iOS 12?
In addition to app interactions, Siri will now proactively offer actions that you can take when you pull down on your Home screen to search. These might include a prompt with a pre-built message for a meeting organizer if Siri detects that you're running late for that meeting, or a suggestion to play a favorite playlist in Music.
How does Siri know what to suggest and when to suggest it?
Siri takes into account your location, calendar events, time of day, and even the type of motion you're currently engaged in to deliver helpful suggestions.
Interestingly, although it wasn't mentioned by Apple at the keynote, Siri can watch out for events that might pop up in conversations in Messages on your device, then offer up its proactive notifications that encourage you to, for instance, turn on Do Not Disturb until the event is over. This has been noted by Sean Heber and Joshua May.
Does Apple see any of my data?
Apple says that all of Siri's analysis is done locally on your device. While certain things may sync, such as Shortcuts you've created, none of Siri's processing takes place in the cloud, making sure that your data remains as safe as it can be.
---
Recommendation: Manage iPhone/iPad/iPod without using iTunes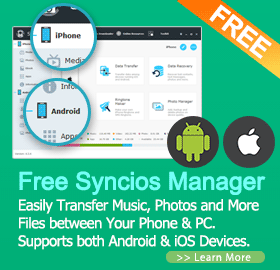 Support to transfer, edit, backup, manage, view iOS & Android mobile data: Music, videos, photos, apps, ebooks, contacts, messages and more.
Download videos from 100+ video sharing sites up to 4K HD video quality and transfer to iPad/iPhone/iPod/Android.
Handy toolkit: Audio converter, video converter, ringtone maker, etc.
Free
You can follow Syncios onTwitter,Facebookfor more tips and tricks.