Key Features:
1.84in Curved Touchscreen Colour Display
Waterproof & Dustproof
Heart Rate Monitor
Pedometer
27g
Samsung Gear Fit Review
Samsung is the first major manufacturer to get into the wearables market in a big way. Last year saw the launch of the disappointing Galaxy Gear smartwatch, and this year we have already seen the company launch the updated Gear 2 smartwatches which looked to improve on some of the short-comings of the original.
Samsung is also looking to carve out a slice of the popular fitness tracking market with its Gear Fit device, which is halfway between a fitness tracker and a smartwatch – but does it offer the best of both worlds or does it fall between two stools?
---
Gear Fit: Design
---
The Gear Fit is a sleek product which is no were near as chunky as the company Gear 2 smartwatch but not as subtle or discreet as the Jawbone Up or Fitbit Flex.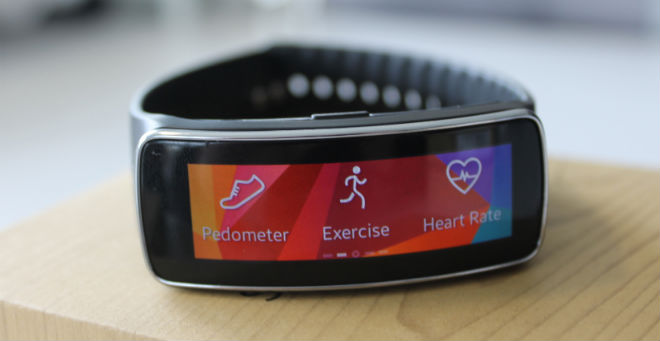 Samsung Gear Fit
That is because the wristband is dominated by the large and bright 1.84in Super Amoled touchscreen which has a resolution of 432 x 128 pixels.
The screen is curved to fit your wrist and along with the rubber wristband offer a comfortable fit. At 27g, the Gear Fit is lightweight and you won't typically notice that you are wearing it during the day. There's also a heart rate monitor on the rear of the device.
The wristband is replaceable and available in brown and orange as well as black. A dual pin fastener means the wristband is relatively robust on your hand though it did come off a couple of times while playing football.
Though that said, there were no signs that the rough and tumble of a football match damaged it at all – which is a good sign.
The Gear Fit's screen is activated in two ways. One is by pressing the small button on the side of the device, while the other is triggered by raising your arm to look at the screen.
The latter option is hugely temperamental meaning that after a few hours of trying to get it to work, I turned the feature off and just used the button.
---
Gear Fit: Setup
---
Setting up the Gear Fit is almost identical to setting up the Gear 2 and that's a good thing.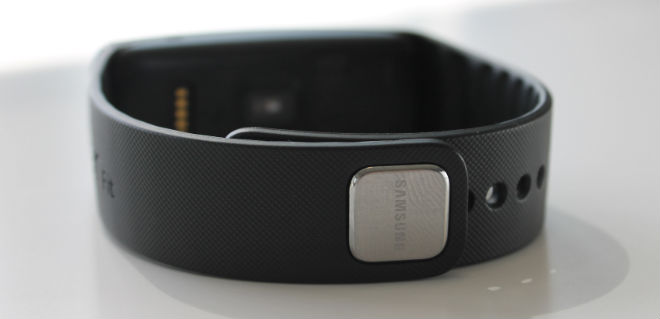 Samsung Gear Fit
First you need to download the Download the Gear Fit Manager app from the Samsung App store, connect via Bluetooth and you're good to go. Through the manager app you can change settings like which notifications you want to see come through on your Gear Fit, what wallpaper you want and which shortcuts to display on the home screen.
These can all be done on the watch itself too.
The problem is that Samsung has decided to limit the number of smartphones the Gear Fit works with to 17 devices – all of which are naturally made by Samsung.
This clearly limits the appeal of the Gear Fit, but it allows Samsung to control the experience more closely.
If you don't own one of the Samsung-approved smartphones the Gear Fit officially works with, there is a way around it, and I managed to get my Gear Fit working with my Nexus 5.
However, the process is just too complex and you don't get the full range of features working properly. If you are considering spending £170 on this tracker, it's best to make sure you have one of the compatible smartphones in the first place.
---
Gear Fit: Software and Battery Life
---
The Gear Fit, unlike the Gear 2 which uses Samsung's home-grown Tizen software, uses a slimmed down Real Time OS (RTOS) which is a good thing too as it's very simple and straightforward to navigate.
You won't however be able to download any apps like you can on the Gear smartwatches.
The interface is simple and clean, though because of the way the screen lies, I found it difficult to read the time despite the ability to change the orientation of the clock from landscape to portrait.
The interface is fast and screen responsive with a swipe left or right (or up or down depending on how you are looking at it) bringing up the various apps available to you.
Speaking of apps, you get pedometer, stopwatch, heart rate, timer, sleep and Find my Device, all of which do exactly what you would expect.
In terms of battery life, Samsung promises 3 to 4 days from the 210mAh battery. If this were true, then it would be acceptable, but I found that with consistent use throughout the day, the Gear Fit was failing after just two days.
Compare that the a week from the the Jawbone Up, or a full year from the Garmin Vivofit and it's clear that this is a major problem for Samsung. Also the awkward charging cradle the Fit uses is annoying and means you have to carry it with you everywhere you go.
---
Gear Fit: Performance
---
The big problem with the Gear Fit is that it is trying to do too much without doing anything particularly well.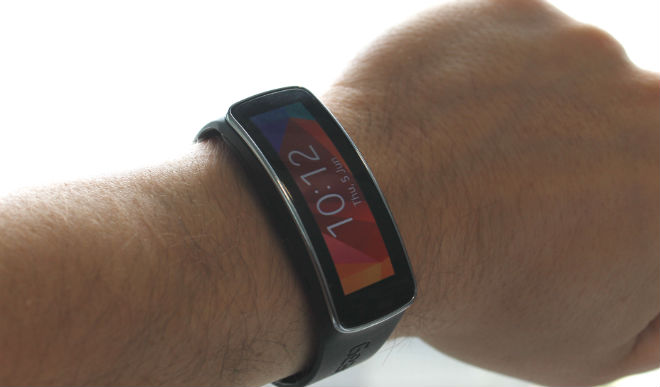 Samsung Gear Fit
Typical fitness trackers constantly monitor your movement without you have to do anything. The Gear Fit requires you to start the pedometer app when you want to record your steps, similarly with sleep you need to make sure to remember to start the app nothing will be recorded.
For more vigorous workouts there is the Exercise app, which gives you the option to choose what type of activity you will be doing (walking, hiking, cycling or running) – all of which work fine but don't offer anything unique. It is also worth noting the cycling and hiking options need you to have have your phone with you at all times to capture GPS data.
All the data collected by the Fit is synced with Samsung's own S Health app which is nicely designed and shows off your data in a nice visual way, but doesn't offer anything special. It is also a walled eco-system, meaning you won't be able to share this data with any other apps, which is disappointing, if not altogether surprising.
The Gear Fit does come with a heart rate monitor on the underside of the device, which is a much more practical place for one than the rear of the Galaxy S5.
However, while this feature will be appealing to serious runners, the system is so sensitive that it is hard to get it to work properly and usually takes a couple of goes to get a reading, and requires you to remain perfectly still – which is not ideal when exercising.
Sleep mode is, again, rather perfunctory telling you how long you slept for and how much of that was motionless – but you can't share any of the data with S Health meaning it'll only ever be available on the Fit tracker itself.
Samsung has also included some smartwatch features in the Fit, meaning you'll be able to read emails and SMS on the tracker's screen without having to get your phone out – and there's even a number of pre-written quick reply options to allow you to quickly reply to messages.
It will also alert you to incoming calls, which you can dismiss on the Fit – though without a built-in microphone, taking a call is not possible. You also get media controls on the Fit, which can be very handy indeed.
---
Gear Fit: Value and Verdict
---
The Gear Fit does not offer enough benefits over other fitness trackers to warrant its hefty £170 price tag.
Yes its curved Amoled screen is crisp, bright and responsive and the Fit is nicely designed and well built, for those looking for the basic functions offered by a fitness tracker, the touchscreen may seem like overkill.
I want a fitness tracker to just do its job, without me having to constantly remember to press start, or check if it's working. The Gear Fit is too fiddly and requires too much interaction by the wearer.
Add to this the restrictive nature of the closed eco-system, limited smartphone support, poor battery life and a high price tag, and I'm struggling to see just why anyone would want to buy one.
Score: 6/10
The Good
Nice design
Bright, crisp screen
The Bad
Expensive
Poor battery life
Limited support
Closed eco-system