The Samsung Galaxy S8 – along with the Samsung Galaxy S8 Plus – is arguably the most eagerly awaited Android phone of the year, so when your pre-order finally hits your doorstep you're going to want to get to grips with it right away.
We're not just talking about its headline features such as its expansive, 5.8-inch near edge-to-edge display or brilliant 12MP camera either. The S8 holds a treasure trove of impressive features, some that have been shouted about a little less than others.
Yes, the phone's octa-core chipset offers plenty of grunt and it's filled with new and innovative biometric security features, but scratch beneath the surface, and there's a wealth of further Samsung Galaxy S8 features just waiting to be explored.
These are the features that will make you feel like a tech wizard, the ones that will transform you from smartphone user to handset master. These are the Galaxy S8 tips and tricks you need to be aware of.
1. Access the Notifications tab using your fingerprint scanner
Its overall footprint might not be huge, but the Samsung Galaxy S8 offers a whole lot of screen. So much that you might struggle to comfortably reach the top of the display while holding the phone in one hand. That doesn't mean the pull-down Notifications tab has to be out of reach, however.
Instead, you can enable gesture controls on the rear-mounted fingerprint scanner. This will let you pull down the Notifications window just by swiping down on the biometric sensor, and without needing to contort your hand to the far reaches of the display.
To activate, you'll need to go Settings > Advanced features > Finger sensor gestures, and toggle that switch to the on position.
2. Customize your Edge panel
Those curved edges on the Samsung Galaxy S8's stunning Super AMOLED display are more than just pure eye candy. They hold secret access to a raft of hidden features and functions, as well as shortcuts to all your favorite apps and favored contacts.
To access, pull in from the tab on the screen's right-hand edge. Doing so will bring up shortcuts to your most-used apps. Swipe in again and you'll see your favorite contacts, while swiping once more brings up smart select features that let you capture a range of screenshot options.
On any of these windows, hitting the settings cog at the bottom of the screen lets you tweak and customize the type and quantity of content you're presented with.
There are more than a dozen pre-installed Edge Panels to choose from, ranging from weather and live sports scores panels to those that offer instant calendar checks and even access to the phone's compass and torch. For those after something more, additional panels can be downloaded.
3. Enjoy split screen multitasking
Thanks to that Infinity Display, you've got a lot of on-screen real estate to play with on the Samsung Galaxy S8, so you might as well make the most of it, right? One way to do this is with split screen multitasking, letting you run two apps side by side.
Some apps won't work fully in split screen mode – your games will have looked better – but if you want to enjoy a Facebook-based browse while keeping an eye on your emails, or check a recipe while looking online for ingredients, you can, and with minimal fuss.
To open apps in split screen view, you'll first need to hit the 'Recents' button on the soft keys at the bottom of the screen. Now tapping the multitasking tab on your already open apps (it's the one that looks like two rectangles atop each other) will open them in a compressed half screen view. Once open, you can drag to resize or return to a full screen view.
4. Make screen unlocks fun
If having your phone read your irises in order to authenticate your use and automatically unlock didn't make you feel enough like Iron Man, this fun S8 feature certainly will. You can add a range of iris scanner previews to your screen and replace those dull eye aligning circles with graphics that are a little more entertaining.
To access, you'll need to go Settings > Lock screen and security > Iris Scanner > Preview screen mask. Here you'll be able to choose whether you want to adorn your eyes with a cute bunny face or a driver's helmet, an owl's head or some Iron Man-inspired sci-fi HUD glasses.
We know which we'd pick, and it's not a cute woodland creature.
5. Make use of the Google Assistant
Just because Samsung's Bixby AI is still MIA doesn't mean you have to do without Siri-rivaling voice control skills. Thanks to its Android Nougat innards, the Samsung Galaxy S8 runs the Google Assistant direct from the box.
Letting you perform tasks, access certain features, and make online searches, all with nothing more than the power of your voice, Google Assistant is accessed by long pressing the phone's soft key home button.
You'll have to set up the Assistant before first use, attuning it to your voice, but once that is out of the way you'll be able to drop all the "OK, Google" prefixed questions and commands you could want.
6. Use Smart Lock for easier access
Fingerprint scanner, iris scanner, facial recognition abilities. The Samsung Galaxy S8 is filled with biometric security measures. There's also the option of the traditional PIN, pattern or password unlock methods too. What if the phone was smart enough to unlock automatically when it detected it was safe to do so though?
That's where the S8's Smart Lock feature comes in, letting you set the phone to automatically unlock when in certain situations such as at home, or while on your body.
To activate, you'll need to go Settings > Lock screen and security > Smart Lock. Here you'll be able to select the criteria for the phone to unlock itself, such as when in close proximity to your Samsung Gear S3 smartwatch or in your car.
7. Get to grips with the camera's Pro features
The Samsung Galaxy S8's 12MP rear-mounted camera is brilliant. Its f/1.7 wide aperture, phase detection autofocus and optical image stabilization-enhanced sensor are all perfectly attuned to capture stunning shots when on auto shooting mode.
The camera's skills run deeper, however, and let you tweak and attune all the settings to your individual shooting needs in Pro mode.
Within the camera app, swiping in from the left-hand side of the screen brings up a number of shooting options, including Panorama, Slow motion and Hyperlapse modes. Clicking the 'Pro' option, however, will give you complete control over the phone's inbuilt snapper.
Here you're able to tweak everything from the camera's ISO rating and shutter speed to focal point and white balance. You can also attune the camera's exposure levels to the specific shot, ensuring you get balanced, impactful shots no matter the conditions.
8. Make the screen single hand friendly
All that screen space is great from a visual perspective. It can get slightly unwieldy and difficult to manage with a single hand, however. Fortunately, Samsung has thought this through and bestowed the Galaxy S8 with some solid one-handed mode features.
Letting you make the on-screen content more compact, users can activate the one-handed mode by either swiping diagonally up from either of the phone's lower corners, or tapping the home button three times in quick succession.
For either of these options to work, however, you'll first need to activate the feature. You can do that by tapping Settings > Advanced Features > One-handed mode.
9. Turn your phone into a life-saver
The Samsung Galaxy S8 isn't just a handset all your mates will covet as soon as you pull it from your pocket, it's also a device that could end up saving your life. For this to be the case, however, you'll need to enable the SOS Messages feature.
To turn this on, you'll need to go Settings > Advanced Features > Send SOS messages, and flick that toggle switch over to the on position.
Once you've set up your emergency contact, triple pressing the phone's power button at any time will automatically send a message to your SOS contact, alerting them to an incident and requesting help.
You can enhance the message beyond a standard alert and a location link too. You can also opt to attach images automatically captured by both the phone's front and rear cameras, or a 5-second audio recording.
10. Rearrange your soft keys
Android's soft key controls are a very subjective thing. Some love them, others hate them, and while many will argue that the back key should be on the left of the three-key setup, others will argue that its true home is on the right of things. Well, thankfully, with the Galaxy S8 you can make your own choices.
Whatever setup you prefer, be it 'Recents – Home – Back' or 'Back – Home – Recents', you can customize the phone's layout to your needs, just head to Settings > Display > Navigation bar > Button layout, and make your selection.
As well as tweaking the layout, here you can also customize the sensitivity of your phone's controls and even assign your soft keys a new background color for a more standout, completely customized look. Anyone for pink keys?
---
Recommendation: Manage iPhone/iPad/iPod without using iTunes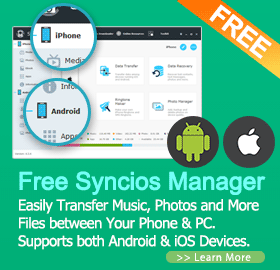 Support to transfer, edit, backup, manage, view iOS & Android mobile data: Music, videos, photos, apps, ebooks, contacts, messages and more.
Download videos from 100+ video sharing sites up to 4K HD video quality and transfer to iPad/iPhone/iPod/Android.
Handy toolkit: Audio converter, video converter, ringtone maker, etc.
Free
You can follow Syncios onTwitter,Facebookfor more tips and tricks.