The Samsung Galaxy S7 Edge is a fantastic smartphone that still holds its own today, so it's all the more frustrating when it doesn't perform properly. If your Edge is driving you close to the edge, our guide to the most common Samsung Galaxy S7 Edge problems and solutions should help save your sanity – and your smartphone.
The screen turns on randomly
You may have enabled Easy Screen Turn On, which wakes the display when you wave your hand over it. You can check in Settings > Accessibility > Dexterity and interaction.
Camera Failed
Assuming your Samsung isn't actually on fire – the Camera Failed warning is known to pop up when phones are running really hot – a hard reset can usually banish the unwanted warning. If that doesn't work, try clearing the camera app's data cache: go to Settings > Applications > Application Manager, locate Camera, Force Stop it and then clear both the app cache and the app data.
Wireless charging is really slow
Take your Galaxy out of its case if it's in one: that can make wireless charging flaky. If that doesn't solve the issue makes sure Fast Wireless Charging is actually turned on (in Settings > Battery) when your device is on the charger—and of course make sure the charging pad you're using actually supports fast wireless charging.
Palm detection isn't working
Palm detection is supposed to stop the screen registering false taps, but in some cases it doesn't appear to be working: the slightest bump or just holding the Edge in a certain way can register a tap. This appears to be a software glitch, and Samsung did issue an update to improve this back in 2016, but if you're still suffering from this problem, the best solution appears to be to put your Edge in a protective case.
You could try a screen protector too, but many Edge users have found that the curved screen makes it hard for protectors to stick.
Buttons aren't working
Many users are reporting problems with the hardware buttons, but the problem appears to be a software one because the fix involves, er, using the hardware buttons that aren't working.
If you press and hold Power and Home you should be able to perform a hard reset that makes your buttons work properly again.
Wi-Fi isn't working or Bluetooth is broken
These are common issues in any phone, and in case of Wi-Fi the wireless router is often the villain of the piece. Rebooting our router and our device fixes 99 percent of our home Wi-Fi problems, but if you're having connectivity issues when you're out and about it's worth forgetting and rejoining Wi-Fi networks – and similarly, if your Bluetooth is broken, removing any paired devices and re-pairing can solve the issues too.
Briefing is slowing everything down
Samsung's Briefing app, which creates a kind of electronic newspaper for you, has the same effect on your phone's performance as having a large man sat on you affects your ability to sprint. Long-press on a blank bit of the screen, swipe to Briefing and turn it off for an instant boost.
Battery is draining too quickly
There are a lot of factors that can cause battery drain, here are a few different approaches to troubleshooting:
1. Most of the time the culprit for sudden, catastrophic battery drain is an app, so it's worth closing all apps or restarting your phone to see if that improves things.
2. Use the Notifications shade to turn off any features you don't need,
3. Use Settings > Data Usage > Background Data to stop apps using your data connection when you don't want them to and try turning down the display too.
4. To make sure you're getting accurate readings on your battery, try calibrating it.
It's on fire!…Or just too hot.
Not literally, but if your Samsung is running hot then there are a few things to check.
If the problem occurs when your Edge is charging, try leaving it alone instead of using it and disable Fast Cable Charging in Settings > Battery. That will increase charging times, but if it stops your Edge getting too hot that's a sacrifice worth making.
It's worth checking for rogue apps too. In Settings > Battery > Battery Usage > More > Optimize Battery Usage you can select All Apps to ensure that apps can't drain the battery by running in the background.
If the heat is at the cable end rather than the Edge itself, you may have a faulty cable: we've found even really good quality chargers can get alarmingly hot once they've been used and abused for a while. Resist the temptation to use very cheap no-name chargers and cables from eBay, too, as they're often the cause of catastrophic overheating and in some cases, actual fires.
If all else fails, a full Factory Reset is the last resort before calling in the warranty.
Related article: How to backup and restore Samsung Galaxy S7?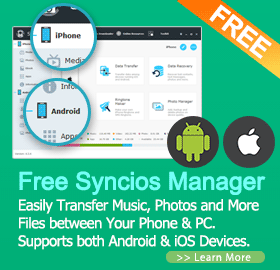 Support to transfer, edit, backup, manage, view iOS & Android mobile data: Music, videos, photos, apps, ebooks, contacts, messages and more.
Download videos from 100+ video sharing sites up to 4K HD video quality and transfer to iPad/iPhone/iPod/Android.
Handy toolkit: Audio converter, video converter, ringtone maker, etc.
Free
You can follow Syncios onTwitter,Facebookfor more tips and tricks.