The latest Samsung Galaxy Note 9 leak points to an updated smartphone with a larger screen, but one without an in-screen fingerprint sensor, sadly.
We're only a little over three months away from knowing everything for sure, which means you might as well hold out for Samsung's extra-big Android phone. It's very close.
We're sorting through the rumors and leaks (there are a lot of them), and to do that we've gotten out our trusty S Pen stylus ready to declare which are plausible, and which are just wishful thinking.
The Note 9 is poised to be a big deal because it'll be a massively sized update to the Galaxy Note 8, and slightly bigger and better than the Galaxy S9 and Galaxy S9 Plus, which launched around the world in March.
Of course, that's not to say it'll be a massive update to last year's phone with a 6.3-inch screen. No, we're expecting iterative, but important changes, mostly to the internal specs, rather than a complete redesign on the outside.
Update: The rumors about the Note 9 getting an in-screen fingerprint sensor keep going back and forth. We're seeing how it could work, with no guarantees it'll make it into the final design in August. It's the biggest mystery in phones right now.
Good news: Samsung has to roll out a new Note that's still attention-grabbing enough to outlast the iPhone X2 phones that Apple is likely to unveil in late August or early September. If you're keen on big phones with a handy stylus, this is the one to read up on.
Here are all of the Note 9 rumors so far and the features we want to see from Samsung's next two-handed handset.
Cut to the chase
What is Note 9? Samsung's next flagship phablet
When is Note 9 out? Possibly end of August 2018
What will Note 9 cost? Probably at least $929 / £869 / AU$1,499
Samsung Galaxy Note 9 release date and price
Last year's phone launched on August 23, and we expect similar timing in 2018
Likely to ship to stores and first customers in September
Samsung is readying the Galaxy Note 9 right now, according to new reports, though we still expect the release date to be closer to August 23 last year's launch date.
We haven't heard many Samsung Galaxy Note 9 release date rumors yet, but we did see last year's phone announced on August 23 and ship to stores in September. The short-lived Samsung Galaxy Note 7 followed a similar schedule two years ago.
So there's a good chance that the Samsung Galaxy Note 9 will be announced in late August 2018, before hitting stores possibly in mid to late September.
The Note 9 appears to have been trademarked by Samsung in mid-March, so it's possible that the release target is being set in stone.
There's always someone saying the Note phones will come earlier than ever though. This year, it's the The Investor that cites market watchers who believe it could be unveiled in early to mid August instead. And the same site claims that Samsung has codenamed the phone 'Crown' and plans to have a prototype of it ready during the first quarter of 2018.
We've also heard reports that Samsung is testing firmware for the phone and that it started doing so two weeks earlier than for the Note 8, which somewhat suggests an earlier launch is possible – especially as the Galaxy S9 also had its firmware tested earlier than the S8, and went on to launch earlier.
Whenever the Note 9 does arrive it's sure to be expensive. The Galaxy Note 8 retailed for $929 / £869 / AU$1,499 at launch and we can't see Samsung lowering the price for the Note 9, especially now Apple has pushed smartphone prices even higher with its iPhone X.
In fact, the S9 and S9 Plus saw a price increase in most countries, so it only makes sense for Samsung to push its top-tier phone higher, unfortunately.
Note 9 in-screen fingerprint sensor
The biggest Samsung Galaxy Note 9 rumor relates to its fingerprint scanner, which could be built directly into the screen. It's the long-awaited feature we're still waiting to see in a mainstream smartphone, and not in demo form or just in China.
A recent rumor suggests Samsung is testing multiple in-screen solutions and will probably use one of them, a move which could also apparently allow room for a larger battery in the Note 9.
That tallies with a source who's said the Note 9 will have both an in-screen scanner and a big 3,850mAh battery.
However, a slightly earlier rumor points to the in-screen fingerprint sensor skipping the Note 9, just like it did on the S9 and S9 Plus, Note 8 and S8 and S8 Plus before. There's reason to believe it'll show up on the Galaxy X (Galaxy 10 next year, however).
Both Samsung and Apple have been rumored to be working on this but failed to achieve it in time for their most recent handsets, pushing Samsung to move the scanner to a sub-optimal position on the back of the Samsung Galaxy S8 and Note 8, while Apple ditched it altogether from the iPhone X.
There's hopeful news on the subject in the form of a Samsung patent, showing a handset with a scanner built into the screen. Supposedly it would digitally show where users need to place their finger, and could potentially provide vibrations as feedback. Vivo has demonstrated exactly this tech in a phone this year.
But we've seen many sources in the supply chain claim Samsung has settled on placing the scanner on the back, just like its current flagship phones, so right now we'd say an in-screen scanner is looking unlikely.
Related article: How to Backup and Restore Samsung Galaxy S9?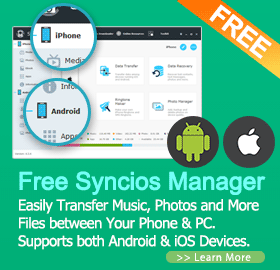 Support to transfer, edit, backup, manage, view iOS & Android mobile data: Music, videos, photos, apps, ebooks, contacts, messages and more.
Download videos from 100+ video sharing sites up to 4K HD video quality and transfer to iPad/iPhone/iPod/Android.
Handy toolkit: Audio converter, video converter, ringtone maker, etc.
Free
You can follow Syncios onTwitter,Facebookfor more tips and tricks.