Unfortunately, one of your worst nightmares has come to pass: You ran out of cloud storage in Google Drive. The most likely culprit? Several years of email buildup in your Gmail inbox.
If you found yourself in this situation, there's no reason to worry. There are plenty of ways to quickly clear up space in your inbox and even some ways to prevent future buildup. With some smart planning, those 15 free gigabytes that Google doles out to every user should be enough for the foreseeable future.
As a quick sidenote, make sure to check your Google Drive storage page to get an exact readout of which Google apps are taking up the most cloud storage. If your problem actually lies in Drive or Photos, Google has a handy page full of tips to rectify that situation.
Free up iCloud Space by Cleaning Junk & Tеmр Fіlеѕ on iPhone
You may get these emails from Apple saying Your iCloud storage is almost full. You have XX MB remaining of XX GB total storage or same message like Your iCloud storage is full. If you don't want to purchase additional storage from Apple. You can get help with a software like PanFone iOS Eraser. You are able to uѕe the frее funсtіоn оf cleaning junk & temp fіlеѕ to clean up and speed up your iPhone for you.
Within three steps, you can free up your iCloud storage. Here's how to do it:
Step 1: Launch PanFone iOS Data Eraser and connect your iPhone to your computer. And remember to turn off Find My iPhone first if you want to permanently wipe your iPhone data.
Step 2: Select Free Up Space mode and then click Quick Scan a full space-saving analysis.
Step 3: After scanning is complete, it is clear that you do have huge space to save. You can tap the Clean button beside junk & tеmроrаrу files to clean up the space.
After that, you will see how much space has been released.
Don't get too attached
In general your best friend is going to be the drop-down menu on the right side of Gmail's search bar. Go up to the top of your inbox screen, click that bad boy, and revel in the control it gives you over your own digital life.
In the same vein, attachments might be your worst enemy on Gmail. If enough attachments are sent your way over the years, they'll add up to take up storage space. Thankfully, you can use the search menu to fix this.
Once you've got all your emails with attachments in front of you, it's up to you to decide what to do with them. Obviously, don't mass delete things you might want to keep around. Still, this is a very quick and easy thing you can do in seconds to clean up your inbox.
Learn how to filter
If you've ever bought anything online, you probably have way too many payment receipt emails sitting around in your inbox to count. Congratulations to those of you who remember to delete those.
Still, an easy way to deal with things like that is to use Gmail filtering. Open the message and click on the three vertical dots on the right side. From there, click "Filter messages like this." It'll take you to every message from that sender in your inbox where, again, you can do whatever you want from there.
You can also use the search bar on the home screen to filter everything in your inbox based on how old they are or how much space they take up. It might be smart to search for everything that's larger than, say, 5MB and just delete all of those emails.
Let go of subscriptions
This is more to prevent future problems than fix current ones, but subscriptions can make your inbox supremely annoying. The most disorganized of us will inadvertently subscribe to things and watch the unwanted newsletters pile up.
Obviously, you can just open any of those messages and unsubscribe from those blasts individually. However, Unroll.me is a handy little free service that can give you a list of everything you subscribe to and let you dole out whichever punishment you prefer. Be careful with giving any third-party service access to your acc.
Take your trash out
This should go without saying, but please remember to periodically empty your spam and trash folders. Even after doing everything we said earlier in this article, emails you deleted will still languish in the trash folder for a while before automatically disappearing forever.
They might not take up that much space, but there's no reason to keep them around. Be free of them. Hopefully some of these tips can help you get your digital life together. The last option is to simply pay Google for more storage, but hopefully it never comes to that.
---
Recommendation: Manage iPhone/iPad/iPod without using iTunes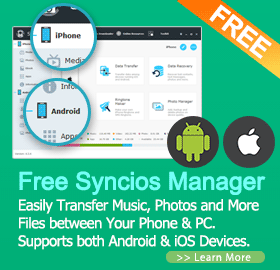 Support to transfer, edit, backup, manage, view iOS & Android mobile data: Music, videos, photos, apps, ebooks, contacts, messages and more.
Download videos from 100+ video sharing sites up to 4K HD video quality and transfer to iPad/iPhone/iPod/Android.
Handy toolkit: Audio converter, video converter, ringtone maker, etc.
Free
You can follow Syncios onTwitter,Facebookfor more tips and tricks.