Money is not the object this Valentine's Day. Get on your beloved's good side without getting into debt with our top five romantic apps.
To those who don't celebrate Valentine's Day because they think it's more about consumerism than romance, I say that's why you're on your way to a lonely life at the convalescent home. Valentine's Day isn't just about gift-giving or an expensive night out. What matters most on February 14 is what these gestures represent: love and appreciation. With that in mind I've collected five Valentine's Day-themed apps to help you express affection without sacrificing any of your convictions or all of your money.
Be Mine
Here's my card. Create your own with Be Mine.
(Credit: Screenshot: Josh Rotter)
Even if you're not artistic, you can create an eye-catching card with Be Mine. Just load the app and scroll across the top navigation to choose your background. Then scroll along the bottom nav to select a background or create your own with the in-app camera. You can then decorate your card with an assortment of hearts, cupids, lips, and more. Finally, add your romantic sentiment, and your missive is ready to save or export via e-mail or social media.
Love Quotes Romantic Poems
Trade in those tired greeting card sayings for something more authentic.(Credit: Screenshot: Josh Rotter)
For those who aren't natural writers, Love Quotes will act as your Cyrano de Bergerac, delivering your choice of more than 1,500 amorous quotes over Facebook, Twitter, e-mail, or SMS. Just keep swiping from quote to quote until you find the one that expresses your sentiment best.
100+ Romantic Ideas
The little things are often the most romantic.(Credit: Screenshot: Josh Rotter)
A Valentine's Day date doesn't have to be predictable or pricey. With 100+ Romantic Ideas, you'll find inspiration for the date of their dreams without paying a hefty price. Ditch the typical movie/dinner idea for something special like a walk on the beach, a serenade on a balcony, or a homemade lunch for work.
Valentine's Day Music Radio
A little music goes a long way.(Credit: Screenshot: Josh Rotter)
Nothing sets a romantic mood like music. Rather than searching through your various radio apps for a sexy station, let Valentine's Day Music Radio do the grunt work for you. The app has a stylish interface, featuring a pink living room, complete with a spinning record player with available stations listed above it. With 10 different stations to choose from — everything from smooth jazz to trip-hop to easy listening — you're sure to achieve aural pleasure. Just select your station, set the timer, and fall asleep in each other's arms without fear of being woken up later.
Untouchable Lover
Untouchable Lover will reaffirm your belief in unconditional love.(Credit: Screenshot: Josh Rotter)
There are love games that are naughty and love games that are manipulative. Then there's a game like Untouchable Lover. While the gameplay is challenging, with each move requiring some degree of forecasting, it's not too different than many of my past relationships. More importantly, it can reaffirm your belief in true, undying love. The object of the game is for the hero, shaken by the death of his true love, to burn, drown, freeze, and so on so that his heroine may live and do the same for him. As players progress from level to level, they're sure to get into the spirit of the day.
---
Recommend: would like to backup your iPhone, iPad, iPod to PC/Mac and looking for the easiest and safest way to back up your iPhone content on PC/Mac? Syncios Phone Data Transfer must be your first choice.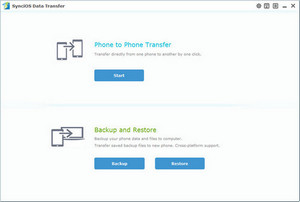 Transfer contents include contacts, messages, call logs, music, photos, videos, apps, notes, bookmarks, ebboks and more.
Backup phone data and restore in lossless quality.
Sync contents from iTunes Library to PC and iDevices.
Multiple OS supported: data shift between multiple phones run Android and iOS.
Multiple brand phones supported: Apple, Samsung, HTC, Sony, MOTOROLA, LG, HUAWEI, ZTE and more
Simply free download this phone data transfer and backup tool to have a try!