When Will You Need to Delete Old iCloud Account?
Here are the few reasons why you may want to delete an existing or old iCloud account:
Merge Multiple iCloud Accounts: If it's becoming troublesome for you to use multiple iCloud accounts, you can choose to merge the two accounts into one and delete one of them permanently.
Privacy Bleach: If you feel that your Apple ID/iCloud account has been hacked and your personal or business information/data compromised, you can proceed to permanently delete the iCloud account.
Changing to a more suitable iCloud Account: If you think that the iCloud ID you're using is not suitable for your business, then you have to create a new one and delete the old one because there is no way to change the Apple ID.
Done Using Apple Devices: If you're having a change of taste in smartphones and tablets, and you can't foresee yourself using an Apple device in the nearest future, then you can delete your iCloud account permanently.
See also : How to Fix iCloud Login Error
Before you delete an iCloud account or remove iCloud from an iPhone, iPad or Mac, there are a few things to consider. 
1. When you sign out of iCloud on any device, you'll also be signed out of the App Store, Messages, and FaceTime. To see using those services, you'll have to sign back into them with your Apple ID.
2. If you plan to sign out of an iCloud account on all your devices, you should back up data you use with iCloud. This includes: photos, contacts, mail, notes that are stored in iCloud, any files stored in iCloud Drive.
3. You will also lose access to other services, unless you sign in with another iCloud account. These include: Apple Pay, iCloud Keychain, Back to my Mac, Find my iPhone, Game Center, and Continuity, among others. You'll also lose app data from third-party apps that's stored in the iCloud account.
1. How to Delete iCloud Account on iPhone with or without Password
If you know the iCloud password, of course you can delete it from your iPhone directly.
On iOS 10 and Later
Step 1. Open your device, go to Settings.
Step 2. At the top of it, you will find [your name], tap on it.
Step 3. Scroll down until you find "Sig Out" and then tap on it. You will be asked for the password.
Step 4. After inputting the password, tap on "Sig Out" again to confirm that you want to sign out of iCloud.
On iOS 9 and Lower
Step 1. Go to your device Settings, scroll down, search for iCloud and click on it.
Step 2. Click on "iCloud" to open it.
Step 3. Scroll down until you find "Delete Account" and then click on it.
Step 4. Click on "Delete" again to confirm the deletion of the iCloud account.
On iOS 7 and Earlier
If you forgot iPhone password, these steps would help you proceed to remove your iCloud account from your Apple device.
Step 1. Go to your device Settings, search for iCloud and click on it; you will be required to enter a password, type in a random set of numbers. Tap on "Done."
Step 2. You will be notified that your username and password is incorrect. Click on "OK" and "Cancel." Go back to the iCloud main page, tap on "Account" clear the description box and tap "Done."
Step 3. You will be redirected to the main iCloud page without being prompted to enter your password. Here you will see that the "Find my Phone "feature has been automatically disabled. Scroll down to the bottom of the page and tap "Delete." Confirm your decision to delete when prompted by tapping the "Delete" tab again.
2. Delete old iCloud Account from Apple's Data and Privacy Portal
You can easily delete an old iCloud account from the official Apple Data and Privacy portal. However, the process is enormous and may take a long time to finish, and you must have your Apple ID and Password.
Step 1. Go to Privacy.apple.com and sign in with Apple ID and password.
Step 2. If prompted, enter the Two-Factor Authentication code sent to your phone, and click "Continue".
Step 3. Look for the section labeled "Delete Your Account" and click "Get Started" under it.
Step 4. Read the write up on deletion Apple ID, and follow the instructions on the page.
Step 5. Select a reason for deleting your account from the drop-down menu, and click "Continue".
Step 6. Read the information about deleting your account again before clicking "Continue".
Step 7. Read the "Deletion Terms & Conditions", check the box to confirm that you've read and agreed with the terms and conditions, and then click "Continue".
Step 8. Print or write down your Unique Access Code, which you use to cancel the deletion request or contact Apple Support.
Step 9. Enter the access code, and click "Continue > Delete Account".
Step 10. Apple will start the verification process before deleting your account. Your account will be active during the 7 days verification period.
3. How to Disable iCloud on Mac
If you need to disable iCloud on the Mac, follow these very simple steps.
Go to the Apple menu and choose System Preferences.
Click on the iCloud pane.
At the bottom left corner of the window, click Sign Out.
In the next window, if you want to keep data from iCloud Drive, Calendar, Contacts, or Reminders on your Mac, make sure the appropriate checkbox is tucked.
Click on Keep a Copy.
If you want to keep your Safari passwords on your Mac, press Keep on this Mac.
4. Link to Another iCloud Account on iOS Device
While iOS allows you easily change to a different iCloud ID/account, you ought to know why you should. Otherwise, you may encounter unpredictable problems.
Here is how to change iCloud account on iPhone/iPad:
Step 1. Remove the current iCloud account from the iOS device.
Step 2. Register the new iCloud Account and tap "Sign In".
Step 3. Use the new account ID to set up the iCloud.
Note: This method is not needed if your Apple Store ID has been changed to the right ID.
You may also want to read:
————————————————————————-
Recommendation: All-in-one Mobile Manager Tool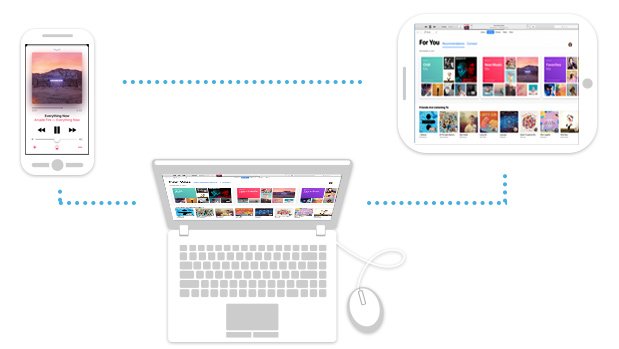 Support to transfer, edit, backup, manage, view iOS & Android mobile data: Music, videos, photos, apps, ebooks, contacts, messages and more.
Download videos from 100+ video sharing sites up to 4K HD video quality and transfer to iPad/iPhone/iPod/Android.
Handy toolkit: Audio converter, video converter, ringtone maker, etc.
Free