With the OnePlus 7T, the company from Shenzhen is once again raising the bar for the OnePlus brand. You rarely find such high-end hardware at such an attractive price on the smartphone market. To ensure that the OnePlus 7T is also a lot of fun in everyday life and in the long term, we have put together our tips and tricks for you here.
1. How to transfer messages, images, and data to your new OnePlus smartphone
With a modern smartphone, the transfer of data, messages and images is usually no longer witchcraft. Much is stored in the cloud by the respective apps or even by the mobile operating system. But there are some apps that do not store data on a central server. Most smartphone manufacturers have apps to make sure that everything goes from your old smartphone to the new one smoothly. With OnePlus this app is called OnePlus Switch and transfers not only data, pictures and apps from your old smartphone to your new OnePlus, but also the home screen and the arrangement of the apps on it.
The simply designed OnePlus Switch App can help a lot when setting up a new OnePlus smartphone
This app is pre-installed on OnePlus smartphones. If you own a smartphone from another manufacturer, you have to download the app from the App Store. We don't have to explain much about the app, you just have to follow the instructions on both devices. Unfortunately, it looks bad for moving from iOS to a OnePlus smartphone, because OnePlus had to temporarily remove the Switch app from the iOS App Store, because Apple changed the restrictions of such apps. As soon as the Switch App appears in Apple's App Store again, we will let you know.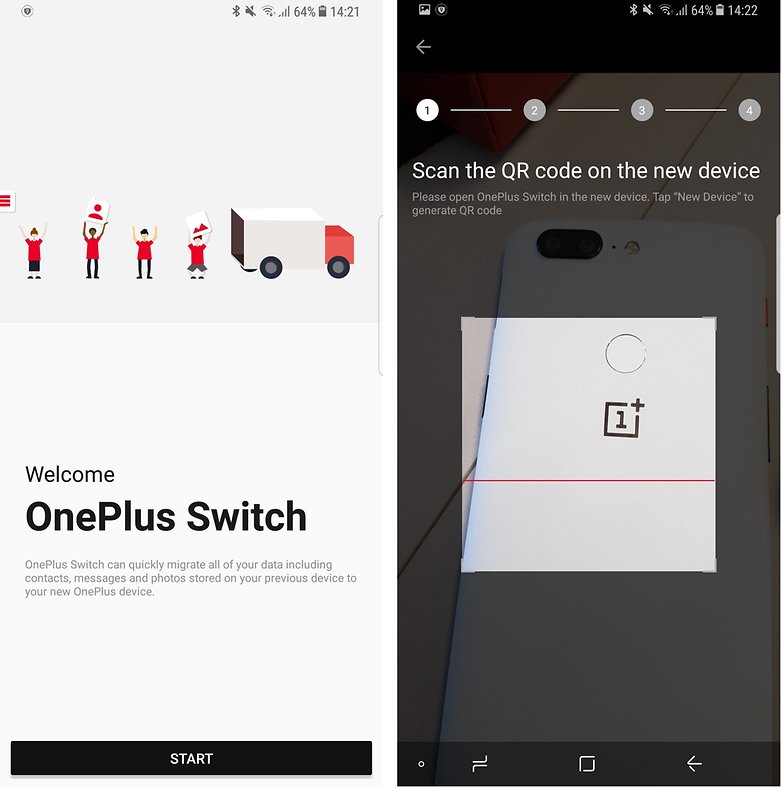 How to Import Music to OnePlus 7T/7T Pro
Syncios Oneplus Manager is a good helper when you want to transfer data on PC to Oneplus 7t completely, safely and quickly. And if you are searching for a method on importing the music on PC to OnePlus 7t, Syncios Oneplus Manager works it out exactly.
Step 1: Previously download and upgrade to the latest version of Syncios Oneplus Manager on your computer. Launch the program and then connect your OnePlus 7t to the PC with USB cable. When trying to connect the both, you should enable the USB debugging mode on OnePlus 7t and then follow the on-screen instruction to install the Syncios.Apk especially for the fresh users for Syncios program. Your phone then displays on the program interface as long as it is connected successfully.
Step 2: Navigate your mouse to the left panel on program, click on the Media option, which is made up of 2 major files. One is for music and the other is video. By default, you firstly to view all the songs neatly arranged with detailed information. Here, you can simply to de-duplicate, edit and delete the files by using the functional button.
Step 3: Aimed to import music from pc, click the Add button to enter the selection of computer music file. You can pre-pack all your files into a folder on your pc and click 'Add folder'. You can also selectively import some of the songs you need by clicking 'Add files'.
Step 4: Syncios quickly syncs your selected files to your phone, and you can hit Refresh button to get a newest music playlist. The music albums, artists, and notes have all been successfully imported into your phone.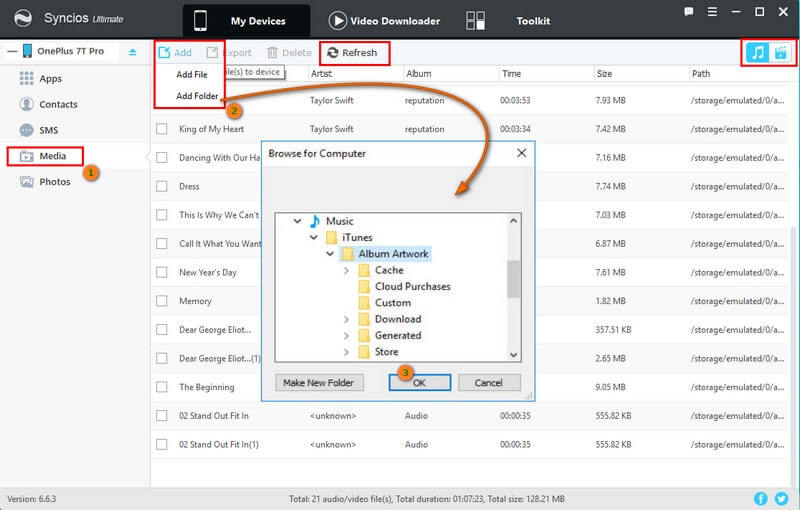 How to Transfer Data from Samsung to OnePlus 7T/7T Pro
No need to firstly back up and secondly recover, Syncios OnePlus Data Transfer shows you how phone to phone transfer works in a straightforward method. You can also bring your treasured data on Samsung to OnePlus 7T/7T Pro by one-click.
Step 1: Download and install Syncios OnePlus Data Transfer. This tool has a feature of 'Phone to Phone Transfer' and you can use this function to one-click transfer data from Samsung to OnePlus 7T/7T Pro seamlessly.
Download/Win Version    Download/Mac Version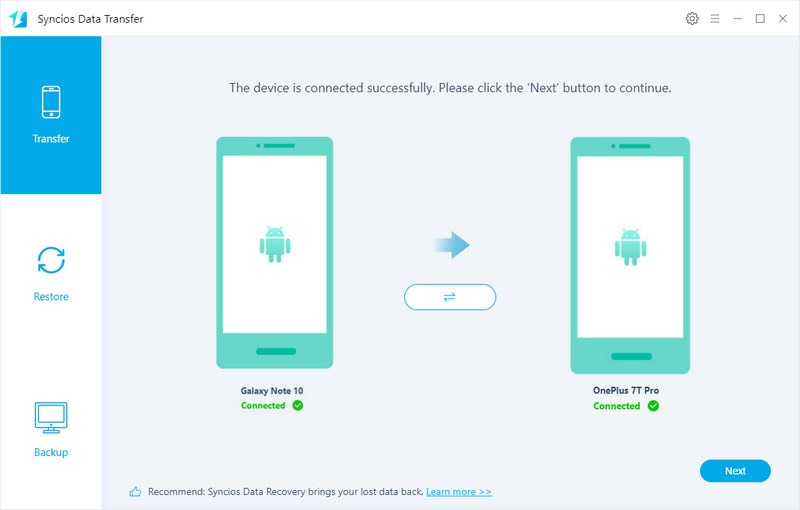 Step 2: Respectively connect Samsung and OnePlus 7T/7T Pro to PC. Enable the debugging mode on both devices. This step is mainly for program to extract and read the data on phones. On the interface, you should place Samsung on the left position as the source and OnePlus 7T/7T Pro on the right hand as the recipient. By kicking on Flip button to make sure they're in the right place.
Now that the preparations are complete, click the Next button. You can enter a data content interface. Select a box for the file you want to transfer, again click Next switch, and the program will start the data transfer.
Don't you think this method is more concise and convenient? You can directly transfer contacts, messages, call logs, calendar, music, photos, videos, apps and so more to OnePlus 7T/7T Pro. Keep patient on the time waiting for the process, which depends on the size of the data package.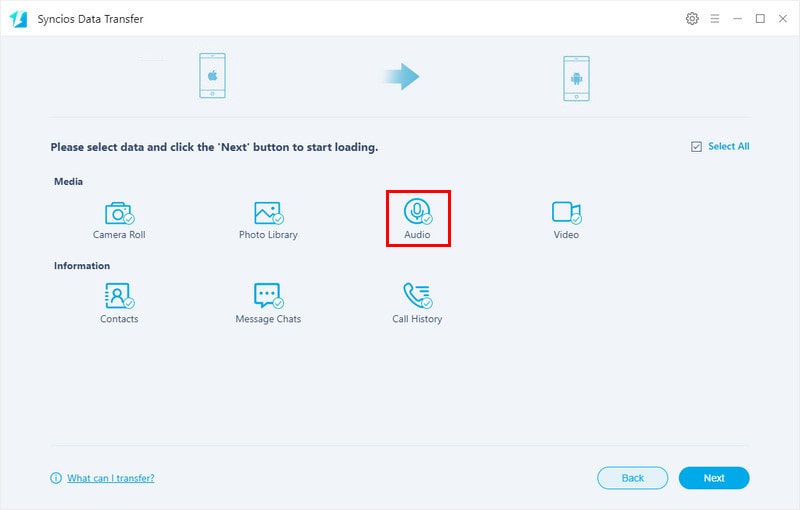 Recommendation: Manage OnePlus 7T ( Pro) at Ease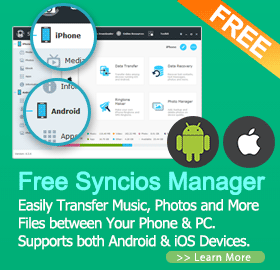 Free
Support to transfer, edit, backup, manage, view iOS & Android mobile data: Music, videos, photos, apps, ebooks, contacts, messages and more.
Restore backups created by iPhone/Android to PC Transfer.
Transfer almost all files, including contacts, video, SMS, photos, call logs, music, Ebook and apps between phone to phone, iOS & Android!
Backup OnePlus 7T/7T Pro data and restore in lossless quality.
You can follow Syncios onTwitter, Facebookfor more tips and tricks.