Google's second-generation Nexus 7 remains the best 7-inch tablet you can buy in the UK in 2014, even without a 2014 update.
Read 2014 Nexus 7 review to find out why.

The second-generation Google Nexus 7 has been around for about a year now. The 2013 update of the Nexus 7 is still one of the best 7in Android tablets that money can buy, if not the best. And that is just as well, because the word on the street is that the next smaller Nexus tablet will be a Nexus 8 made by HTC, and that could be curtains for the Asus-built Nexus 7.
That would be a travesty, and we retain hopes that the 2013 Nexus 7 will get a little refresh for 2014. In the mean time we've taken the time to refresh our Nexus 7 review.  The original Nexus 7 caused quite a stir in the tablet market, primarily due to its low price. This was despite its premium build and specifications, which led many to suspect that Google was subsidising the tablet in order that more people would choose Android and buy more apps, books, music and movies from its digital stores.
The updated Nexus 7 went on sale in summer 2013 and was even better in lots of ways than the original. Yes, it cost more, but even in 2014 it remains money well spent, as you'll see.
Nexus 7 (2014 review): Design and build
Design and build is highly unlikely to change. The new Nexus 7 looks very much like the original version but if you're upgrading from that model then within seconds of taking it out of the box you can tell it's next-generation stuff. It's slimmer and lighter, measuring just 8.7mm thin and weighing 290g.
It's marginally taller but far more important are the few millimetres which have been trimmed from the width. It doesn't sound like much but the new tablet is significantly easier to hold in one hand. The vast majority of rival 7in tablets, including the Tesco Hudl, Amazon Kindle Fire HD and Advent Vega Tegra Note 7 are all noticeably wider when held upright – enough to make it uncomfortable to stretch your thumb and fingers to grip both sides.
Instead, the Nexus 7 is taller and this makes it look rather like an over-sized smartphone. Indeed, the Nexus 7 isn't that much bigger than a phablet such as the Nokia Lumia 1520 or Sony Xperia Z Ultra.
Google has dropped the silver band from the edge of the tablet: it's an all-black affair this time. Buttons and ports are placed as before but the rear casing has a completely smooth surface which feels soft to the touch. It becomes grubby after a while, and isn't particularly easy to clean.
Two design changes which are particularly welcome are the stereo speakers, now placed at either end of the tablet improving sound; and the addition of a notification LED below the screen.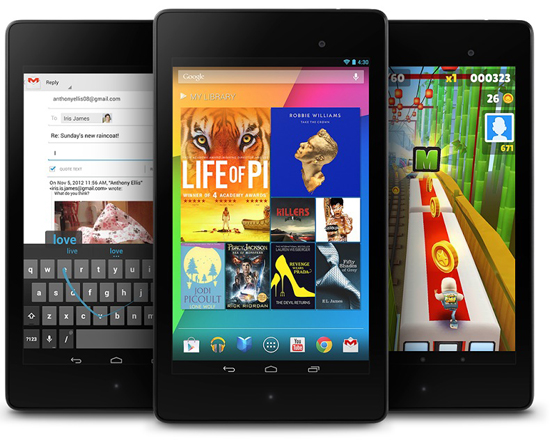 Excellent build quality has been maintained with no signs of unwanted gaps in the casing or wobbly buttons. The only thing we can really mark it down for is a lack of premium materials such as aluminium, but even that would be unfair at this price. Take a look at our Apple iPad mini vs Google Nexus 7 2 comparison review.
Nexus 7 (2014 review): Hardware and connectivity
The highlight of the Nexus 7 is its amazing screen. The 7in IPS display's resolution has been cranked up from 1280×800 pixels to 1920×1200, giving it a mammoth pixel density of 323ppi. It results in a display which is simply stunning to look at and without a doubt the best of any 7in tablet around at the moment. Apple's Retina iPad mini 2 has more pixels, but they're spread over a larger area, so the pixel density is basically the same.
Google has dropped nVidia for Qualcomm and the 2013 Nexus 7 is equipped with a 1.5 GHz Snapdragon S4 Pro quad-core Krait processor and the memory has been doubled to 2 GB.
You might be disappointed to learn that Google is still only shipping the Nexus 7 in either 16- or 32 GB capacities, and there's still no microSD card slot for expansion. It's one of the only downsides to this tablet but you still get twice as much storage as the entry-level iPad mini for £80 less (£239 vs £319).
Although you are paying £40 more for an extra 16GB of storage, it's worth it if you plan to install lots of apps, take lots of photos and videos and store a collection of music and movies on the Nexus 7.
There's no infrared so, unlike some Android devices, you can't use the Nexus 7 as a TV remote control, but you do get dual-band 802.11n Wi-Fi (although not 11.ac), Bluetooth 4.0 LE (low energy), GPS, NFC and Qi wireless charging (although you'll need to buy a separate Qi-compatible wireless charger if you want to use this feature). If you need it, a 4G LTE model (with 32GB of storage) costs £299.
Plus, there are both front and rear cameras, the front being a 1.2Mp webcam and a 5Mp autofocus shooter at the back.
Nexus 7 (2014 review): Software (Android 4.4 KitKat)
The Nexus 7 shipped with Android version 4.3 Jelly Bean and then received an update to 4.4 KitKat a few months later. Many people were expecting Android 5.0 (Key Lime Pie) but at least new versions will be rolled out to the Nexus 7 quickly – one of the advantages of being a Google-branded device. It's just possible that Google will allow an update to the Nexus 7 even if it brings out a Nexus 8. But KitKat is already a great OS.
KitKat brought with it some fairly minor updates and, true to Google's word – the Nexus 5 was the only device to get some extra KitKat features. This means the Nexus 7 doesn't have the transparent status bars or the opaque background in the apps screen: it sticks with solid black ones.
Most of the updates are concerned with making Android easier to use. For instance, you can now access Location settings from the quick-launch area when you swipe down from the top-right corner. Another addition is Tap & Pay, which uses the built-in NFC for making purchases. However, there are still very few places where you can use this feature in the UK.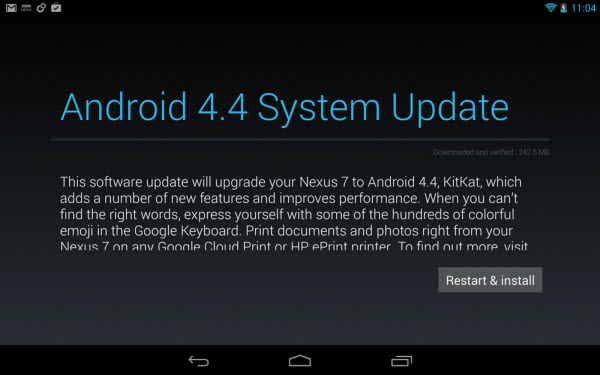 Many of KitKat's features rely on developers adding them to their apps, so the new 'immersive' full-screen mode works only in apps which have been updated to take advantage of the feature. For example, Google's Play Books app (left) uses the full screen, but Amazon's Kindle app doesn't.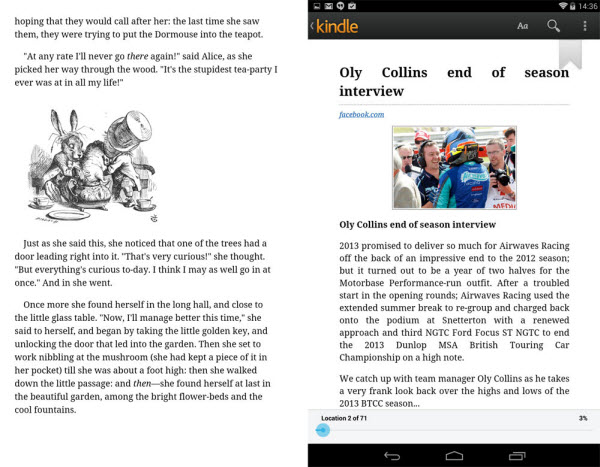 Introduced with Android 4.3 were 'restricted profiles'. This is an extension of merely having multiple user accounts on one device. With restricted profiles you can essentially manage the apps and content which is accessible via a certain user account. This is great if you want your children to use the Nexus 7 without accidentally spending your money or accessing unsuitable content.
As you'd expect, you get all of Google's apps pre-loaded including the Play store.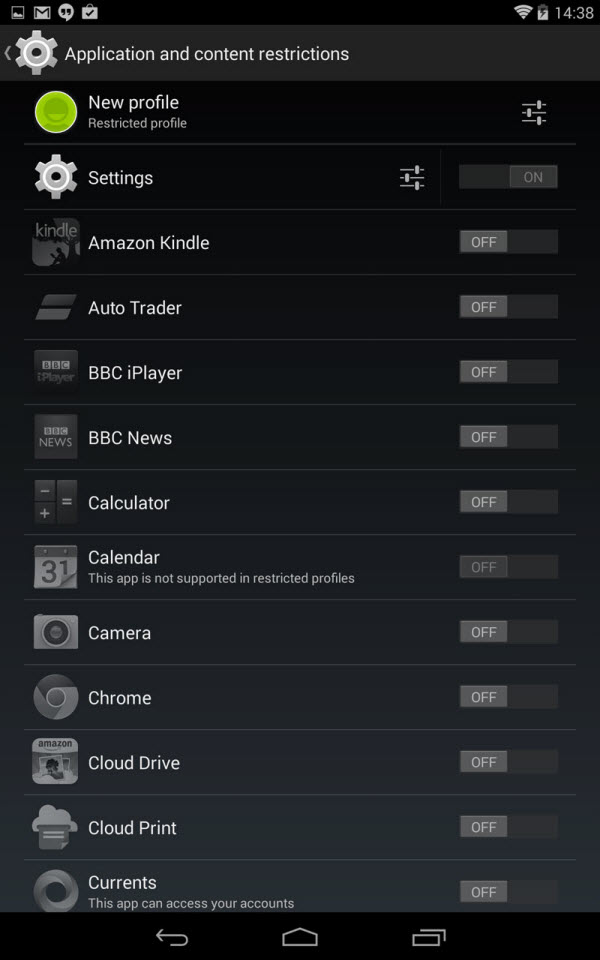 Nexus 7 (2014 review): Screen
Everything looks great on the full HD screen. Since it's an IPS panel viewing angles are excellent, contrast is good and colours are vibrant. It's covered in Corning Gorilla Glass and seems to us to be tough enough to withstand everyday use – our six-month-old tablet still looks like new.
The screen is highly responsive, exactly like an iPad's. There's no delay when tapping on buttons or links, and it's also very precise: you can tap on a link in a list without having to first zoom in.
The screen is also ideal for watching videos thanks to its wide aspect ratio.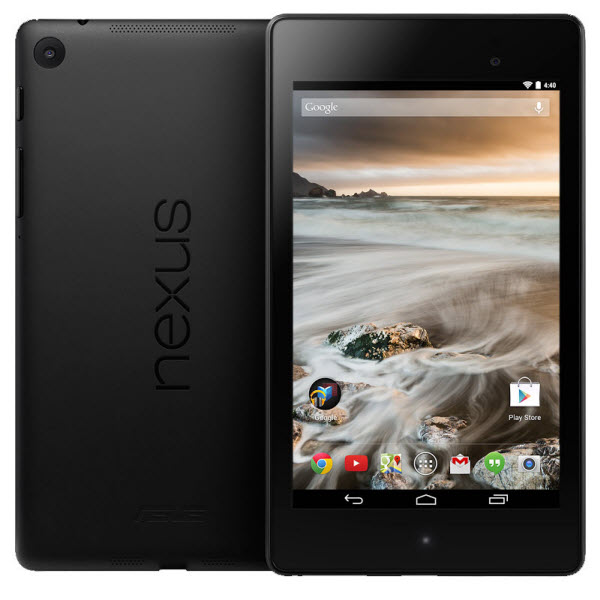 Nexus 7 (2014 review): Performance
The quad-core processor combined with the latest version of Android means the Nexus 7 feels super slick and responsive. It even boots up quicker than your average tablet, taking just over 30 seconds.
In our synthetic benchmark tests the Nexus 7 stormed though Geekbench 2 and GLBenchmark 2.7, with record scores of 2651 points and, thanks to the 400MHz Adreno 320 GPU, 41fps in Egypt HD, respectively.
These number are higher than the impressive Nexus 10 and formidable iPad 4, but fall short of the latest tablets including the iPad mini Retina and cheaper Advent Vega Tegra Note 7. For reference, the original Nexus 7 scored 1452 points in Geekbench 2, 14fps in Egypt HD and 1682ms in SunSpider.
Even against more recent tablets in 2014 the Nexus 7 still shines.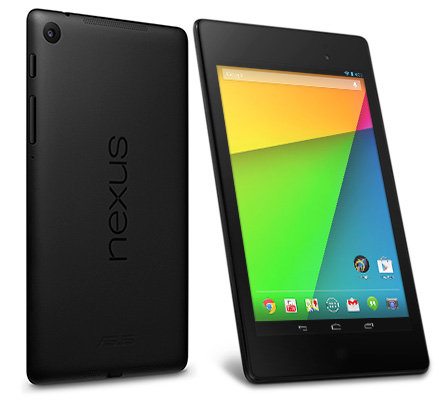 A time of 1136ms in SunSpider 1.0 is decent, but nowhere near the fastest tablets out there. That said, browsing the web isn't a sluggish experience at all. Far from it. Web pages load without much delay at all. In fact, the pre-installed Chrome browser likes to spend a second or so loading the page in the background and then displaying a rendered page instead of displaying a few elements and then adding others in while you wait.
Nexus 7 (2014 review):  Battery life
Strangely, the 2013 Nexus 7 has a smaller battery than its predecessor, at 3,950mAh versus 4,326mAh (that's 15Wh vs 16Wh if you prefer). Nevertheless, Google touts an extra hour of 'active use' with a maximum of nine hours.
In our battery test, the Nexus 7 lasted 8 hours, 47 minutes on a single charge while looping a locally stored HD video. That's a good result which is better than many 7in tablets but a little behind the 10 hours, 12 minutes which we measured with last year's Nexus 7.
Like just about all tablets, it takes a good while to charge back up if you're using it at the same time. With it powered off, we measured just over 3.5 hours to charge from completely empty to 100 percent.
However, one thing we didn't like much was the Nexus 7's power drain when left in standby for a few days. More often than not it would be dead or close to it, even when it had only been receiving emails and other notifications via Wi-Fi. We've never experienced that with an iPad or Kindle Fire tablet: they seem much more efficient at sipping power in standby with Wi-Fi enabled.
Nexus 7 (2014 review): Cameras
Yes, you read it right. The Nexus 7 (2013) now has two cameras rather than just one. The front remains at 1.2Mp and the new rear camera is a 5Mp snapper with auto-focus but no flash.
Although we don't particularly advocate tablet photography, the Nexus 7 (2013) is small enough that using the rear camera for taking photos and videos is more appropriate than usual.
The bad news is that, as with the Nexus 5, photos aren't particularly great. Snap away outdoors in good light and the resulting images are good enough for sharing online, but you're going to be a bit disappointed with prints. What was surprising was the sheer amount of noise present when viewed at 100% in Photoshop. It's clearly visible in blue skies, while prevalent coloured noise ruins shadowy areas.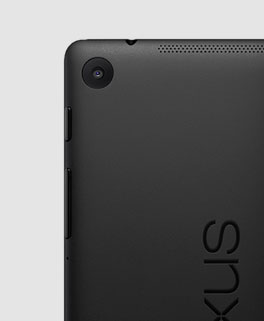 The autofocus and white balance don't always get it right, and moving subjects such as children, almost always appear as a blur in anything but the best light. There's no HDR option.
Video can be shot at up to 1080p resolution and looks good if you hold the Nexus 7 nice and steady. However, panning while filming introduces a lot of unwanted jerkiness to the footage. Detail levels and sharpness are more than acceptable if you keep the tablet still, however. Plus, you can take still images while filming by tapping the screen.
Two extra features are panorama and photosphere. The former captures a panoramic image as you slowly turn the tablet, while the latter allows you to capture a full 360-degree scene which you can scroll around (including up and down) afterwards. You'll need steady hands and subjects at least 30 feet away to get reasonable results, though.
Nexus 7 (2014 review): conclusion
Even after almost six months of use, we still love the Nexus 7. There are plenty of people, including in the comments below, who have had a bad experience with the Nexus 7, but we've tested two units and had no problems with either (and one was sourced from ebuyer, and was therefore out of Google PR control).
It has an excellent screen, long battery life (with the caveat that it runs out if you leave it on standby), superb performance and top build quality.
It isn't the cheapest around, but you get what you pay for. If you'd prefer to use £60 worth of Clubcard vouchers to get a Tesco Hudl, you'll be happy enough, but given a choice between the two, we'd always take the Nexus.
The form factor is ideal for reading books, and the new full screen mode – in Play Books at least – means no distracting status bars. Equally, the screen is perfect for videos and TV shows when held in landscape. Plus, the stereo speakers produce decent quality audio. At just 290g, you can comfortably hold the tablet for a couple of hours, and it's small enough to slip into a pocket in a rucksack.
It's a shame there's no microSD slot for adding to the limited on-board storage, but at least the microUSB charging port can be used with 'On The Go' USB cables which means you can attach a flash drive full of movies – it's hardly neat, but offers a workaround. Similarly, you can also buy a compatible cable to provide an HDMI output should you want to hook the Nexus 7 up to an HDTV.
If there's any real disappointment, it's the Nexus 7's cameras. They produce acceptable photos and videos, but that's all.