We've never had to make this choice before. Google has always released one new Nexus phone each year, but now, with two on offer, the question naturally arises: which is the best choice for me?
Before you go putting a Nexus device on your credit card, consider the following criteria to help you figure out which Nexus device to adopt in your life.
Big or small?
Do you have big hands? Small pockets? Do you mind if your phone is a bit heavy? These are all things to consider before choosing between the Nexus 6P and 5X, because both phones cater to slightly different smartphone users.
The Nexus 5X serves not only as fan service for those that loved the Nexus 5, but for those of you who'd rather wield a smaller, lighter device. It weighs only 136 grams—that's the same weight as the original 3.5-inch iPhone—though it's also made of plastic, which makes it feel a bit cheap. That doesn't mean it isn't solidly built, however, and in our testing it didn't twist, bend, or flex. Its smaller size also ensures your thumb can easily reach the power and volume buttons, and it fits more easily into pants pockets and smaller purses.
The Nexus 6P is a much larger phone, though not as gargantuan and unwieldy as last year's Nexus 6. Its 5.7-inch screen puts it into phablet territory. You should expect that it won't easily fit into most pants pockets, though its larger size is better for multitasking and long-form reading. I can more easily read through an ebook or an article online than I can with the 5X, though one-handed usage is a bit more tricky. There have been too many times I've felt like I was going to drop the 6P because my fingers couldn't grip it tightly enough.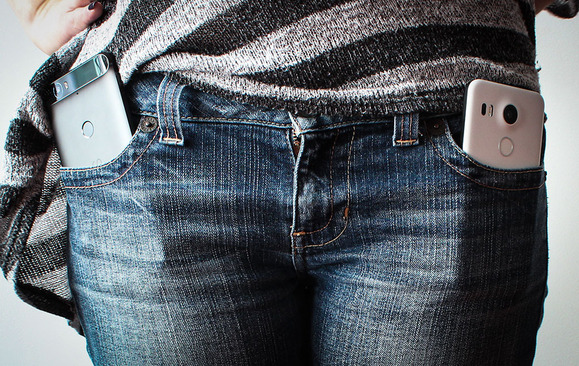 Women are pretty screwed in the "put your phones in your pocket" department, anyway, but at least the Nexus 5X doesn't stick out as much.
The "P" in its name stand for "premium," which perfectly sums up the 6P's sleek and fashionable aluminum frame. This is definitely a phone you'll want to cover up in a case if you're hoping to avoid scratches on the exterior, however—my 6P is already starting to see some wear and tear after only two weeks. It's also fairly heavy at about 178 grams, which makes it heavier than the Samsung Galaxy S6, HTC One M9, and Nexus 5X.
How bright do you need your screen?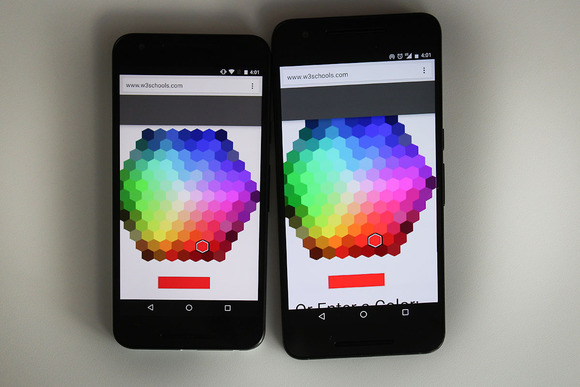 It's tough to capture in a photograph, but the 6P's display is ever-so-slightly brighter and more saturated than the 5X's.
The Nexus 5X's screen is a 5.2-inch 1080p LCD display, while the 6P's is a 5.7-inch Quad HD AMOLED display—the same AMOLED display used in Samsung's flagship devices this year. Both screens are crisp and clear and offer fantastic viewing angles, but there is a slight color difference between the two. The 5X's colors are a bit subdued, while the 6P's are more vibrant, with a twinge of over-saturation that's typical of Samsung AMOLED displays. The 6P display is also brighter. We measured it to be around 150 nits brighter than the 5X, so you'll be able to read it more easily in bright sunlight.
How much storage do you need?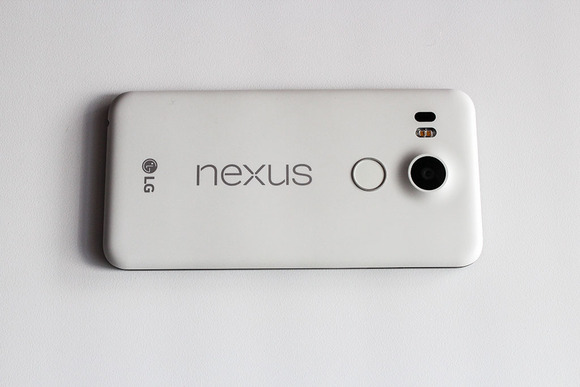 The Nexus 5X is only available in 16GB or 32GB.
If you want the smaller phone, you'll have to opt for less storage space, too. The Nexus 5X is only sold in 16GB and 32GB variants, while the Nexus 6P comes in 32GB, 64GB, and 128GB flavors. There's no expansion slot on either device, which is why the Nexus 5X's storage limitation is kind of a bummer. The 32GB version of the 5X is $430, which is a reasonable amount of space for the price. To compare, the Moto X Pure Edition is $20 more for 32GB, but includes an expansion slot.
Processing power and battery life
The Nexus 6P and Nexus 5X run on two of the latest Qualcomm Snapdragon processors. The 5X runs in line with LG G4 and Moto X Pure Edition with its Snapdragon 808 processor and 2GB of RAM, while the 6P is more apt to compete in the top-of-the-line space with its Snapdragon 810 processor and 3GB of RAM. Both phones are generally quick and snappy, though the 5X did suffer from infrequent interface sluggishness.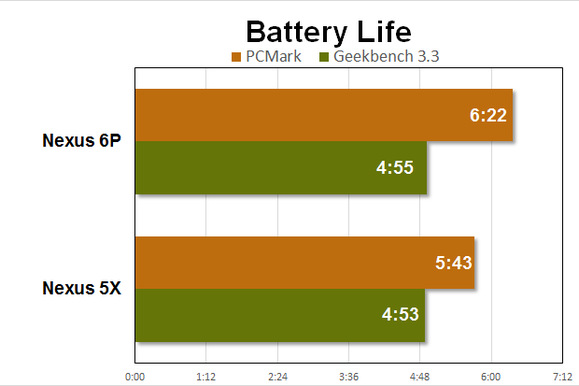 In terms of everyday performance, the two devices differ most significantly when it comes to battery life. The 5X features a 2700 mAh battery pack, which is quite beefy for a 5.2-inch device under $400. In our PCMark and Geekbench battery testing, the phone ran for 5 hours 43 minutes and 4 hours 53 minutes, respectively. Real world performance was much better, but when you compare that to the Nexus 6P's 3450 mAh battery pack, which outlasted most other flagships in its price range, you might want to consider forking over the extra money for the bigger device.
Which one is right for you?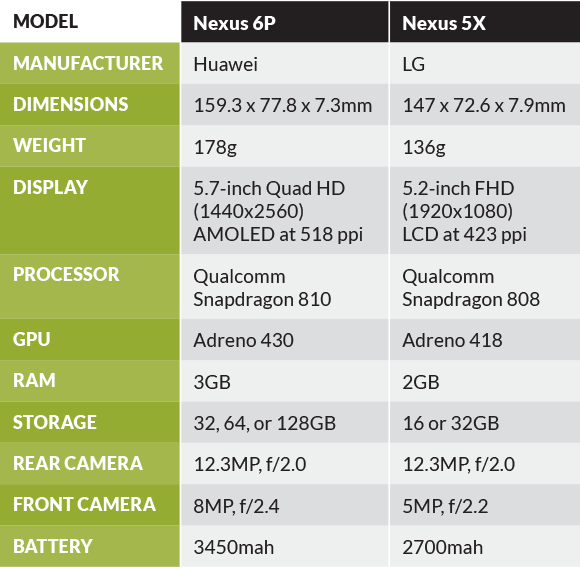 The Nexus 6P is a better deal than most other flagships on the market right now, including the Galaxy S6, which features a bloated, blue-hued version of Android. It costs $100-200 less than most high-end phones with comparable specs, features, and build quality. The Nexus 5X, on the other hand, has quite a bit competition in the sub-$400 market. It's not necessarily the best phone in its class, but it will get its Android updates before other phones.
The Google Nexus 5X offers great performance, wide carrier compatibility, great pictures, an excellent fingerprint sensor and a relatively small, lightweight chassis, all for a fairly low price. But, the battery life can be a little weak, and the Nexus 5X looks and feels cheap compared to similarly priced phones. The front-facing speaker sounds terrible.
One of the first two Android 6.0 phones, Google's metal Nexus 6P has a sharp, high-resolution screen and a solid camera, an accurate fingerprint reader, loud speakers and works with every major carrier. Its lower cost makes it a good top-tier value buy.It's big, a bit boxy and top-heavy, the fingerprint reader's position isn't always convenient and the 6P ditches the wireless charging of previous models.
The Nexus 6P doesn't have the most inspiring design, but when it comes to hardware prowess, value for money and Google extras, this best-ever Nexus is hard to beat.
Read more: How to Transfer from old Android Device or iPhone to New Nexus 6
---
Recommend:  If you finally purchase a new Nexus 5X or Nexus 6P and need to copy data from old Android phone or iPhone. Syncios Phone to Phone Data Transfer could help you.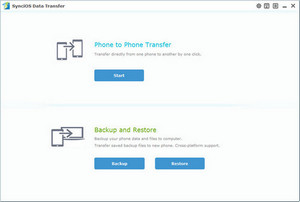 Syncios Phone to Phone Data Transfer enables you to move or transfer your photos, music, documents, contacts, ebooks, videos and more between your Android phone and iPhone.
Besides, this phone data transfer tool can support backuping phone data and restore in lossless quality.
Simply free download this Phone to Phone data transfer tool to have a try!