The iPhone 11 launch date is all but certain: we'll be seeing the phone on the date we predicted – Monday, September 10, according to the Apple invite we got.
We're also starting to see some real, solid iPhone 11 leaks. We have an idea of how the upgraded handset will look – and what features Apple will include.
If you're not up to speed with what's coming out of the iPhone 2019 rumor mill, then prepare for some disappointment: the new iPhone range looks like it will just be an incremental upgrade. We've got some experience sifting through these rumors – we've been at it for over a decade – and nothing we've picked up suggests anything more than that.
What does that mean? Well, a similar shape and size to previous launches (with three phones mooted for unveiling at the new iPhone 11 launch) but they won't bring amazing changes just now.
Latest story: A piece of information included as part of the iOS 13 developer beta shows that Apple might be taking a page from the Samsung Galaxy Note 10 book, as it seems the iPhone 11 could have a live video editing function. This is a great feature that Samsung devices use to great effect, and if Apple were to imitate it, it'd make the iPhone 11 a fun video smartphone.
Will we get the iPhone 11 'Pro' this year? We discuss this at greater length below, but as we're not expecting big changes this time around we doubt we'll get that much of a name change. It would make sense to save it for the cooler elements mentioned above, in 2020.
What we do know is that the new iPhone 11 will be the poster-child for iOS 13, and we're pretty certain that we'll be seeing the iPhone 11, iPhone 11R and iPhone 11 Max… what Apple is going to call them remains a mystery though, with there being no obvious next step to the iPhone XS.
The main change will be that camera upgrade – we're now fully expecting three sensors on the iPhone 11 and iPhone 11 Max, and just two on the iPhone 11R – but with enhanced capabilities on each model.
What is of more interest is whether Apple will be pushing the iPhone 11R (if indeed it does call it that) as the iPhone XR is the phone that's most prominently featured on its homepage – suggesting the cheaper phone could almost be the star of the show this year.
There will reportedly be some smart features added for charging, and Apple might finally have added in something users have been crying out for – read on to find out the full rundown of what TechRadar's iPhone experts expect to see for the new iPhone in 2019.
New iPhone 11 release date
iPhone 11 launch date: September 10, 2019
iPhone 11 pre-order date: September 13, 2019
iPhone 11 release date: September 20, 2019
Apple has confirmed its next launch event, and it's happening on Monday, September 10 at 10 am PT.
Like every year, we did some sleuthing around the possible iPhone 11 release date beforehand, so we always had a pretty good idea when was coming.
This date allows Apple to ship its iPhones into retail channels well before the holiday rush, and is now a well-trodden path to do such. As for the new iPhone 11 pre-order date, Apple tends to open this on the Friday following the launch, which would be September 13 by our calculations.
Finally, the new iPhone 11 release date – the day when you'll actually be able to get your hands on the handset for the first time – seems very likely to be a week later on Friday September 20, if previous releases are anything to go by.
That prediction was bolstered by an analyst from Wedbush claiming that the three new iPhones launched in 2019 will all go on sale at the same time – the iPhone 11, 11 Max and 11R would all be on sale at the same time thanks to the production process being so much more mature this year – again, suggesting little in the way of upgrades.
And it might not be just the new iPhone range that launches on this date, we may well also get the Apple Watch 5 then too.
New iPhone 11 price: will it still be $1,000?
iPhone 11 price likely to start around $999 (£999, AU$1,579)
There could be a new price strategy
The iPhone 11 price is almost certain not to drop this year – especially for the 'main' new iPhone. After all, Apple priced both the iPhone XS and iPhone X starting at $999 (£999, AU$1,579) and without a massive change to the design or functionality, a price hike doesn't seem likely.
With news that Apple isn't selling as many iPhones as it previously forecast, there's a chance the iPhone 11 will be priced more affordably – although we reckon a price freeze, rather than a reduction, is a more likely move by Apple.
That said, the new iPhone 11R could be a touch cheaper – depending on the new camera technology. A less-costly iPhone than last year (where the iPhone XR debuted for $749 / $749) could happen if not a lot changes to the hardware… but if Apple goes with the higher-power camera, then the same price is likely to be maintained, in our opinion.
The addition of the iPhone 11 Pro rumor – which, it has to be noted, is based on a single tweet (one that does have some form in getting the naming right of past iPhones) – would suggest a price hike for the phones.
But given analysts are suggesting that the new phones will 'lack novelty', we're not expecting the inflated cost that would bring.
New iPhone, iPhone 11 or iPhone XI?
What will Apple call the iPhone 2019? It's a tricky one: Apple has backed itself into a corner with the name. Roman numerals could well remain, but how does the iPhone XI follow the iPhone XS?
Apple has been staunch on verbally calling the handsets the 'iPhone 10' and 'iPhone 10-S'. With that in mind, the iPhone XI seems to make the most sense, but then – if the older models remain – there will be an X, an XS and an XI (along with an XR) – and iPhone 11 is easier to understand.
That doesn't easily point to the best, most-desirable model. So could Apple do what's been rumored for years and simply go for the 'new iPhone' as the 'main' XS replacement, and stick with the same iPhone XR name, albeit with a small spec upgrade?
As mentioned, the iPhone Pro could be added to the mix, bringing it into line with its iPads (and indeed MacBooks) in terms of their naming, but we're rather doubtful of that.
That said, we've now seen the names 'iPhone 11', 'iPhone 11 Pro' and 'iPhone 11 Pro Max' listed by a case-maker, so we can't rule out the 'Pro' moniker. iPhone 11 Pro Max seems very unlikely though.
But Apple has already ditched numbered increments for Mac, MacBooks, TV and iPads, so 'new iPhone' would be a logical next step – even if iPhone 11 would be the most pleasing thing for consumers looking for the obviously best new phone.
New iPhone 11 design
What will the new iPhone look like? Pretty simple really: from the front, quite similar (according to the leaks we've seen). The biggest change will be on the back: a hefty triple-lens camera in a square design.
We've included a video from Mobile Fun above, one that shows the best rendering of what most are expecting to see from the iPhone 11 when it launches later this year. You can also see a similar design in a video showing unofficial dummy handsets created based on leaks.
Indeed, roughly that design shows up in most leaks we're seeing at the moment, with the three camera system being used on the iPhone 11 and 11 Max, with the iPhone 11R still getting the large square bump, but only two lenses.
The square protrusion doesn't look as attractive as we're used to seeing on iPhones, but Apple could be springing a surprise to make sure it doesn't lose too much ground to Samsung, Huawei and Google.
We've seen huge improvements to the camera quality there, and while Apple's iPhones are still superb at taking pictures on the go, extra capability like a wide-angle lens would be something extra and would explain the extra size of the sensors.
Elsewhere, a leaker took a reported photo of the Galaxy Note 10 Plus – but did it with a phone that looked suspiciously like the iPhone 11R, with the double (rather than triple) lens array, according to the placement of the flash.
Whether both are real is up for debate (the quality of the snap isn't great, and you'd expect better from Apple, even at this early development stage), but it shows in the real world what the design could be like.
New iPhone 11 camera: the biggest change
As we've heavily discussed already, unless all the leaks are fake, the iPhone 11 camera looks pretty likely to pack a larger, more square lens array on the rear of the device.
This is the only real hardware upgrade we're seeing from Apple this year, with 2019's iPhone coming with enhanced picture-taking capabilities. Schematics suggest the same thing, and most chassis leaks hint at the same square cut-out portion.
Respected Apple analyst Ming-Chi Kuo has weighed in to say that one of these lenses might be almost invisible, adding at the same time that the selfie camera will get a boost from 7MP to 12MP.
New iPhone 11 battery and features
The iPhone 11 battery was always going to be a source of much debate, with users asking every year for a little more juice coming out of their device. The good news for them is that a couple of nifty tricks might helps things along for the new iPhone in 2019.
One thing we're not expecting is that the new iPhone will lose the Lightning connector, the Apple-only port that connects to all manner of accessories. Multiple rumors have stated that it might be replaced by USB-C, but it seems (for now) that won't be the case.
We've now heard multiple times that it won't get USB-C, so don't expect a change from Lightning.
That said, we could see a compromise here: Apple might finally bundle in the 18W charging block that would see the iPhone charge more quickly. The catch: the USB-A end (the connector most of us think of when imagining a USB lead) would be dropped for a smaller USB-C, allowing for speedier juicing. Another rumor supports this theory, using the same advanced charger that Apple introduced with the iPad Pro (2018) last October.
Having that in the box would be a nice addition to the wireless charging that's almost certain to continue. That wireless charging would go two ways, meaning you'll be able to throw the AirPods, in a wireless charging case, onto the back of the iPhone 11 and be able to charge them up on the go.
What about that battery pack? Well, noted Apple analyst Ming-Chi Kuo believes that the iPhone 11 will have a battery that's up to 25% bigger than the current iPhone XS, to allow for this reverse charging without destroying the battery life in a single day.
---
Recommendation: Manage iPhone/iPad/iPod without using iTunes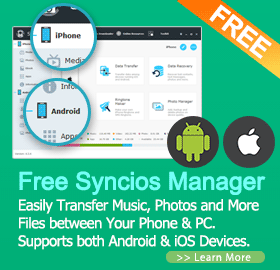 Support to transfer, edit, backup, manage, view iOS & Android mobile data: Music, videos, photos, apps, ebooks, contacts, messages and more.
Download videos from 100+ video sharing sites up to 4K HD video quality and transfer to iPad/iPhone/iPod/Android.
Handy toolkit: Audio converter, video converter, ringtone maker, etc.
Free
You can follow Syncios on Twitter, Facebook for more tips and tricks.