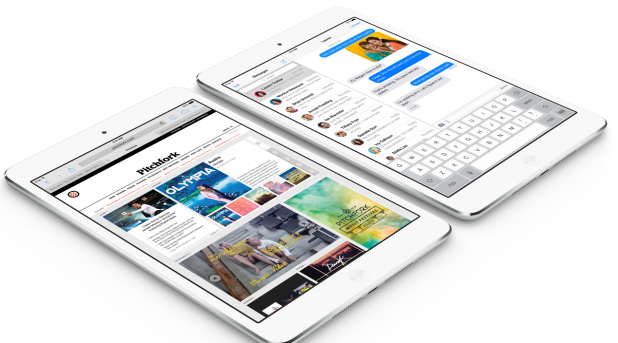 "The one most requested feature to add to iPad mini was a beautiful Retina display, and that's what we're going to do today," Apple senior vice president of worldwide marketing Phil Schiller said at the event. The iPad Mini finally gets a Retina Display.
Apple's new iPad mini indeed features a 7.9-inch display that bumps the resolution from 1,024 x 768 pixels on last year's model to 2,048 x 1,536 pixels, which is obviously a huge improvement. But there's more to Apple's new iPad mini than just the display, of course.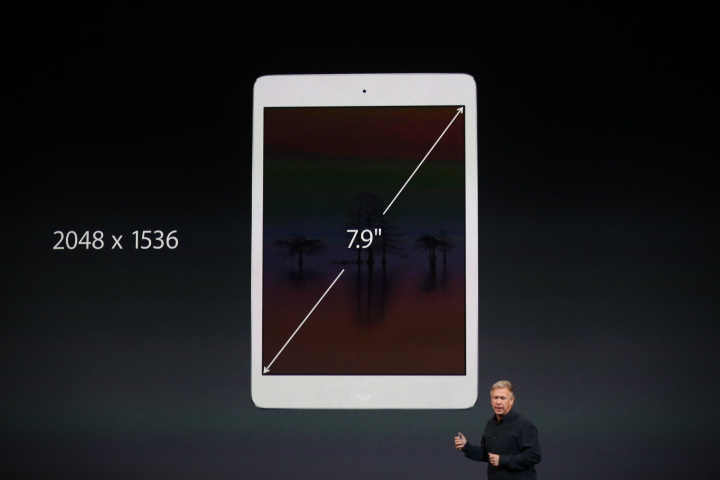 The new version of the iPad mini also features Apple's 64-bit A7 processor, features expanded LTE support, a 5 megapixel camera and delivers up to 10 hours of battery life. The Retina-equipped iPad mini will sell starting at $399 as the original iPad mini will see its price cut down to $299. Apple says the second-generation iPad mini will be available in November.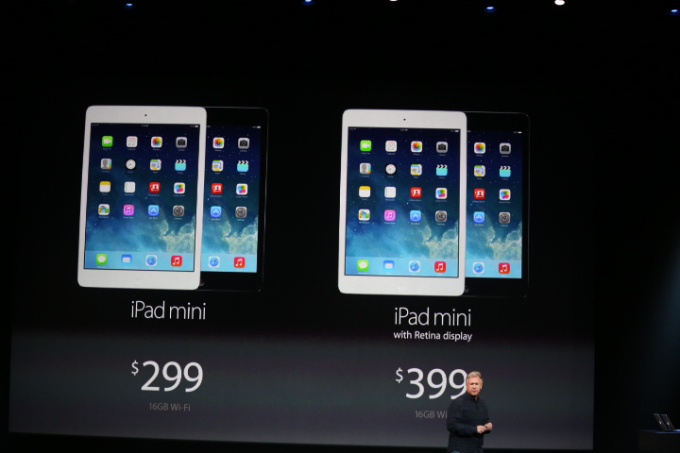 The following charts should help better illustrate what's new and what's changed from last year's iPad crop to this year's reboots.
  

IPAD MINI WITH RETINA DISPLAY
IPAD MINI
Wi-Fi capacity and price
16GB ($399), 32GB ($499), 64GB ($599), 128GB ($699)
16GB ($329), 32GB ($429), 64GB ($529)
Cellular and price
16GB ($529), 32GB ($629), 64GB ($729), 128GB ($829)
16GB ($459), 32GB ($559), 64GB ($659)
Colors and material
Space gray, silver; aluminum
Black, white; aluminum
Dimensions
7.87 x 5.3 x 0.28 inches
7.87 x 5.3 x 0.28 inches
Weight
0.68 pound (Wi-Fi);
0.69 pound (cellular)
0.73 pound (Wi-Fi);
0.75 pound (cellular)
Display
7.9-inch IPS;
2,048×1,536 pixels (326ppi)
7.9-inch IPS;
1,024×768 pixels (163ppi)
Processor
A7 chip (64-bit architecture);
M7 motion coprocessor
Dual-core A5 chip
GPU
Unconfirmed
Dual-core PowerVR SGX543MP2
Rear camera
5-megapixel camera;
1080p HD video
5-megapixel camera;
1080p HD video
Front-facing camera
1.2-megapixel;
720p HD
1.2-megapixel;
720p HD
RAM
Unconfirmed
1GB
Battery life
Up to 10 hours Wi-Fi, 9 hours cellular
Up to 10 hours Wi-Fi and cellular
SIM
Micro-SIM
Micro-SIM
Connector
Lightning
Lightning