LG G4 was one of the best smartphones that the company has given the Android fans. LG G5 was a bold step in the directly of modular smartphones. However, due to the poor implementation of the idea, LG G5 was largely a failure.
LG G4 with its leather back is a phone that numerous users are using at the moment. With the upcoming LG G6, LG is said to have forgotten about the modular design. LG G6 will be a unibody smartphone that will build on the success of LG G4.
Today, we see how the LG G6 is stacking up in the backdrop of LG G4. Users who are using LG G4 at the moment may want to upgrade to the upcoming LG flagship, and they should definitely take a look at this comparison.
LG G6 vs LG G4 — Design
LG G5 has a very polarizing design. Either you liked the whole idea of modular smartphone, or you didn't. Moreover, LG failed to implement the modular idea in a likable way. If you hated LG G5, you are in luck – because LG will not be anything like the LG G5.
LG is reported switching back to a more conventional design for their LG G6. The LG G6 will have a unibody construction and more premium feel in the hand.
From the various recent reports, LG G6 will feature a glass and metal construction, combined with an aluminum chamfered frame. The phone is also reported to feature IP 68 water and dust resistance. As is expected from a phone of such design, the battery is going to be irremovable.
LG G6 will come with an improved processor, a much better, edge-to-edge display and a significantly better camera setup. All in all, it is shaping up to be the perfect choice for people migrating from LG G4.
LG G6 vs LG G4 — Specs
There is no doubt that LG G6 will have much better specs compared to LG G4 – given that there has been a period of two years between the phones. However, LG G6 also adds a bunch of new features that the current users of LG G4 will love.
LG will incorporate the latest generation processor in their upcoming flagship. This will be accompanied by a three-camera setup, fast charging, and a fingerprint sensor. These are the key differences between LG G4 and the upcoming LG G6.
Users of LG G4 will be happy to note that the LG G6 comes with double on-board storage as compared to LG G4, as well as a USB Type-C port and Always-On Display feature. However, LG G6 will not feature an IR blaster, which was a key feature in LG G4.
LG G6 vs LG G4 — Camera
LG G4 had a camera that was very good. At the time, it was competing with the camera technology from Samsung and Apple. It has laser auto-focus and image stabilization as well. The good thing is, camera tech in the market has improved significantly since then.
LG G6 will debut with a dual lens setup on the back. The primary camera on the back will have extremely fast auto-focus and an improved aperture, standing at f/1.8. This will significantly improve the low-light performance of the camera.
LG G6 will also have another lens on the back. This lens will either be a zoom lens, or a wide angle lens – although the latter seems more likely. If the camera is an aspect where you think a smartphone should perform well, there is no doubt that LG G6 will be marvelous.
LG G6 vs LG G4 — Water resistance
A few years ago, not a lot of companies were doing water proof phones. In fact, even Samsung was using ugly plastic sheaths to protect the ports on its flagship smartphones. In 2017, the ruggedness of the phone has become a selling point for a lot of users.
Furthermore, having a sealed design enables the device to be completely resistant to water and dust. This is what LG will be doing with LG G6. The battery will no longer be removable, but the device will be much more rugged.
In fact, having a removable battery does not hold much importance anymore. Water resistance will prove to be more useful as you spend more and more time with the same phone.
LG G6 vs LG G4 — Battery
LG G6 is supposed to come with an irremovable battery. This seems like a step in the right direction, considering the technologies available at the moment. There is no requirement for the battery to be removable anymore.
LG G6 will feature a bigger battery than LG G4, along with Quick Charge 3.0 technology. This technology allows the phone to be charged from zero to 75% in just thirty minutes. Further, it can get to 100% in almost 90%. This is much faster than the old LG G4 – it took more than three hours to charge the phone to 100%.
LG G6 is scheduled to be unveiled at the MWC in Barcelona. The release date is February 26, 2017. The retail price of the phone will be kept slightly lower than the predicted prices of Samsung Galaxy S8. LG G6 will sell at $699 -$749.
---
Recommendation: Manage iPhone/iPad/iPod without using iTunes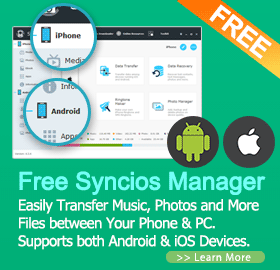 Support to transfer, edit, backup, manage, view iOS & Android mobile data: Music, videos, photos, apps, ebooks, contacts, messages and more.
Download videos from 100+ video sharing sites up to 4K HD video quality and transfer to iPad/iPhone/iPod/Android.
Handy toolkit: Audio converter, video converter, ringtone maker, etc.
Free
You can follow Syncios onTwitter,Facebookfor more tips and tricks.