A major trove of celebrity images, some including images alleged to be actress Jennifer Lawrence nude, began spreading all over the web and Twitter on Sunday evening.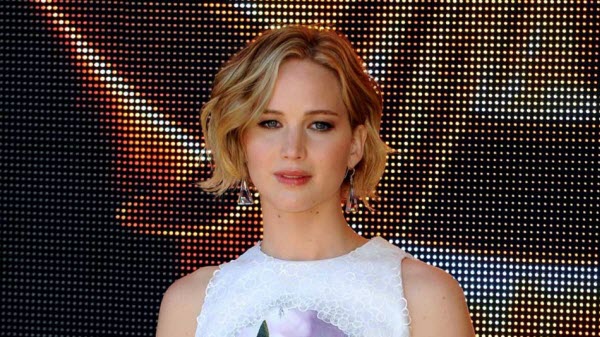 Early word of the images began spreading on 4Chan earlier in the day, where posters claimed that the images were the result of a hacker intrusion on a number of iCloud accounts and cell phones and that the images included nude celebrities such as Victoria Justice, Emily Browning, Kate Bosworth, Jenny McCarthy and Kate Upton.
SEE ALSO: 
How to Protect Your Photos (Nude or Otherwise) From Hackers on iCloud
When contacted by Mashable, a spokesperson for Jennifer Lawrence issued the following statement:
This is a flagrant violation of privacy. The authorities have been contacted and will prosecute anyone who posts the stolen photos of Jennifer Lawrence.
In addition to Lawrence, these are the biggest names on the list posted to 4Chan of alleged victims of the iCloud leak:
Aly and AJ Michalka, Aubrey Plaza, Abby Elliott, Avril Lavigne, Amber Heard, Brie Larson, Candice Swanepoel, Cara Delevigne, Emily Ratjakowski, Farrah Abraham, Gabrielle Union, Hayden Pannettiere, Hope Solo, Hillary Duff, Jenny McCarthy, Kayley Cuoco, Kate Upton, Kate Bosworth, Keke Palmer, Kim Kardashian, Kirsten Dunst, Krysten Ritter, Lea Michele, Lizzy Caplan, Mary Kate Olsen, Mary Elizabeth Winstead, Rihanna, Scarlet Johansson, Selena Gomez, Vanessa Hudgens, Wynona Ryder, Alison Brie and Dave Franco.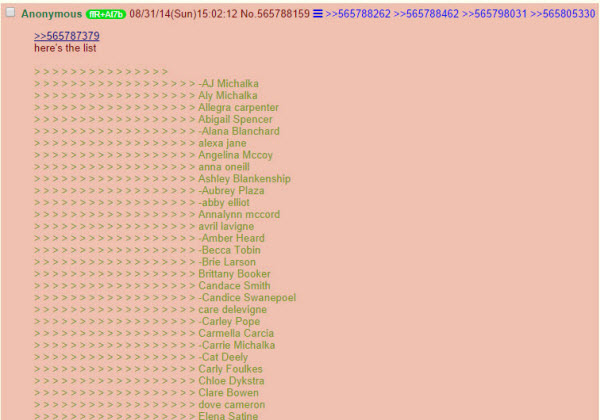 IMAGE: 4CHAN
Most of those named in the list haven't commented publicly, but actress Mary Elizabeth Winstead did take to Twitter to react to having her images taken in the hack:
To those of you looking at photos I took with my husband years ago in the privacy of our home, hope you feel great about yourselves.

— Mary E. Winstead (@M_E_Winstead) August 31, 2014

Knowing those photos were deleted long ago, I can only imagine the creepy effort that went into this. Feeling for everyone who got hacked.

— Mary E. Winstead (@M_E_Winstead) August 31, 2014
However, at least two of the alleged victims of the hack have also taken to Twitter to dispute the authenticity of the images. Actress Victoria Justice and gymnast McKayla Maroney both used humor to try to defuse the situation:
These so called nudes of me are FAKE people. Let me nip this in the bud right now. *pun intended*

— Victoria Justice (@VictoriaJustice) August 31, 2014

the fake photos of me are crazy!!
was trying to rise above it all, and not give "the creator" the time of day.. BUT..pic.twitter.com/hceQcOxYkJ

— McKayla Maroney (@McKaylaMaroney) September 1, 2014
But contrary to the Twitter messages from Justice and Maroney, the above statement from Lawrence's spokesperson, as well as Winstead's comment, appear to confirm the authenticity of at least some of the images being circulated.
Apple didn't not offer an official response when contacted by Mashable for comment on the incident.
Reference: http://mashable.com/.
---
Please Note That: Our Syncios also supports to download iCloud Photos Stream to PC. But Syncios team takes over your privacy seriously. We Never keep records of any your Apple account info or content at any time during the session. You can also visit Disclaimer for more details.
How to download icloud photo stream to pc, click here.
---
Reference: How strong is your password
The real question is less about how good iCloud security is and more about how strong (and how unique) a user's password is.
Apple requires users to have a password with at least 8 characters, a number, an uppercase letter and a lowercase letter. I know that in the past, however, if you had a password that did not fit those rules, Apple wouldn't force you to create a new password unless you were signing up for two-factor authentication.
Moreover, the real problem that most users run into isn't that their password isn't strong enough; it's that it isn't unique.
Look, it's tough to keep track of the hundreds of different passwords we create for our various accounts. Thus, it usually becomes easier to just reuse the same password over and over again.
This is problematic because if a site that you use frequently is hacked and you use that email/password combination for other accounts, all of those accounts are at risk, too.
This means that even if your password was created to be "strong," it's useless if you use it (and the same email or username) at multiple places. Hackers have access to large database sets of compromised usernames and passwords.
This is why we always encourage users to change their passwords anytime that password is used in more than one place with the same login name. This is especially true if an account is important or is linked to another account (such as Facebook, Gmail or Twitter).
You can follow Syncios on Twitter, Facebook for more tips and tricks.