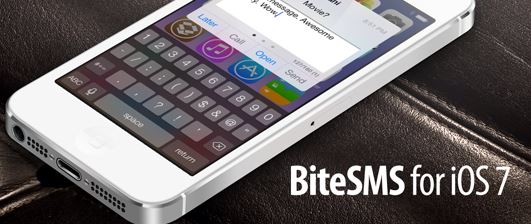 After a month of testing and 19 beta releases, BiteSMS 8.0 is officially released for public. You can also get BiteSMS 8.1 from the test link shared in this post.
For those who use BiteSMS, upgrading to iOS 7 was a painful decision that you likely agonized over for days. On one hand, iOS 7 makes iOS 6 look old and boring so updating your handset is a must. On the other hand, BiteSMS! Those who chose to pull the trigger and update to iOS 7 despite losing BiteSMS can now finally dump Apple's Messages app and go back to using the jailbreak tweak they love. As of Wednesday, BiteSMS for iOS 7 is out of beta and available to all jailbroken iPhones running iOS 7 or later, including the iPhone 5s.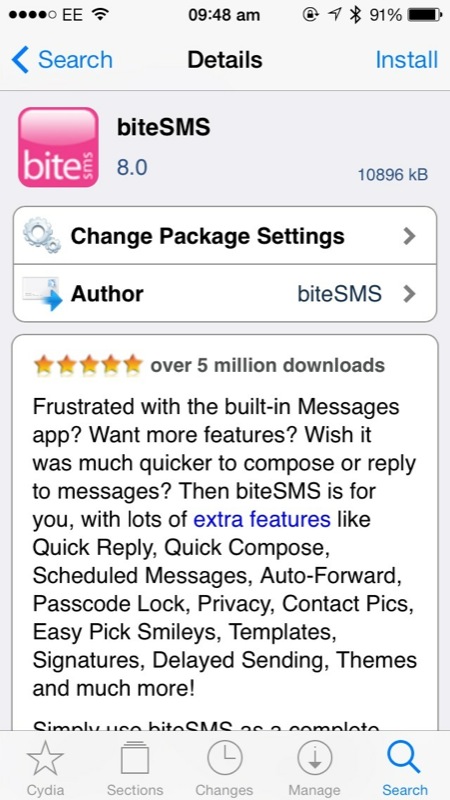 For those unaware, BiteSMS completely replaces iOS's standard messaging app with a much more full-featured solution. Users can schedule messages, read and compose messages in a small window on the iPhone without leaving whatever app the might be using at the time, automatically forward messages, use message templates and much more.
BiteSMS for iOS 7 is available immediately on jailbroken iPhones for free in the Cydia app store. The app is ad-supported after a 7-day trial, and users can pay a one-time $7.99 fee to remove ads permanently.
You can get BiteSMS iOS 7 from Cydia from this repo link: test-cydia.bitesms.com. To add a new repo, go to Cydia > Manage > Sources > tap on Edit > and finally tap on Add to add the repo and get the tweak.
FAQ:
1. What is biteSMS?
Frustrated with the built-in Messages app? Want more features? Wish it was much quicker to compose or reply to messages? Then biteSMS is for you, with lots of extra features like Quick Reply, Quick Compose, Scheduled Messages, Auto-Forward, Passcode Lock, Privacy, Contact Pics, Easy Pick Smileys, Templates, Signatures, Delayed Sending, Themes and much more!
Simply use biteSMS as a complete souped-up replacement to the built-in Messages application on iPhone and iPod devices.
2. Does it cost anything?
It's completely free and most features are accessible for FREE! There are no other 'pro' or 'full' versions of biteSMS. It's nice and simple.
We do however after 7 days display a small advertising banner, this contributes to the ongoing development of biteSMS. You can also support us by buying a license and we won't show you ads again.
3. Saving money
If your mobile carrier charges a lot for sending SMS messages (internationally for example), you can instead buy biteSMS credits and send messages much cheaper via the biteSMS network.
It's the same price to send an SMS to anywhere in the world. You seem to be in United States, where each credit only costs 12 US cents to send an SMS message to anywhere in the world!
4. Getting started
Simply install the biteSMS application on your iPhone or iPod, and check out all the great features.
After your 7-day ad-free trial, you have 3 options: do nothing and pay nothing (and they will show you ads), buy a full license, or buy some credits (iPhone users only).
Learn More:
How to jailbreak iOS 7 using Evasi0n7
10 must-have new Cydia tweaks for iOS 7
A List of iOS 7 Compatible Jailbreak Tweaks for iPhone 5S And Other 64-Bit Devices