As you might already know by now, Evasi0n 7 iOS 7 – 7.0.4 jailbreak is out already. Here you can find a complete tutorial on how to jailbreak iOS 7 through iOS 7.0.4 on all the supported iPhone and iPod touch devices.
Please read everything carefully before proceeding with the jailbreak.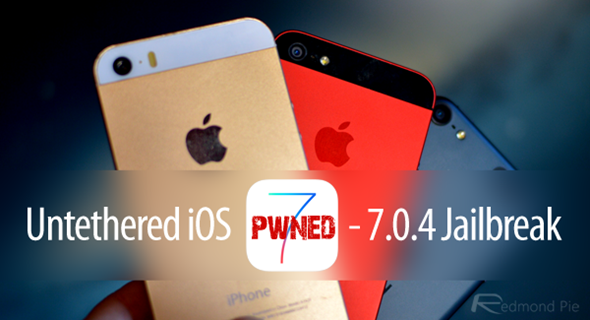 Supported Devices:
As mentioned in the previous post, all iOS devices are supported, including the latest iPhone 5s and iPhone 5c. Apple TV though is not supported yet.
Supported iOS version:
7.0
7.0.1
7.0.2
7.0.3
7.0.4
Requirements:
The latest version of iTunes must be installed on your Windows PC or Mac. Download iTunes 11.1.3 from here.
It is highly recommended you Restore to the latest iOS 7.0.4 on your device through iTunes (NOT OTA) before running Evasi0n 7. Download iOS 7.0.4 from here.
Make sure there is no lock screen passcode or Touch ID set on your iOS device. You can disable Passcode lock from: Settings –> General –> Touch ID & Passcode –> Turn Passcode Off
Backup your data to either iCloud or your PC via iTunes before jailbreaking.
How-to jailbreak iOS 7 / 7.0.4 (instructions + video tutorial):
Step 1: Download iOS 7 – 7.0.4 Jailbreak Evasi0n 7 for Windows or Mac.
Step 2: Connect your iOS device to your computer and start Evasi0n 7.
Step 3: Now click on "Jailbreak" button to start the process.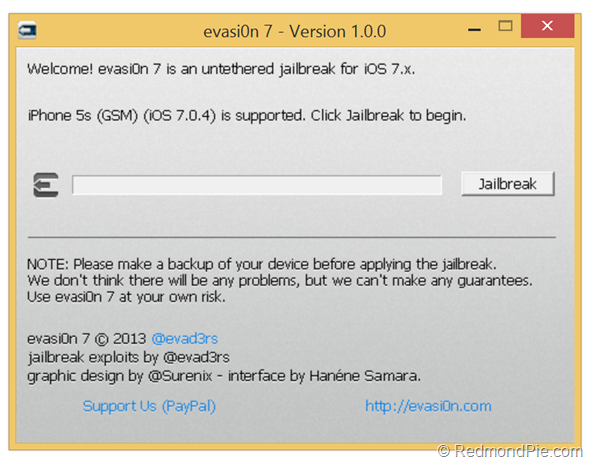 Evasi0n will now perform the jailbreak in a series of automated steps. Just sit back and don't do anything silly. Allow it to complete the process. It may take a few minutes to complete.
Step 4: Once done, Evasi0n will inform you that you need to unlock your device and tap the new 'evasi0n 7' app icon found on the home screen of your device to continue. Tap the app icon and keep your device connected, it will automatically restart.
Step 5: Once the reboot is complete, Evasi0n will continue to apply final touches before asking you to unlock your device again. Once you unlock it, it will reboot again, followed by 'Done!' screen.
Step 6: Cydia should now be on your iOS device home screen. Quit the Evasi0n 7 application, disconnect your device from your computer and start Cydia!